So Fox News host Laura Ingraham basically went on a white supremacist rant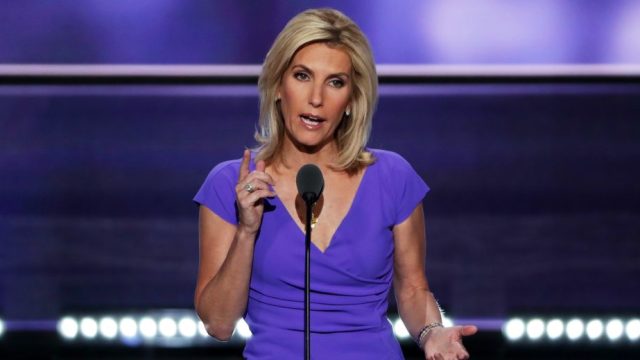 Fox News host Laura Ingraham is stirring controversy yet again. In March, the host of The Ingraham Angle gained notoriety and lost sponsors when she mocked Parkland survivor David Hogg for his college rejections (she later apologized after advertisers pulled from her show). Now, Ingraham is facing more backlash—this time for implying that immigration has ended the "America we know and love."
According to The Hill, the conservative pundit opened her August 8th show by criticizing Alexandria Ocasio-Cortez, whom she referred to as "New York's new socialist 'It' girl." Ingraham cited recent comments Ocasio-Cortez made on the podcast Pod Save America, in which she talked about how America is changing and the upper-middle class is vanishing. After deriding the progressive politician for several minutes, Ingraham said, "She's kind of right in a general sense."
"In some parts of the country it does seem like the America we know and love doesn't exist anymore," Ingraham declared. "Massive demographic changes have been foisted upon the American people. And they're changes that none of us ever voted for and most of us don't like."
She went on to argue that "much of this is related to illegal and, in some cases, legal immigration that of course progressives love."
https://www.youtube.com/watch?v=llhFZOw6Sss?feature=oembed
Ingraham condemned activists who have called for the abolishment of ICE and argued that "the law has to be enforced, borders strengthened, and the wall built, loopholes closed, and sanctuary cities ended once and for all." She went on to list several isolated incidents in which illegal immigrants committed violent crimes (aka fear mongering, because these isolated cases in no way reflect the majority of immigrants, and also because white, legal citizens commit crimes every day as well).
https://twitter.com/udfredirect/status/1027569253036089344
Certain conservatives, like President Donald Trump, have been making the same claims about immigration for years. Yet research has demonstrated that immigrants are no more likely to commit violent crimes than American citizens. In fact, a study from the libertarian Cato Institute published in February found that in the state of Texas in 2015, the most recent year for which data was available, undocumented immigrants were convicted of 56% fewer crimes than native-born U.S. citizens.
Aside from being misleading, Ingraham's August 8th comments were little more than thinly-veiled racism. The America "we know and love" mentioned in her rant likely means one thing: "white" America, and this rhetoric is both hateful and dangerous.
Given our nation's history of racism, sexism, and oppression, we're inclined to think change is actually a very good thing.