I tried Laura Geller's new foundation and it made me look like an IRL Snapchat filter
Since I have oily skin, foundations that have a dewy or luminous finish are never on my radar. However, the exception to this was Laura Geller's Filter First Luminous Foundation.
The brand, who is best known for its Gilded Honey highlighter, launched its foundation back in July (2018) along with a companion concealer. I attended the brand's N.Y.C launch, and Laura Geller herself shared the inspiration behind these luminous products. She said:
"I had a magic moment about a year and a half ago. We were filming a video for our 20th-anniversary collection and our Global Artistic Director, Ashlee Glazer, happened to be holding a reflective, almost pearlized box in her hand. The light bounced off the box and onto her face. I looked at her and was blown away. It created the most beautiful blurring effect. I thought, how can we bottle up this blurring, filter-effect in a foundation? So we concepted Filter First."
The formulas—for both the foundation and concealer—contain crushed pearls that diffuse the light off of your face, hence its name. But aside from its luminous finish, the foundation is paraben-free, vegan, anti-oxidant rich, lightweight, and buildable (it offers medium-to-full coverage).
To see how well the products worked (and looked), the brand sent me a few shades to test.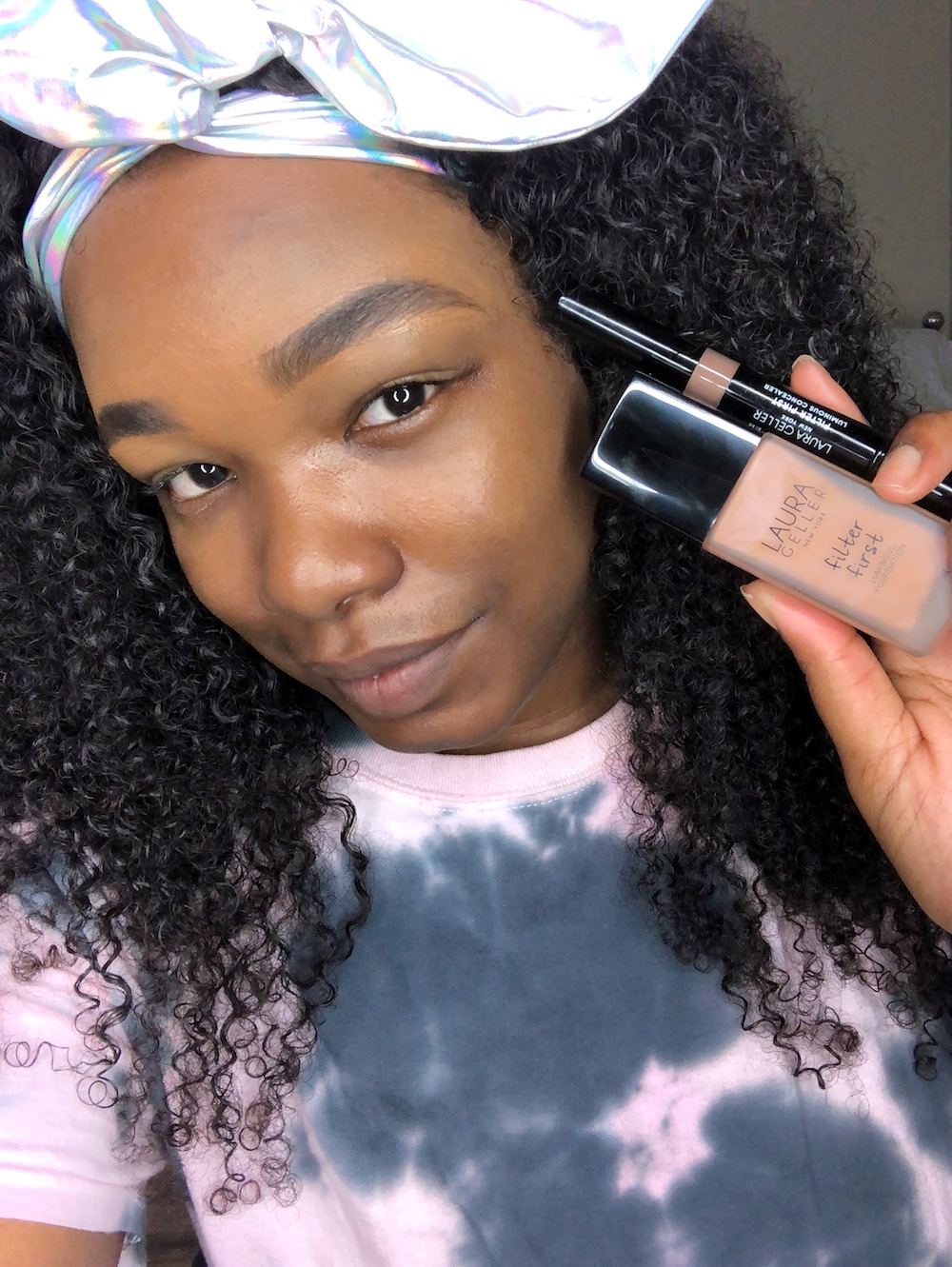 The foundation retails for $38, and the concealer is $24.
Swatch party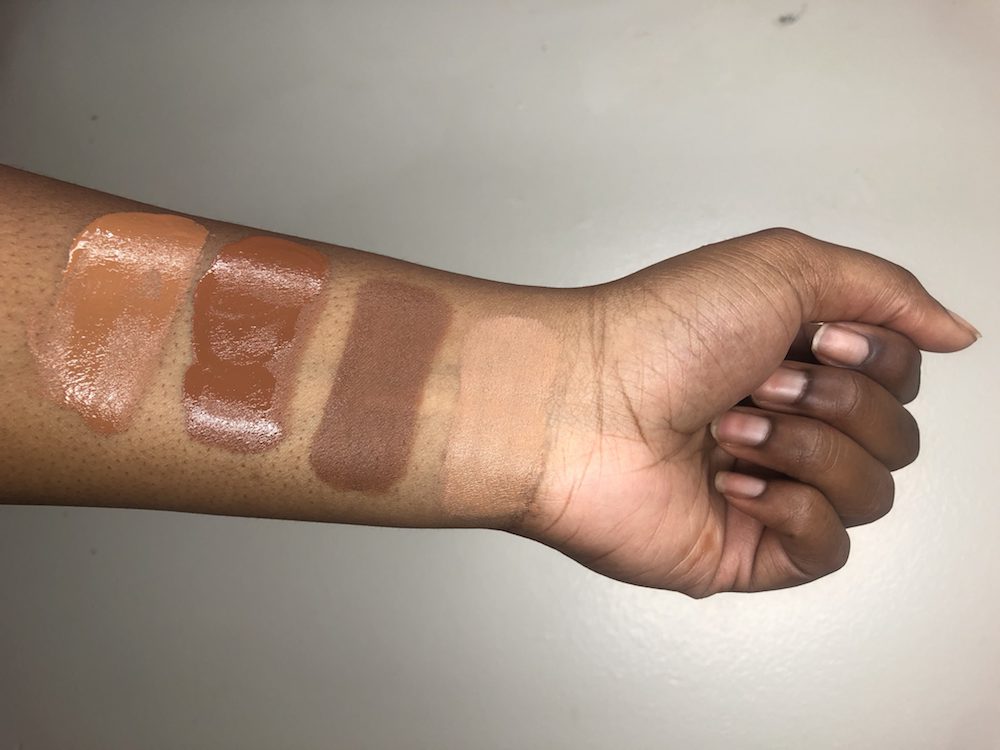 Starting with the foundations from left to right: the shades Pecan and Chestnut. Next, are the concealer shades Deep and Deep Tan.
I always start with freshly prepped skin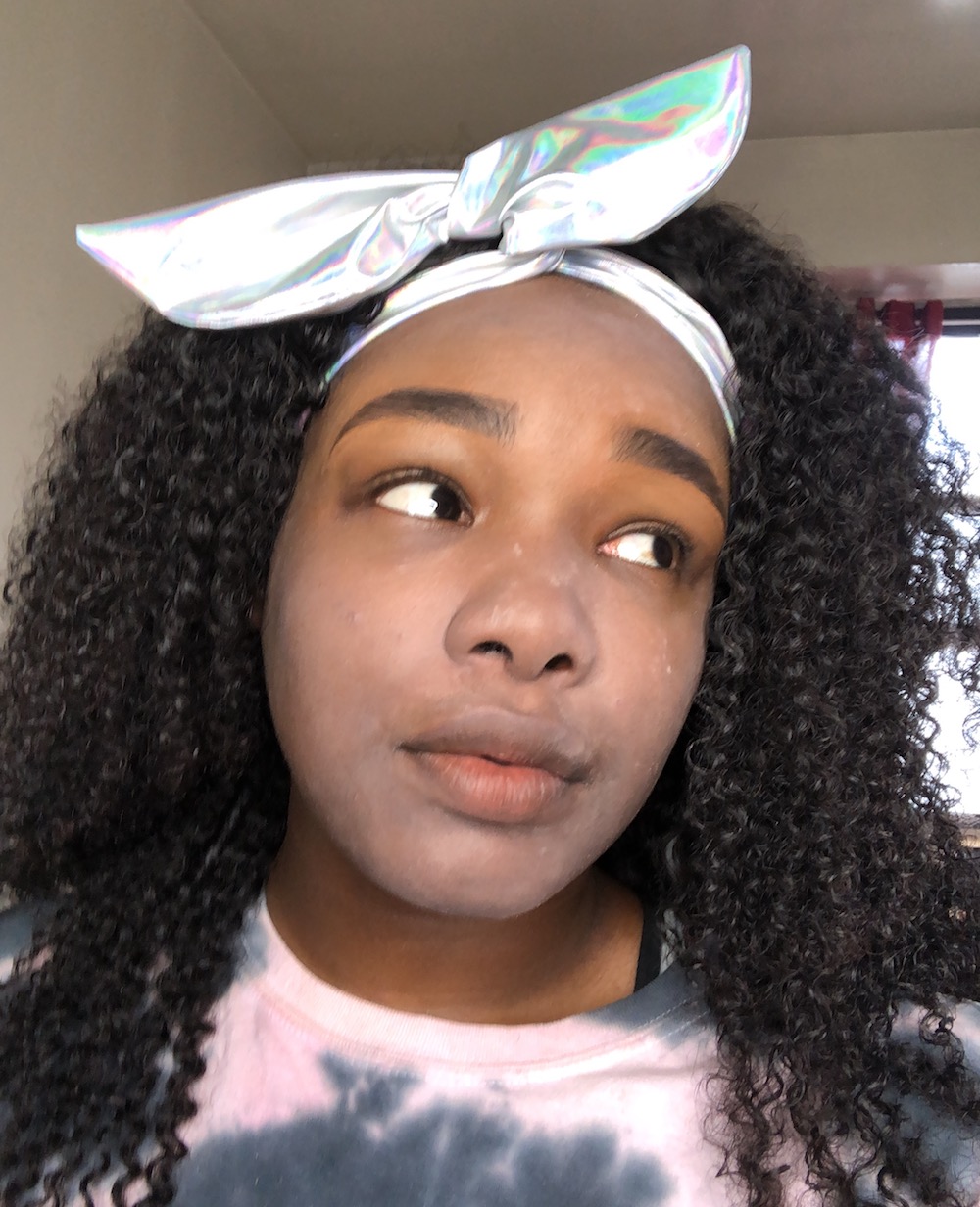 For this, I wanted to prep my skin with loose setting powder before I applied my foundation. Since it's 88 degrees (with 67% humidity) in Brooklyn, NY, I figured this step was necessary. To be honest, I normally put on loose powder before my foundation because it helps my oily skin behave in hot, humid weather. So this wasn't out of the ordinary.
To start, I used the foundation shade Pecan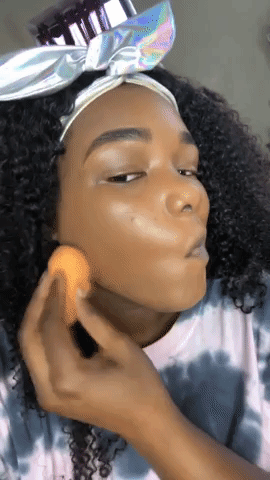 While the shade Pecan doesn't look as light as I thought it would, I went ahead and used a little bit of the shade Chestnut. I've been enjoying a more bronzed look as of late anyway.
Next, I applied the concealer
At first, I used the shade Deep Tan to highlight the under eye area. However, after setting my under-eyes with the Maybelline Fit Me Loose Powder (which is one of my go-tos), the concealer separated.
Sidenote: I tried the concealer on a different day and lightly applied the Ben Nye Banana Powder on top of it, and it worked well. My advice? Be mindful of what setting powder you use to bake with this concealer.
What my makeup looked like after applying all of the products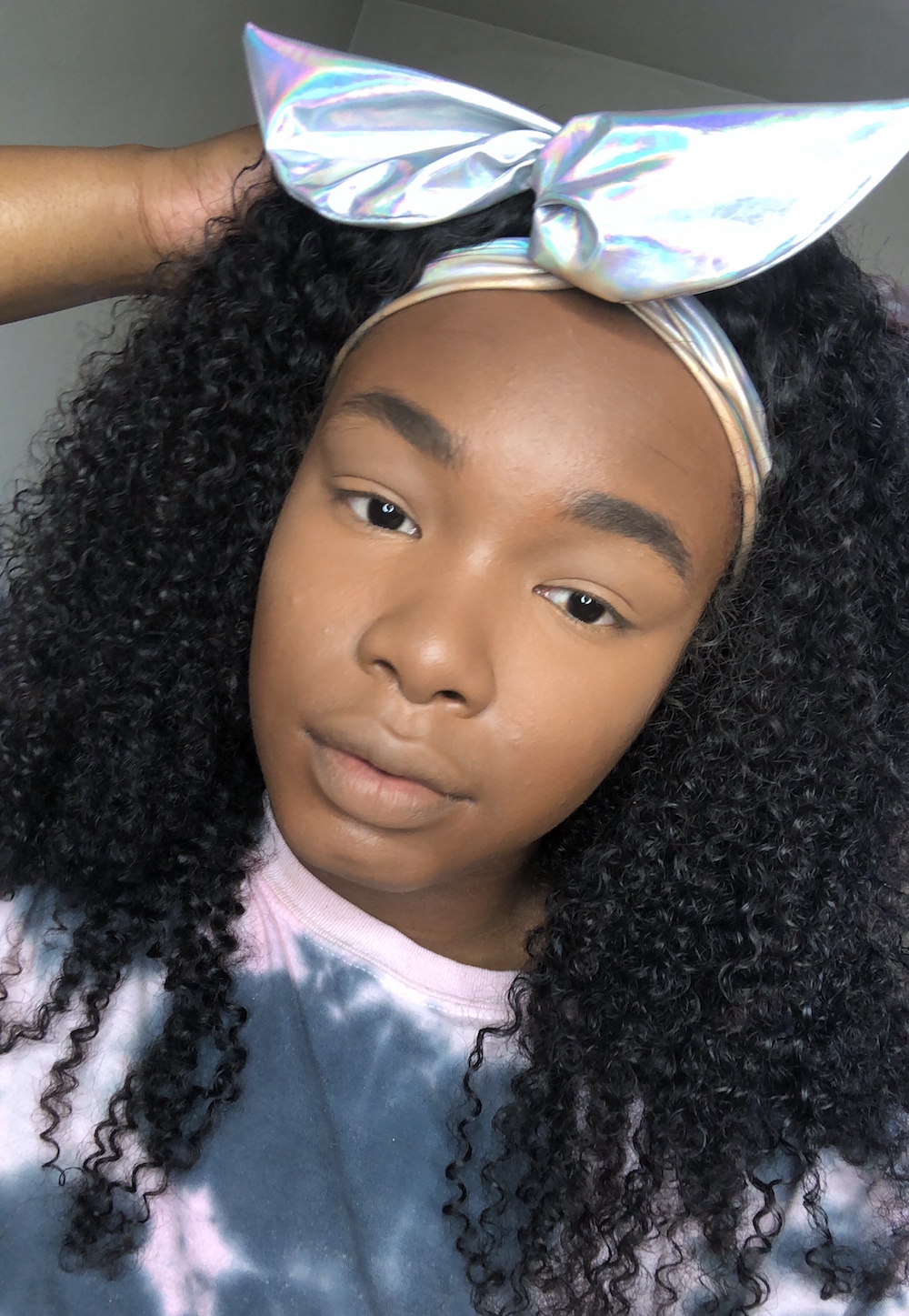 This is what I looked like before completing the rest of my makeup. Mixing the foundations Pecan and Chestnut definitely made a difference, and it gave me a color that I felt comfortable with. I also used the concealer shade Deep as a bronzer and the shade Deep Tan to conceal.
10 a.m.—My finished makeup look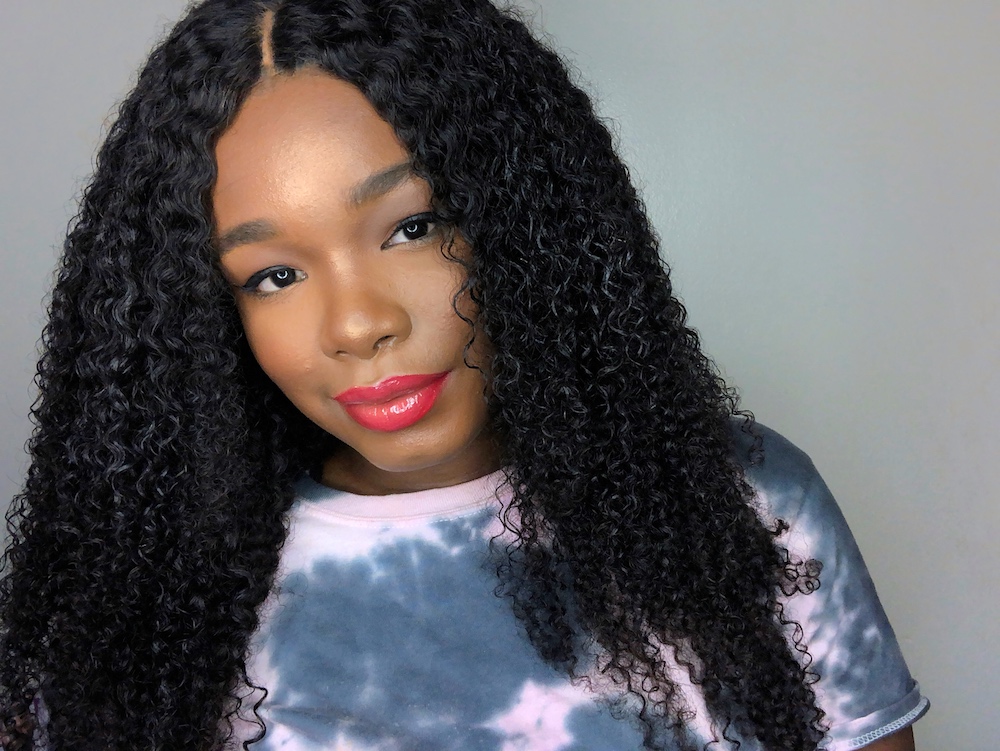 This photo is unedited, no seriously. I just had good lighting and a filtering foundation/concealer.
1 p.m.—I was out the door, and started my assignments for the day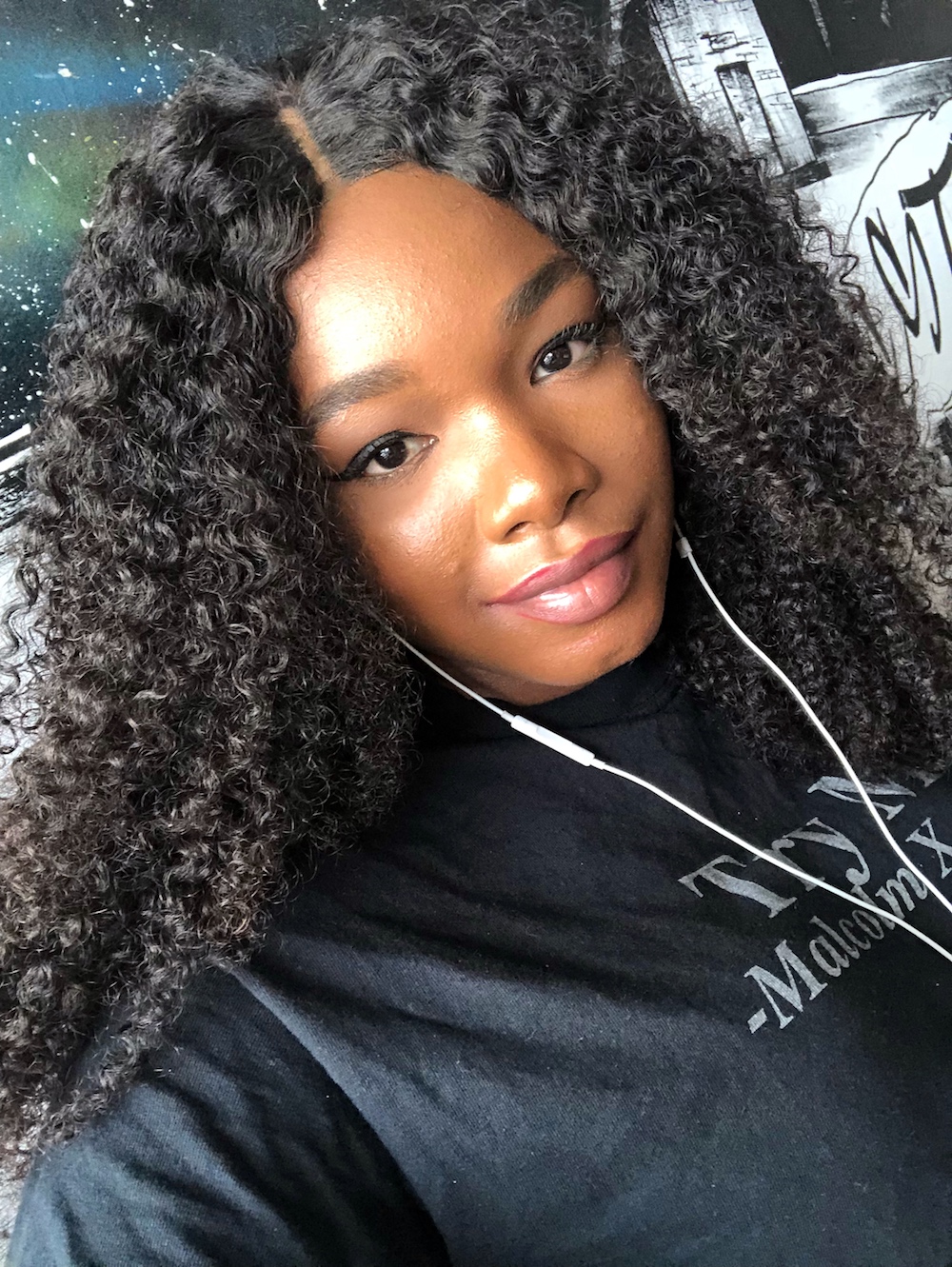 I got the foundation on my shirt, so I had to change (if you're wondering why my tee is different). That day, I went to a cafe to work on assignments, and of course, they didn't have A/C. Not only was it super hot, but this foundation would be put through the ultimate test.
5 p.m.—I found good lighting
Other patrons were probably wondering why I was taking a bunch of selfies, but these products had me in a picture-taking kind of mood. Even though this photo is unfiltered, I noticed a bit more texture on my skin when I photographed myself in the natural light versus the overhead light. However, I loved how it looked.
7 p.m.—I still looked good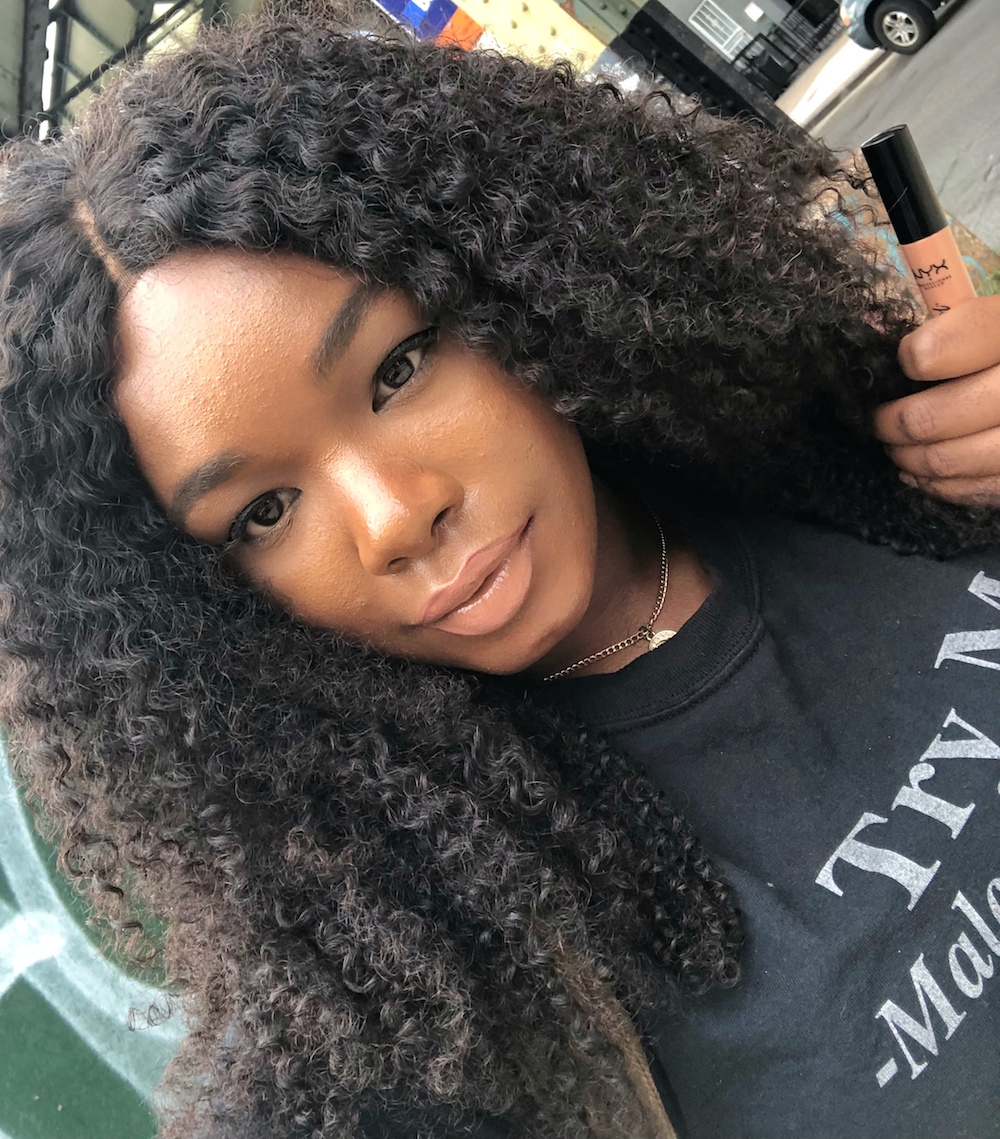 This foundation is so lightweight that I took it off with my Neutrogena Deep Clean Cream Cleanser without having to use a separate makeup remover first. I'm always down for fewer steps when it comes to my skin care routine.
My final thoughts
The proof is in the pudding. Like its name, this foundation made me look like I had a blurring filter in front of my face.
However, I have two main concerns with the foundation and concealer
The first issue is the shade range. With just 12 shades of foundation and six shades of concealer, I presume it will be difficult for many people to find a shade that truly matches them. If you aren't one of the few who can find their correct shade or know how to tweak your foundation with highlighting, contouring, etc, you won't get to experience these amazing formulas.
Also, oily skin types should keep in mind that this foundation has a luminous finish. This can emphasize your oil the longer you wear it. I promise you'll enjoy the filtering effect within the first few hours of application, but I would recommend blotting your face throughout the day when some of your natural oils start to peak through. Otherwise, you'll start to look super shiny and you won't look like a filtered goddess.
Overall, Laura Geller's foundation and concealer do exactly what they claim. They filter your face to perfection. If you want to try these products out for yourself, they are available on LauraGeller.com and Ulta.com.