Watch Laura Dern assure BB-8 he's the cutest thing in the galaxy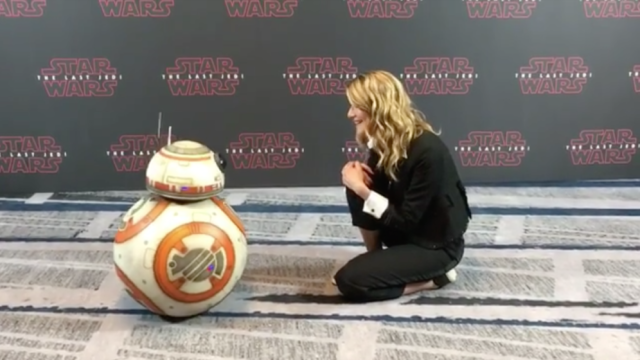 We have what might be the best Star Wars gift ever: This video of Laura Dern talking softly to BB-8, which is literally the cutest thing on the internet at the moment.
We've learned that the Star Wars team prefers to use, like, real-life in-camera effects wherever possible…which we appreciate, because sometimes movies start to look a little fake when everything is computer generated, no matter how good the effects are. In order to achieve peak realism, they created a working BB-8 droid!
And it is the absolute cutest droid.
The droid — who's probably one model of many — has a chat with Laura Dern, whom we also love. What we're saying is, we've watched this video 100 times (and counting), and we need you to watch it too.
Laura Dern plays Vice Admiral Holdo in The Last Jedi — we're SO PUMPED, have we mentioned?! — so she's been out and about at various press events.
One such event yielded this gem: Laura Dern, talking to BB-8 like he's a puppy. Better yet, she's talking about Porgs. TBH, we're also grateful to the Star Wars universe for giving us not just BB-8, who's presh, but also Porgs, who are giving the droid a serious run for his money in the adorbs department.
But Laura Dern only has eyes for BB-8: "Are you upset by all the Porg focus?," she says to him. "Just so you know, I mean, they're adorable, but you're my guy."
Our only question is, when do we get to sit down for a chat with our favorite droid?