Former first lady Laura Bush wrote an op-ed blasting the Trump administration's family-separation policy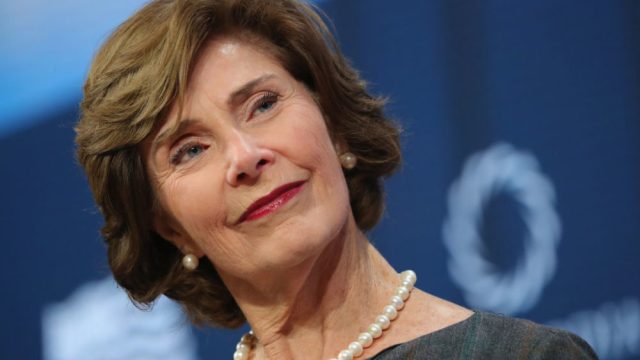 President Donald Trump has been stoking xenophobic sentiments since his first day on the job, from labeling certain parts of the world "sh*thole countries" to his attempt to ban Muslim immigrants from entering the U.S. The administration's approach to immigration has most recently culminated in a "zero-tolerance policy" that separates asylum-seeking families who cross the border illegally, placing children in detention centers. This most recent policy has been widely criticized — including by former first lady Laura Bush, who penned a blistering op-ed condemning it.
In her op-ed, published June 17th in the Washington Post, Bush noted that over the course of six weeks, about 2,000 children have been detained at the border.
"I live in a border state. I appreciate the need to enforce and protect our international boundaries, but this zero-tolerance policy is cruel," Bush wrote in the column. "It is immoral. And it breaks my heart."
The government "should not be in the business of warehousing children in box stores or making plans to place them in tent cities outside of El Paso," she continued, while comparing pictures of the centers to Japanese American internment camps during World War II.
The former first lady then wrote that separating families was a violation of American morals.
"We pride ourselves on believing that people should be seen for the content of their character, not the color of their skin," she wrote. "We pride ourselves on acceptance. If we are truly that country, then it is our obligation to reunite these detained children with their parents — and to stop separating parents and children in the first place."
Bush went on to recall when her mother-in-law, former first lady Barbara Bush, held a baby with AIDS during a time when AIDS patients were considered "untouchables," using the anecdote to promote kindness. She concluded by calling for the country to "find a kinder, more compassionate and more moral answer" to the question of illegal immigration.
The zero-tolerance policy has received criticism from both sides of the aisle. The New York Times reports that, along with many Democrats, Republican senators Susan Collins and Lindsey Graham also condemned the zero-tolerance policy. Even White House Counselor Kellyanne Conway said on Meet the Press that "nobody likes this policy."
Bush is absolutely right: Separating children from their parents is cruel and inhumane, and we need to find a better solution. If you feel strongly about this, reach out to your representatives today and make your voice heard.