Awesome and progressive laundromat sells Plan B in vending machine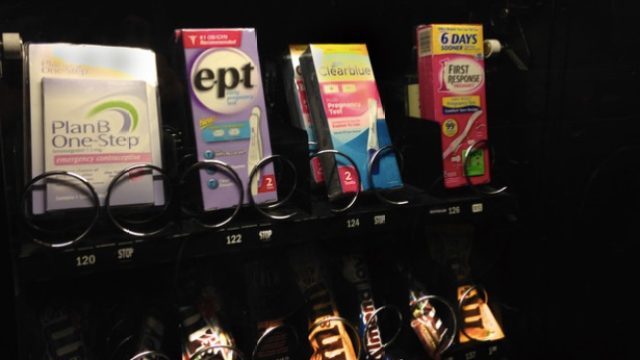 Vending machines are great. You can get all sorts of awesome things in a vending machine like candy bars, a bag of doritos and some back-up birth control. Yes, back-up birth control in a vending machine BECAUSE THAT'S A THING you can do in this glorious year of 2016!
A very progressive laundromat in Brooklyn, New York called The Sunshine Laundromat has a vending machine that features all of the regular vending machine stuff plus pregnancy tests, lube and even the morning after pill – aka Plan B – because women can stock up on snacks AND practice safe sex! What a time to be alive!
The owner of the laundromat, Peter Rose, told DNA Info that he included the items "for fun."
While the owner of the laundromat thinks including Plan B in a vending machine is a "fun" thing to do, access to birth control has long been an unfairly convoluted process for women. From parental permission to financial and insurance hurdles, women's access to all forms of reproductive health has never been as convenient as approaching a vending machine. Peter Rose may think it's "fun" but for women everywhere, having Plan B in a vending machine is not just "fun," it's also ground-breaking.
If anyone is wondering if this vending machine is legal, it is. According to an FDA spokesperson, "there is no provision in the Federal Food, Drug, and Cosmetic Act that prohibits the sale of over-the-counter drug preparations in vending machines or in places other than drug stores."
Ladies, rejoice and let's hope that important contraceptive options like Plan B continue to be more and more accessible!