The Perfect Latinx Playlist to Blast This Hispanic Heritage Month
Hits from Becky G, Bad Bunny, Rosalía, and more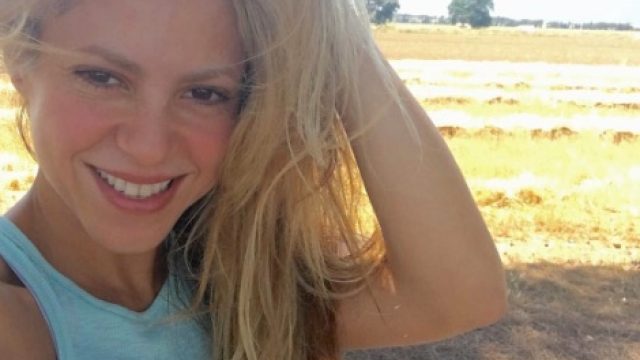 There are a million ways to celebrate Hispanic Heritage Month, whether it's shopping from Latina-owned beauty brands or reading books by Latinx authors. Maybe you're looking for something a little more immersive, like a Spanish cooking class? Whatever your style, you probably (erhm, no, definitely!) could use a Latinx playlist to bop along to. 
Listening to music outside of our typical daily mix is one of the easiest ways we can open ourselves to other cultures. Take it one step further and watch their music videos and live performances, too. Who knows? You may even pick up a few words in another language along the way. Bein?
RELATED: 20 Best Date Night Movies to Watch With Your Partner
From Latinx music icons like Bad Bunny and Selena Quintanilla to rising stars like Rosalía and Karol G, this Latinx playlist will have you off the couch and dancing in no time. Blast this mix all Hispanic Heritage Month long and beyond — let's celebrate these artists year-long.
Como la Flor by Selena Quintanilla. You can't celebrate Hispanic Heritage Month without at least one (or two…or three…) Selena song on your Latinx playlist.
BAILÉ CON MI EX by Becky G. The Latin popstar stole our hearts back in 2014 with her hit single Shower. She's back with a brand new album titled ESQUEMAS and track #5 BAILÉ CON MI EX is a certified bop.
Dákiti by Bad Bunny with Jhay Cortez. The Puerto Rican performer is carving out a name for himself in the Latin music record books. His smash hit Dákiti is everywhere. According to MTV, Bad Bunny is the first person to have two or more all-Spanish-language songs in the Top 10 of the Hot 100.
Danza Kudro by Don Omar. Every dinner party needs a song that's guaranteed to get your guests off the couch and dancing in the kitchen (maybe with a margarita in hand, too). Danza Kudro is that song.
Hips Don't Lie by Shakira feat. Wyclef Jean. Shakira is a legend and that's why she makes our list. There's only one thing to do when this song comes on: shake your hips until they can't shake no more.
RUMBATÓN by Daddy Yankee. A fast-paced rap that makes you want to sway your hips and feel all the feels. Keep the good vibes going with Daddy Yankee's other hits, Gasolina and Despacito.
Hero by Enrique Iglesias. This song is a triple threat — you can belt it in the shower, it's a great ugly-cry song, and it's sure to melt your heart SO into a mushy puddle. What can we say? This Spanish singer-songwriter has a way with his words!
DESPECHÁ by Rosalía. A song that talks about getting over heartbreak and letting your hair down with your closest girlfriends in the process.
Time of Our Lives by Pitbull. It's impossible to pick just one Pitbull song, so consider this a good starting point to the Cuban rapper's discography. If you want all Pitbull, all the time (and similar artists to him), listen to his channel on Sirius-XM radio.
Hawái by Maluma. You may remember Maluma from the movie Marry Me in which his vocals (and looks) shined. Do yourself a favor and check out the rest of his music.
First Man by Camila Cabello. In an emotional performance, Cabello dedicated this sweet song to her dad at the 2020 Grammy's.
Vivir Mi Vida by Marc Anthony. One of the greats, J-Lo's ex-husband's hit track is all about living life to the fullest and not letting the little (or even the big) things get you down.
PROVENZA by Karol G. The Colombian singer and songwriter has been climbing the music charts. I highly recommend queuing GATÚBELA to your Latinx playlist as well.
Emily is a NYC-based freelance entertainment and lifestyle writer — though, she'll never pass up the opportunity to talk about women's health and sports (she thrives during the Olympics).
Read more