9 last-minute Oscar party ideas, because it's never too late to glam it up
So, you didn't have Oscar plans. Until suddenly, you did. Now you're having people over to watch the show, and you need to come up with some Oscar party ideas. You don't want them to look last-minute, even if they actually are last-minute. Never fear, because the internet is here with plenty of options for you! Make sure you know how long the Oscars are, so you'll be prepped with enough snacks and bubbly for everyone. If you want to really commit, you could make one or two of the dishes off this Best Picture nominees inspired menu. But maybe all you have time for is a quick grocery store run (no judgement, this is an Oscars safe space).
Here's a list of ideas that will keep your Oscar party last-minute-chic.
1. Pop some popsicles into your champagne.
This idea comes from Lori Bergamotto of Good Housekeeping. She's got lots of simple Oscar party tips and tricks that will vamp up any gathering. Grab a pack of pineapple popsicles to add to your champagne glasses. They'll keep the drinks cool and add some fun fruity flavors.
2. Get out those ballots.
If you're looking for an easily printable Oscars ballot, InStyle has you covered. Download it and print it out to hand to guests at the door. That way everyone can make predictions and compare guesses during the show. It's a super easy but fun touch.
3. Glitter, baby, glitter.
You can get edible gold glitter at most craft stores, and some grocery places carry it, too. Grab a carton and sprinkle that glitter on your party foods. No need to bake your own cupcakes from scratch — just get some from the store and glitz them up! They'll look fancy and you'll feel fancy.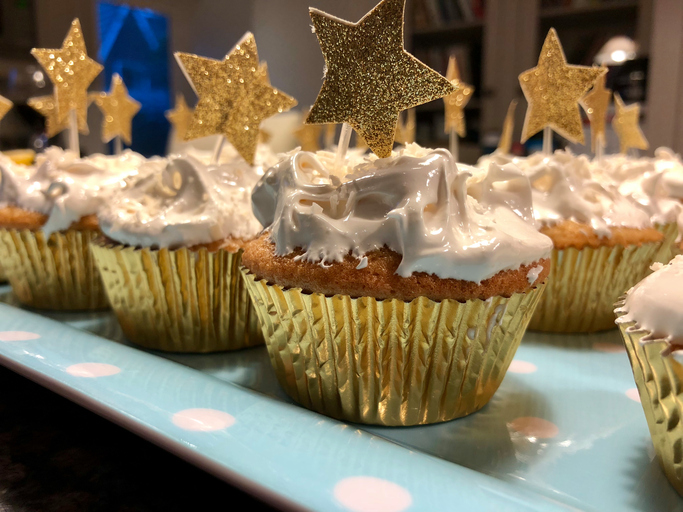 4. Vote for best dressed.
Even if you're not super stoked about the event itself, the red carpet watching is always fun. Get everyone in on voting for the best-dressed of the night by having them write down their pick and put it into a bowl. Tally up the votes at the end of the night for your own personal best dressed winner!
5. Dress up your store-bought cheese plate.
There are lots of options in the deli area. Grab a cheese plate and a fruit tray and some crackers. Once you get home, transfer it all to a prettily arranged platter and no one will know you skipped the prep work.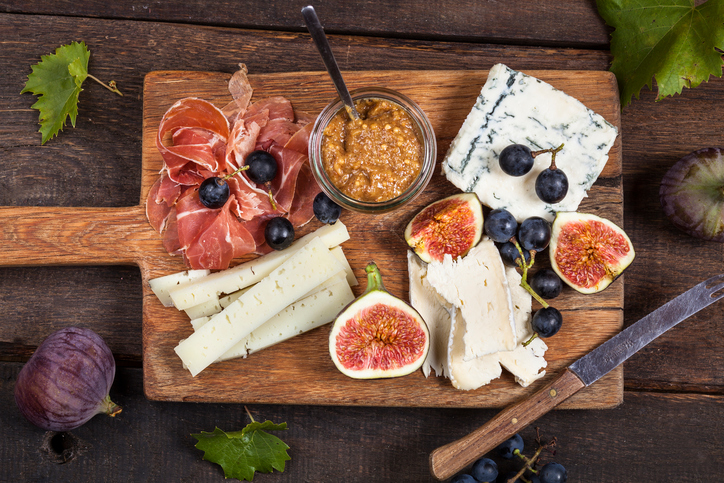 6. Envelope napkins.
You can fold your cloth napkins into an Oscars envelope pretty easily. Just grab some gold stickers and a little ribbon and you're good to go!
7. Get your drink on.
Here's a fun Oscars drinking game that you can easily print and share with the room. "Baby Driver" drinks are a must.
8. Don't forget the soundtrack.
Before the party starts, or even during the red carpet, you can play the soundtracks for each movie on shuffle to really get in the spirit. Celeb event planner Melissa Andre includes good music as an Oscars party must-have. 
You can buy theater-style microwave popcorn and some jumbo boxed candies. Get some soft pretzels from the frozen section and you're perfectly on theme.
Now that you're armed with some last-minute tips, you're good to go.
If you don't have cable TV (and let's face it, it's not always an affordable option), don't worry. We've got you covered for streaming options. Now sit back, relax, and enjoy your party and the show.