15 Last-Minute Halloween Costumes From Amazon With Next-Day Delivery
We're buying the jellyfish hat.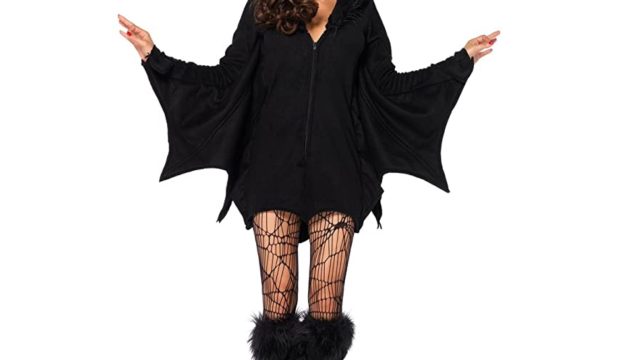 Halloween will be here before we know it, if time keeps flying by as quickly as it has the rest of this whole year. If you forgot to buy a Halloween costume ahead of time or don't want to do a makeup-only Halloween look, don't worry—you can still buy last-minute Halloween costumes.
Amazon has many costumes to choose from, and lots of them offer next-day delivery. From a pair of butterfly wings you can add to an all-black ensemble to a witch costume and an inflatable pig (yes, really) you can wear on your body, here are our 15 favorite Halloween costumes on Amazon right now.
1. Angel
Pretty golden wings and a sparkly halo complete this quick and easy modern angel costume. 
2. Harley Quinn
Dress up as the feistiest member of the Suicide Squad with this costume that comes with her iconic "Daddy's Lil Monster" top, jacket, fishnet tights, and belt. All you need is some temporary hair dye to complete the look. 
3. Hocus Pocus Witch
Channel your inner Sanderson sister with this cool velvet cloak that's lined with bright purple satin.
4. Pennywise the clown
Frighten friends and family by dressing up as Pennywise the clown from It this halloween.
5. Mermaid
This laid-back mermaid costume is a modern take on our favorite Disney princess, Ariel.
6. Colorful Skeleton
Take the traditional black-and-white skeleton suit up a notch by making it a colorful one, instead.
7. Cozy Bat
Bats can be scary animals, but that doesn't mean your bat costume has to be scary, too. It can be cute and cozy instead, with the help of this oversized dress with wings. Find it in plus-sizes, as well.
8. Vintage-Inspired Halloween Dress
Now, isn't this dress just darling? Channel all the retro vibes with this A-line look that features a Halloween-printed skirt and a black ribbon at the waist. It's a classic that you'll surely wear again and again.
9. Inflatable Unicorn
All treats, no tricks. This playful Halloween costume is sure to be a mood-booster and a piece you can throw on for years to come. Plus, we love that you can wear sweatpants underneath it. Comfort galore!
10. Spiderweb Dress
Spiders are the ever-classic Halloween creature, and you can make it cute by throwing on this winged dress. Creepy crawler? We say cutesy crawler!
11. Flo From Progressive Insurance
If you love Flo popping up on screen every time there's a Progressive insurance commercial, then channel her IRL with this funny costume. And yes, the wig's included.
12. Butterfly
If you prefer to throw on a pair of wings for Halloween and call it a day, this colorful pair of butterfly wings are for you. Just throw them on over an all-black ensemble and you're good to go.
13. Jellyfish
Now, if you're looking for an easy yet very memorable costume, opt for this jellyfish hat with LED lights. Trust us, it'll be perfect for all your Zoom Halloween parties.
14. Inflatable Pig
This inflatable costume is an absolute serotonin booster, and we love it so much.
15. Scary Nun
Match your costume to your mood this Halloween with this crazy-scary nun ensemble.