If the rumors are true, Princes William and Harry might have a secret cameo in "The Last Jedi"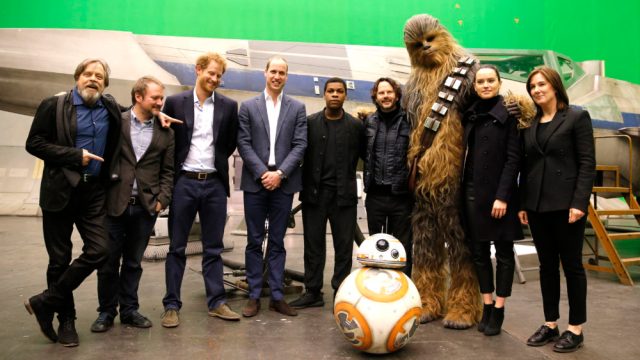 What would make Star Wars: The Last Jedi even cooler? Some real-life royalty! Rumors have been swirling that Prince William and Harry might have cameos in the film, and John Boyega just keeps hinting at it.
The Last Jedi filmed at Pinewood Studios in England, so it wasn't too unexpected when the royal brothers dropped by to check out the set and say hello to Chewbacca. They also had an adorable Lightsaber battle. But were they there for another reason? To film a cameo perhaps? John Boyega (Finn) has been cagey in response to the question. But could his non-answer actually be an answer?
Boyega has been on a press tour promoting his new film, Detroit, and stopped by BBC Radio 4's "Today" show, where *of course* he was asked about The Last Jedi and the rumored cameos.
"I think they took that scene out," he joked of the latter. "I've had enough with those Prince William secrets, man. They came on set; they were there, man. Tom Hardy was there, too — I said it. I'm sick of hiding this.
You probably remember the news that Daniel Craig (aka James freaking Bond) made a cameo in The Force Awakens as a stormtrooper. So, could Prince William and Prince Harry do the same? That'd be awesome. But at the very least, it appears that the Force is with them.
It's starting to look like we'll have to wait for Star Wars: The Last Jedi to hit theaters to find out more, so make sure to mark December 15th on your calendar!