Here are 19 of the best reactions to the new "Star Wars: The Last Jedi" teaser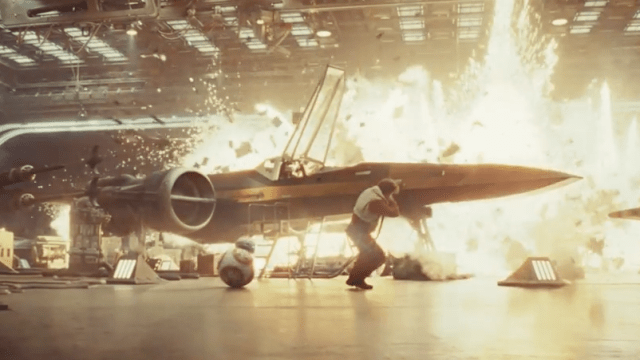 The moment we have all been waiting for is finally here: the trailer for Star Wars Episode VIII: The Last Jedi has been released. The trailer was released during The Last Jedi panel at the 2017 Star Wars Celebration in Orlando, and it is time to freak out. 
After an hour-long build-up where moderator Josh Gad spoke with LucasFilm president Kathleen Kennedy, writer/director Rian Johnson and cast members Daisy Ridley, John Boyega, Mark Hamill and Kelly Marie Tran, the trailer was released.
After the big reveal, Johnson asked for the trailer to be replayed so he could watch it with fans. Check it out and try not freak out (you definitely will):
https://www.youtube.com/watch?v=zB4I68XVPzQ?feature=oembed
The trailer features Rey training to use the force, with Luke as her mentor (OMG LUKE IS BACK!) as well as glimpses at all our Star Wars favorites, Finn, who looks comatose, Poe Dameron and BB-8, as they run to their X-Wing as it gets blown up (!), an airborne Millennium Falcon, the back of General Leia's head, and the evil Kylo Ren. Because this *is* Star Wars we're talking about, it looks like there will be plenty of amazing battle sequences.
The trailer ends with Luke saying, ominously, "I only know one thing, it's time for the Jedi to end." OMG, WHAT? We have ~so~ many questions!
Currently us:
Naturally fans are freaking out. Here are 17 of the most hype fan tweets:
https://twitter.com/udfredirect/status/852914947117821954
false
false
https://twitter.com/udfredirect/status/852918833555927041
false
false
https://twitter.com/udfredirect/status/852920178492948480
false false
The excitement is too real. We'll be re-watching this trailer until we hopefully get a second teaser!