File under not surprising at all: Carrie Fisher actually rewrote some of "The Last Jedi"
In addition to being an iconic actress, Carrie Fisher was also known as a prolific writer, who served as one of Hollywood's most in-demand script doctors (tweaking dialogue in iconic films such as Sister Act, Hook, and The Wedding Singer). But it turns out, Fisher also had a hand in crafting a few of the most poignant moments in The Last Jedi. Naturally, spoilers ahead.
While The Last Jedi is full of the show-stopping action, Jedi battles, and maneuvering ships at lightspeed we've come to love about the series, the film was also the most straight-forward in acknowledging the price of war. From the arms dealers leading a life of luxury on Canto Bight to the many, many devastating casualties for the Resistance, The Last Jedi acknowledged the devastation war brings in a way that no other Star Wars films before it have.
But despite the solemnity of the film, it's also incredibly funny, and according to writer-director Rian Johnson, Fisher helped find that balance in two of the most important scenes.
In an interview with The Daily Beast, Johnson revealed that Fisher helped craft the dialogue for Leia's reunion with Luke (Mark Hamill), along with her devastating goodbye to Vice Admiral Holdo (Laura Dern).
Johnson told The Daily Beast that the day the final scene between Fisher and Hamill was filmed — in which Luke and Leia reunite after years apart and Leia forgives Luke for vanishing after Ben Solo (aka Kylo Ren) turned to the Dark side — was a very quiet day on set, a stark change from the usually excitable mood. But while Fisher and Hamill reunited on-screen for the first time since Return of the Jedi in 1983, it wasn't all somber. Johnson revealed that Fisher added the quip from Leia about changing her hair as the two reminisce about their time apart.
"She loved one-liners and jokes, Johnson explained. "She could just pop out so many jokes. So the whole thing where she sits down with Luke and [says], 'I changed my hair,' obviously, that was her.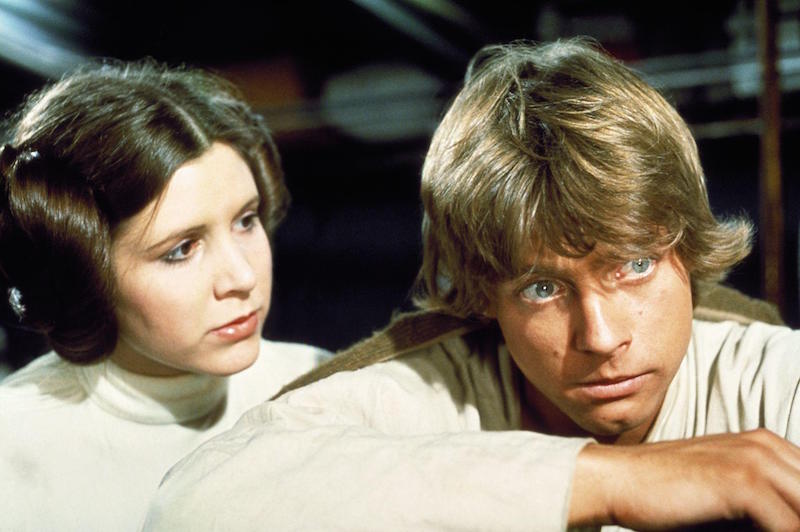 Speaking of the scene in which Holdo — having decided to stay on the lead Resistance ship to distract the First Order from the rest of the Resistance escaping to an old Resistance base — and Leia have a moving farewell, Johnson revealed that Dern and Fisher re-worked that entire scene themselves.
"That whole Holdo scene, that goodbye scene was actually completely rewritten with Carrie and with Laura, he said. "The three of us got together and worked through it. And the real heart of that scene came from Laura. It was her saying, 'I just feel like, from my character to Leia, but also me to Carrie, I want to express what she means to me. I want to express my gratitude.'"
He added that Fisher was the one who suggested that they both say "May the Force be with you, always" to conclude the scene. Johnson also revealed that the goodbye between Holdo and Leia is one of the most powerful scenes for him to watch — as with Fisher's passing, it holds even more weight for him now. He said, "That's one that may be the most powerful, oddly for me, especially now watching them. I'm just so happy we were able to get that."
While we know The Last Jedi wasn't meant to be Fisher's final appearance in the franchise, her masterful work as Leia and her beautiful farewells serve as the perfect sendoff to a beloved character and actress.