A woman temporarily went blind after a salon used nail glue to apply her lash extensions
It's one thing to get your lashes done and hate the results. However, it's another thing when you find out that a salon used nail glue to seal your lash extensions. That's what happened to a 20-year-old student when she went to an unnamed salon in England. On October 19th, Megan Rixson booked an eyelash extension appointment at a salon she had never been to prior, and then lost her eyesight for the two hours following the service, The Daily Mail reports.
It wasn't long before Rixson took to Twitter to share her experience. She wrote, "Girls, be very very careful where you get your eyelashes done!! I got my individuals done today somewhere new and it turns out they used nail glue on my lashes. I genuinely lost my sight for 2 hours. Thankfully the swelling has gone down, but there [sic] still very sore. Be careful." false
"I'm not crying because I'm sad, I'm crying because my eyes are continuously watering," she said in her video. "Everything is very blurry."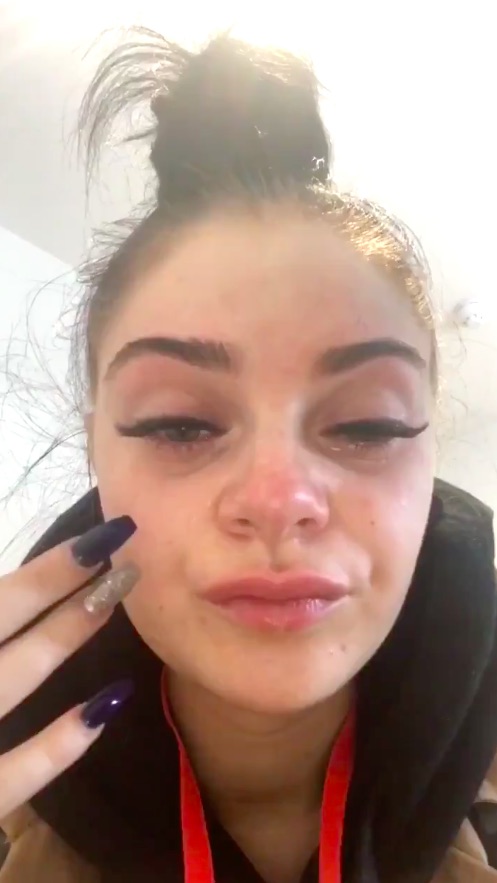 The 20-year-old told Buzzfeed News that she felt stinging after her first eye was done, but her beautician told her it was normal. "It was burning so much my eyes were naturally closing, but she kept telling me to hold [my eyes] open. After she was done, I sat up on the bed and couldn't open them. I said, this isn't normal, but she kept saying it was."
On October 20th, Rixson told her followers that she was feeling a lot better after getting eye drops from the pharmacy. "The burning has gone down."
false
According to The Daily Mail, Rixson went to the salon with her boyfriend, and he's the one who inquired about what glue was used on his girlfriend's eyes. "When my boyfriend asked what glue they used, a lady in the salon said that is for nails! The woman just kept apologizing." The publication also reports that the salon failed to apply tape to Rixson's under-eye area to protect her eyes from the glue. They also didn't do a patch test, which is standard practice when using new products—especially glue—on clients.
The salon has since refunded Rixson, and they even gave her a voucher for free lashes. But for obvious reasons, she "won't be going back there anytime soon." As for her natural lashes, they aren't the same as before. "I've lost a lot of of my [natural] lashes and my eyes are lot better, just a little sore and sensitive." false
This is a reminder to always do your research when it comes to beauty procedures and/or treatments. Even if it's something as easy as getting eyelash extensions, nothing is worth losing your eyesight over.