Lane Moore's book of essays How to Be Alone is coming this fall, and here's your first look at the cover
Comedian. Writer. Actor. Musician. GLAAD Award recipient and Twitter icon and host of the hilarious comedy show "Tinder Live!" in New York. (I could go on.) You name it, and Lane Moore does it — and does it well, might I add. I genuinely have no idea how Lane found the time to write a book, but she did. And thank goodness, because she has some important things to say that we all need to hear.
How to Be Alone is a deeply personal collection of essays about Lane's moving personal narrative. She writes openly about struggling with her mental health, complicated parental relationships, homelessness, queer life, and more. It's both an enjoyable read and a guide to help you reconnect with yourself. At times, you'll scream, Yes! You get me! During others, you'll sit back and listen. How to Be Alone comes out this November, but we have your first look at the cover right here.
If you follow Lane on Twitter, you're used to her enviable combination of laugh-out-loud humor and refreshing honesty, and her pairing of unmatched relatability with total realness. For every tweet about re-re-rewatching old episodes of Law & Order: SVU, there's also one about what to say to a suicidal friend in need. That's why even if you don't know Lane personally, she still feels like someone you've known for years. And that's exactly what reading How to Be Alone feels like: having an honest conversation with an old friend.
Lane poured her heart and soul into How to Be Alone.
https://twitter.com/udfredirect/status/1001927831620915200
And now, it's all happening!
(No, this isn't the cover. We'll get there.)
https://www.instagram.com/p/Bks415RAbtA
You already know that the book offers a deep glimpse inside of Lane's life and brain. What you didn't know is that she gets right to the point on the book's cover, which features a comedic spin on a brain diagram. But instead of labeling the frontal lobe or the cerebellum, it cuts to the core of what's really occupying Lane's mind: things like 90s TV shows, too many feelings, friend breakups, and, of course, Jim Halpert.
I now present the incredible book cover for How to Be Alone by Lane Moore.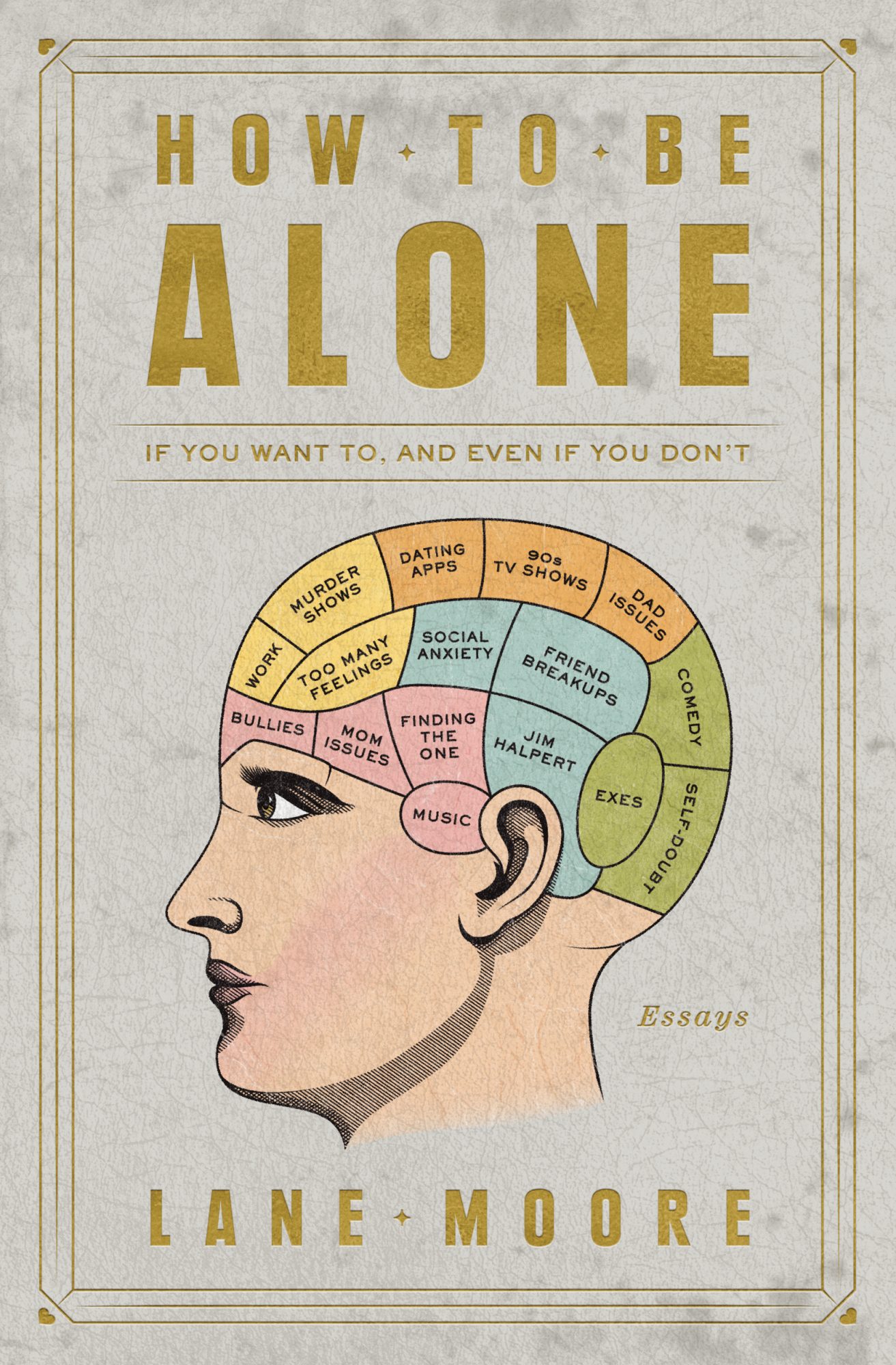 If this cover doesn't make you think, I share a brain with this woman and I must read her book immediately, I don't know how to help you. We still have a few months until the book hits shelves, but we're already counting down the days until we can get our hands on it. And in the meantime, you can get your fill of Lane by following her on Twitter.
How to Be Alone: If You Want To, and Even If You Don't hits bookshelves on November 6th. Pre-order it today on Amazon!