Lance Bass resurrected NSYNC's "Bye Bye Bye" and we are squealing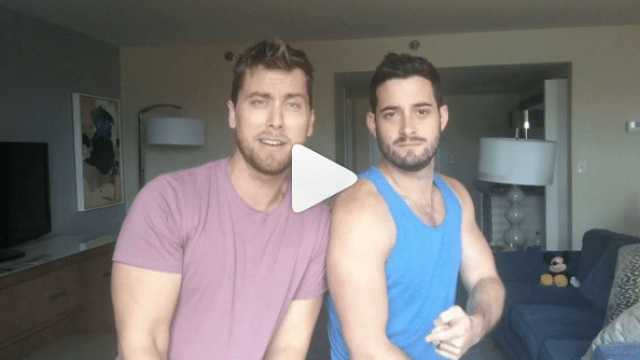 Lance Bass joins the Diabetes Dance Dare, dancing to N'Sync's Bye Bye Bye and the result is serious nostalgia.
He gets his husband Michael Turchin to join in on the very boy band routine and we LOVE IT SO MUCH. Lance has STILL got the moves, and Michael keeps pace with aplomb. Bravo all around.
Lance nominated fellow performer/musicians Joey Fatone, AJ McLean, and Nick Lachey to upload their own videos, but it appears they have yet to respond.
Instead Nick posted a video of him balancing precariously on some gym equipment to fix a television on the wall.
We think he misunderstood the challenge.
Have you gotten in on the #diabetesdancedare yet? It's easy! Pick a song. Record 23 seconds of your best moves. Nominate three or more people to upload their own videos, and then make a donation to the American Diabetes Association.
Following in the footsteps of the ALS Ice Bucket challenge, the association hopes the dare will go viral and raise both funds and awareness for diabetes and its treatment.
Celebrities are jumping in on the cause, and the results are fantastic.
SHAQ can DANCE!
Usher schools us all.
https://www.instagram.com/p/BK578nnhTX-
Comedian Melissa Peterman is hilarious and rad.
Camila Cabello of Fifth Harmony is smooth as butter.
Okay, it's time for you to bust out your moves. Show us what you got! Use hashtag #diabetesdancedare, and don't forget to nominate your friends!