Lana Del Rey wrote a song on the way home from Coachella, and it was inspired by something SUPER important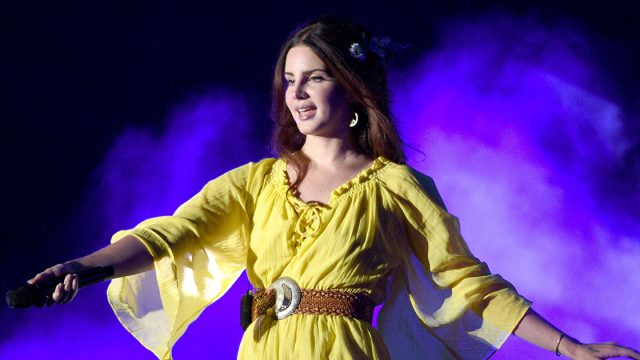 While driving back from a weekend at Coachella music festival, Lana Del Rey wrote a song and shared the emotional musical moment while pulled over in a secluded sequoia grove on her way to L.A. from the desert.
While she might not have been performing at 'Chella, Lana is prepping for the release of her new album. The singer shared the tender and cinematic track "Love" earlier this year, and later shared the song's beautifully cosmic video. Soon after, Lana announced her new album Lust For Life, which is expected for release this summer, and played up to her new role of Supreme with a bewitching and mystical album trailer.
https://www.youtube.com/watch?v=Gb1lte9uljI?feature=oembed
One thing that Lana Del Rey has said about her new album is that it's been inspired by the current political climate.
And it seems that the singer is still feeling inspired by what is going on in the world. Stopping by some beautiful looking woodlands on her journey back from Coachella, Lana said that, while she had fun at the festival, she couldn't help but feel conflicted because of the current heightened tensions with North Korea.
"I'm not gonna lie- I had complex feelings about spending the weekend dancing whilst watching tensions w North Korea mount," the singer wrote on social media, before noting that she often, like all of us, finds it hard to balance the troubles of the world with living life.
https://www.instagram.com/p/BS9Z3qXl5RQ
"I find It's a tightrope between being vigilantly observant of everything going on in the world and also having enough space and time to appreciate God's good earth the way it was intended to be appreciated," she explained. "On my way home I found myself compelled to visit an old favorite place of mine at the rim of the world highway where I took a moment to sit down by the sequoia grove and write a little song. I just wanted to share this in hopes that one individual's hope and prayer for peace might contribute to the possibility of it in the long run. Hope everyone has a nice day, with love from California."
The singer then shared the song that she had written, and it's emotive and *very* Lana Del Rey. The song deals with trading fame and fortune for a place in heaven, and it's pretty stunning.
https://www.instagram.com/p/BTAU9BbjLvs
We really appreciate Lana for stopping and sharing this new song with us. While it's important to engage with current events, it can, at times, feel overwhelming, and it's important to take a step back and appreciate life, too. We love that Lana decided to do that in such a beautiful and awe inspiring place.
Meanwhile, Lana Del Rey recently shared the smiling album cover for Lust For Life.
https://www.instagram.com/p/BSwHwHjlvSr
While no release date for the album is slated yet, music site Pitchfork seemed to confirm that the collection would be released on May 26th. They have, however, since issued a correction.
Lana Del Rey's "Love" is available now.