Lana Del Rey and the Weeknd are the queen and king of the Hollywood sign in her new video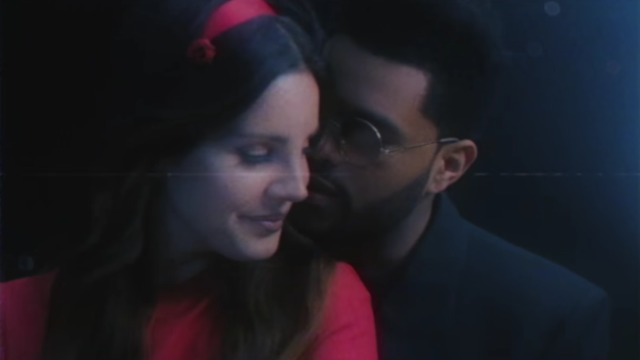 After sharing the track last month, Lana Del Rey has dropped the video for "Lust for Life," and if you had any doubt that she and the Weeknd were the queen and king of the Hollywood sign, then this video will prove it.
The singer had previously shared a teaser of the video for the track, which is set to appear on her album of the same name, coming out later this year. Lana had previously teased the collection with a witchy and magical trailer, in which she said she had cooked up her album while living inside the "H" of the Hollywood (or Hollyweird) sign.
https://www.youtube.com/watch?v=Gb1lte9uljI?feature=oembed
Part of Lana's witchcraft has involved teaming up with her pal, Abel Tesfaye, aka the Weeknd, and their music video for "Lust for Life" is pure magic.
The clip sees Lana, joined by two dancers, giving us a little '60s-inspired dance routine — something that seems to have become a part of the singer's live show. However, she doesn't stick around for long and is soon running around on top of the Hollywood sign joined by none other other the Weeknd.
The pair dance, flirt, and frolic atop the iconic L.A. landmark, before sliding down the sign and landing in the grass.
Watch the vintage and VHS-inspired video for "Lust for Life" below.
https://www.youtube.com/watch?v=eP4eqhWc7sI?feature=oembed
As Rolling Stone report, Lana told KROQ, where she performed last weekend, that she felt that the Weeknd was partially responsible for helping her launch her career.
"He's kind of the reason I was ever on the radio like six years ago," she said. "He started posting all my videos on his Tumblr and social media…He's been in touch with me ever since then. He's always been really supportive. He had his own path, which led him to this place that's crazy big. But we've just been friends for maybe the past six years."
Meanwhile, the singer also revealed that the title of her duet with Fleetwood Mac's Stevie Nicks would be called "Beautiful People, Beautiful Problems." This track and one featuring Sean Lennon, will also appear on Lust For Life, which is expected to release this year.