Lana Del Rey has opened up about how she reached a new positive outlook on her life and her music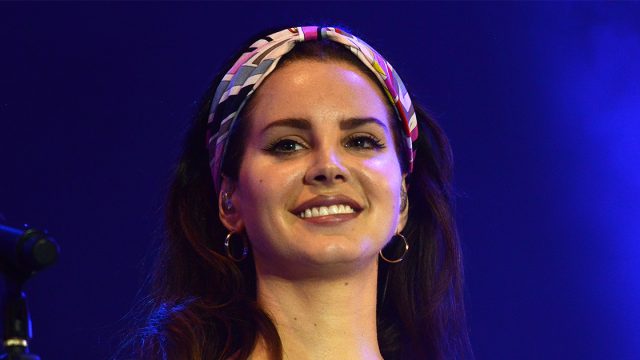 In a new interview with legendary singer Stevie Nicks, Lana Del Rey has shared how her outlook on life became more positive, and we could all stand to learn from her.
The singer is currently prepping for the release of her latest album, Lust For Life, which is expected to hit stores and streaming services on July 21st. The album has been preceded by a few singles: the cinematic track "Love"; the title track, featuring The Weeknd; and the politically charged "Coachella — Woodstock in My Mind," which Lana wrote on the way back from, well, Coachella. What's more, the singer has teased new songs — on Instagram, and during her live show — including "Cherry," which seems to have already become a fan favorite.
https://www.instagram.com/p/BV2FPlpF_k_
Now, speaking to Stevie Nicks, who has collaborated with the singer on a song for the album, Lana Del Rey has spoken about what caused her to change her outlook on the world.
The interview appeared in the latest issue of V magazine, for which Lana is also the cover star. One thing Nicks noted in her questions was how this new era of music for Lana differs from her first. Even her new album's title, Lust For Life, is quite the contrast to Born to Die.
"I just wanted to chronicle how I was feeling honestly, in the moment, for each record," Lana explained about the choice of album titles. "So, I had a lot of stories that I wanted to tell that I hadn't told yet up until this point. And now, through the last four records, I got out a lot of those stories and a lot of those feelings, and for the first time, I've caught myself up to real time." 
https://www.youtube.com/watch?v=eP4eqhWc7sI?feature=oembed
Continuing, the "Video Games" singer explained that she was now living her life in the current moment.
"I'm at this place where I feel like I'm really present, and when I'm reading the news, I'm really reading it, whereas before I was a little bit in my own head," she admitted. "So, there's definitely been a feeling of freedom and lightness being in the present moment. That brings on that lust for life feeling, when you don't have all of those feelings about the past weighing you down…I just feel like whatever each day brings me is something that I need and I want. It's just time. Time has brought me here." 
One of the things that Lana has explained in the past is how this album addresses some of the things that have been going on in the world, which is something she admits was missing from her previous collections.
"When there were the women's marches, I was writing about that. There was enough space in my mind to really absorb everything," she said. "I think I was very much in the mix of culture in California over the last five years, but it feels good to feel more connected to a wider world." 
https://www.youtube.com/watch?v=3-NTv0CdFCk?feature=oembed
Despite being plugged into what's going on in the world, Lana said that she was anxious not to add more burdens to people's experiences and lives.
"I was never a huge self-editor — I wrote songs and then I felt like, Okay, well that's that," she said to Stevie Nicks. "And now, I've found in the last two years that I've really been editing some of the language of some of the songs in light of the political landscape, [because] I don't want to be a part of anything that adds to that negativity." 
We have to say, we're very much looking forward to hearing Lana Del Rey's upcoming album Lust For Life, and we can't wait to get a further glimpse at this new, positive singer (although we hope she'll keep singing about about red party dresses and the pale moonlight).
Lust For Life is expected for release on July 21st.