To All The Boys I've Loved Before star Lana Condor opened up about her insane chemistry with Noah Centineo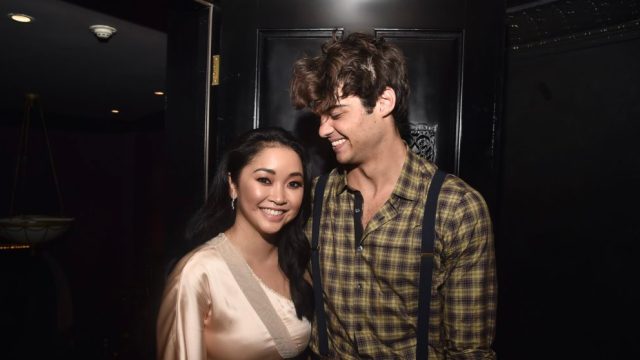 To All The Boys I've Loved Before is one of those rare teen rom-coms that even makes grown adults melt, and leading actress Lana Condor knows it. She also knows that a huge draw of the Netflix hit is her on-screen chemistry with actor Noah Centineo.
"I've been seeing the greatest tweets and memes and Instagrams about Noah," she laughed during an interview with Entertainment Tonight. "People are asking Noah and I to adopt them. It's crazy!"
It's true that The Fosters star Centineo (or more specifically, his character Peter Kavinsky) has become America's boyfriend overnight, but people are also vehemently shipping Condor with her on-screen boyfriend. In fact, when director Susan Johnson revealed that LJ's phone background in the movie is a behind-the-scenes photo of Condor and Centineo cuddling, fans just about lost it. false
"I've never felt chemistry like this ever before with any other actor that I've worked with," Condor continued. "I think we both know that it's special and I'm just happy that it's him that I'm going through all this with. We make a really, really good team. It's been crazy. People truly want us to get married.
Lana, can you blame us?
https://www.instagram.com/p/BnAU3ExBb5u
As any one who's seen the movie (and seen Peter drive all the way across town to get Lara Jean her favorite Korean yogurt drink) can attest, it's hard not to get emotionally invested. And that's even without getting into that pocket dive.
Fortunately, Condor totally gets the hype.
"I watched the movie by myself, and I took myself out of it—I'm just watching it for Lara Jean and Peter—and I fell in love with Lara Jean and Peter as well," she admitted. "I was like, 'Oh my god, their relationship is the best relationship ever!' So I get it. I totally get the reaction, for sure."
Lara Jean + Peter Kavinsky forever. Now, if you'll excuse us, we'll be watching the hot tub scene on repeat and crying softly into our ice cream.