"Laminated Skin" Could be the Best Thing to Happen to Your Face this Winter
Why celebs and TikToker's are raving about "glazed donut" skin and how it can help you glow-up this winter.
While a glazed donut may be a tasty treat, it's not something that comes to mind when it comes to skincare. But, alas, TikTok brings us all the trends, and yep, you guessed it — glazed donut skin is now a thing.
The whole idea is to "produce a wet look on the face," explains New York City facial plastic surgeon Konstantin Vasyukevic, M.D.
This can be just the thing we're looking for, when it comes to combatting winter's flaky dryness.
"The laminated skin trend is the idea that your skin should look dewy, supple, and almost reflective," explains California-based medical aesthetician and influencer Cassandra Bankson. "It's all about skin that looks even and soft, but moist, or almost sweaty to the touch – especially during winter, when so many people are traditionally dealing with dry, patchy flare ups," she tells HelloGiggles.
RELATED: 7 Upgrades I Made to My Beauty Routine In My 30s
So how do you hop on this trend and get glowy skin that's not at all gloppy and greasy? Bankson explains, all it takes is two easy steps.
Step 1: Smooth the skin
The smoothing step means evening skin tone and texture, helping to decrease the size of large pores, scars, or uneven tone.
The best way to do step one is by using an over-the-counter active such as an alpha hydroxy acid or AHA, advises Bankson.
This means that when you reach for a serum or toner (which is typically the step after cleansing, and prior to moisturizing), you'll want to check the label for its main ingredient. This is what's known as an "active" in skincare.
"These are great because they are gentle on the skin and can hydrate the skin by holding onto moisture. Glycolic acid comes from sugarcane and is wonderful for those who are not sensitive. For those who are prone to pigmentation, lactic acid, which can come from fermented bacteria, is wonderful. If you struggle with acne, mandelic acid, which comes from bitter almonds, is a great choice," she explains.
If you don't want to use an exfoliating acid, you may be interested in ingredients like retinol, or niacinamide. "Retinol is best for those with major texture who are worried about fine lines and wrinkles. It is also known as vitamin A," suggests Bankson.
Another option? "Niacinamide, also known as vitamin B, is better for those who are struggling with large pores, uneven skin color, and oil production in the skin. It helps to prevent uneven skin tone from spreading deep inside of your cells, and because it is also an antioxidant it's great for anybody who lives in a polluted city to give the skin a little bit of extra support," says the aesthetician.
Step 2: Seal the skin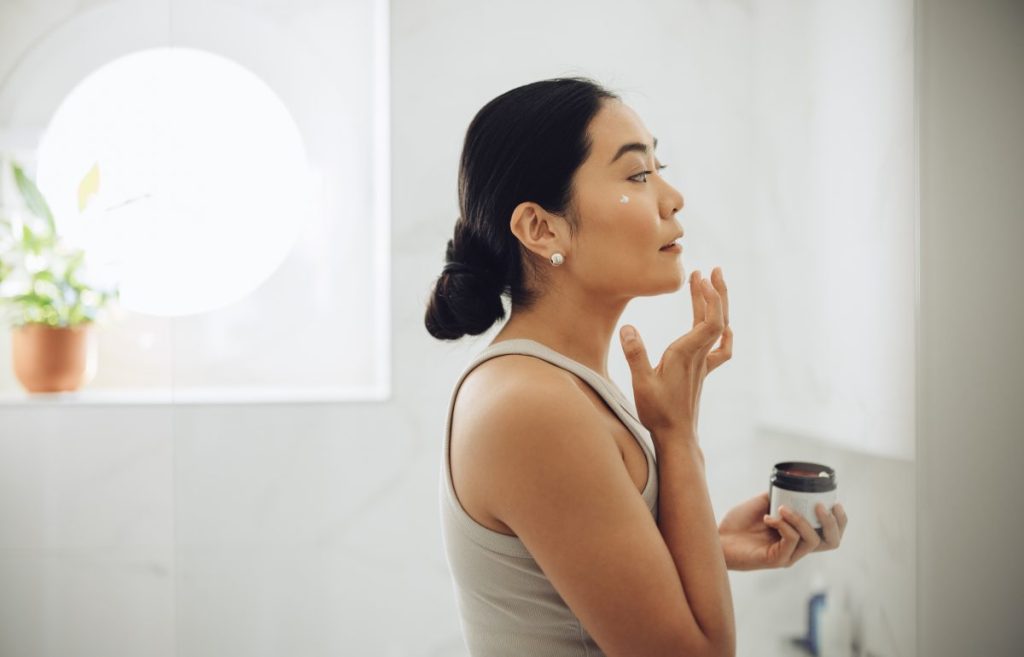 The sealing step is all about how to get that glow. Adding on layers of hydration and moisture gives the skin a dewy, misty, and laminated appearance, advises Bankson.
"It's all about emollients and occlusive products. If you are naturally super dry and looking to get this look, use ingredients such as hyaluronic acid, squalene, and ceramides. Your skin naturally creates these, and when you put them on with a moisturizer or product, it can support the skin," she tells HelloGiggles.
For that laminated look, some of the best ingredients are things such as petroleum jelly, Shea butter, and glycerine. "These hydrators lock everything in, and give you that dewy moist look that lasts all day," says Bankson.
As a bonus, you could finish off your look by "grabbing a glycerin spray to mist across the face. This will give you a fresh look, that almost looks like you just stepped out of a misty shower," she adds.
Who shouldn't do the laminated skin trend?
If someone naturally has oily skin, or is not interested in fashion makeup or beauty trends, this may not be the right fit for them. "This trend can feel heavy on the skin, almost like you have a layer of saran wrap on your face that you are walking around all day with, and it can be mildly uncomfortable depending on what products you layer," says Bankson.
Furthermore, if somebody lives in a very cold climate, this trend could also be uncomfortable. "Have you ever walked out into the cold with wet hair? It can become icy and extraordinarily uncomfortable. Something similar can happen to the skin. With these different layers of moisture and exclusive products on the skin, they may interact with the exterior environment and feel cold all day long," she explains.
How often should I try the laminated skin trend?
If you are looking to receive the maximum skin benefits from this trend, experts say, it can be done every day. "Using it this way is less about the look, and more about the feel and what it does for the skin long-term, notably helping to decrease texture and uneven skin, while also hydrating and supporting and protecting your skin barrier," explains Bankson.
Jené Luciani Sena is an accredited journalist and internationally-renowned bestselling author, regularly seen on national TV outlets such as Access Daily, Today and Dr Oz. Touted as one of Woman's World Magazine's "Ultimate Experts," she's a TEDTalk speaker and a busy Mom of 4.
Read more