Lamar Odom revealed his biggest regret about his marriage to Khloé, and it's absolutely terrifying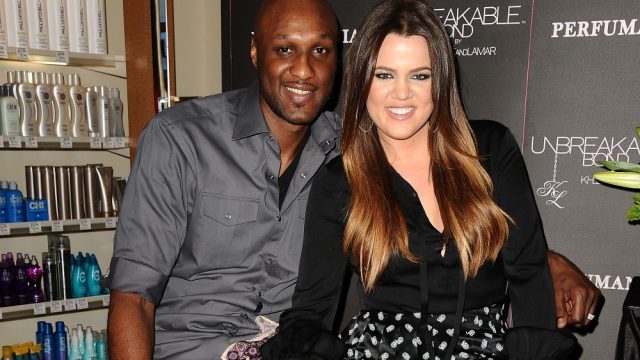 The past few years have brought some serious challenges for Khloé Kardashian. She went through a highly publicized divorce in 2016. Then, in April 2018 (during the last days of her first pregnancy), rumors surfaced that Khloé's boyfriend Tristan Thompson had cheated on her—which ultimately turned out to be true. After all Kardashian has been through, she definitely deserves a break. But now, her ex-husband Lamar Odom is revealing another distressing moment from their marriage.
Odom sat down for an interview with Juju Chang on Good Morning America to discuss his new memoir, From Darkness to Light. Chang questioned the former NBA player about a moment he described in the book in which he threatened to kill Khloé while high on cocaine. Odom wrote that he yelled: "I'll f*cking kill you! You don't know what I'm capable of!" According to Us Weekly, he also described the incident as "the most regrettable moment" of his life.
"I'm pretty sure she had to be scared at that point in time," Odom told Chang while discussing the threat. "I'm thinking about it now, like, I couldn't believe how I was treating that queen like that."
Odom admitted that he hadn't apologized to Khloé but acknowledged that he should say sorry.
People.com notes that Kardashian and Odom tied the knot in 2009. They were in the process of filing for a divorce in 2015 when Odom suffered a near-fatal overdose that left him in a coma. But even though they had been separated for years, Kardashian waited to finalize their divorce until Odom recovered and stayed by his side while he was comatose in the hospital.
Odom told ET Online that if he could speak to his ex-wife today, he would tell her how grateful he is.
"I love you and thank you for being there for me when I couldn't walk or talk," he said he would tell Kardashian. "You know, when you marry someone after knowing them 30 days, I don't think that love will go away. You know what I'm saying? A piece of paper that says we're not together no more, that love will never go away."
It sounds like Odom is aware of how harmful and abusive his behavior was, but that still doesn't make it any less terrifying that he threatened to kill his then-wife. We're sending so much love to Khloé today, because she deserves all the happiness in the world.