Lais Ribeiro walked in the Victoria's Secret Fashion Show with visible stretch marks, proving that every body is beautiful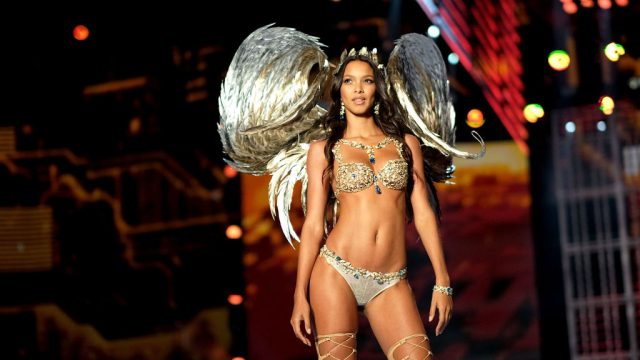 Victoria's Secret model Lais Ribeiro is stunning. If you saw pics of her wearing the Champagne Nights Fantasy Bra at the Victoria's Secret Fashion Show on November 20th, you probably fell in love. (We certainly did.) You might have also taken a peek at something else that added to Ribeiro's beauty: her stretch marks.
When we think of Victoria's Secret models, we think of pure perfection. Though we don't normally see stretch marks on the runway, this is a beautiful deviation from the norm. Ribeiro, a 27-year-old mother, bared her scars, which are located on her upper thighs. One eagle-eyed Instagram user noticed Ribeiro's stretch marks in a picture from the fashion show and posted a closeup on Instagram. Not to shame her, but to celebrate that both she and Victoria's Secret are embracing natural bodies.
"She is an [sic] human, like you and me. She have [sic] stretch marks like all the girls! and that's not ugly," the Instagram caption reads. "Stretch marks are beautiful. Love your body! It's the only [one] you will have."
Naturally, the internet went crazy with admiration. "She is beautiful, her body too," one user commented on the pic. "They don't really make her ugly, most of us have it," wrote another. "I truly think that every natural mark or scar tells a story and makes human body even more beautiful and interesting!" added another commenter. We couldn't agree more.
Here's the picture of Ribeiro looking absolutely stunning.
https://www.instagram.com/p/Bb3I8bagMnD
Ribeiro is sporting not only the Champagne Nights Fantasy Bra, but her extremely human stretch marks too. They're a nod to body positivity and a small victory in the task of derailing the train that's chasing a conditioned sense of perfection. Every body is beautiful, and every scar is beautiful. Ribeiro's stretch marks are sure to be one of the best moments of the show.
The Victoria's Secret Fashion Show airs this Tuesday, November 28th, on CBS.
Being unapologetically you never goes out of style.