Laila Ali told us why she gets a mani/pedi every two weeks and the advice from her dad that she lives by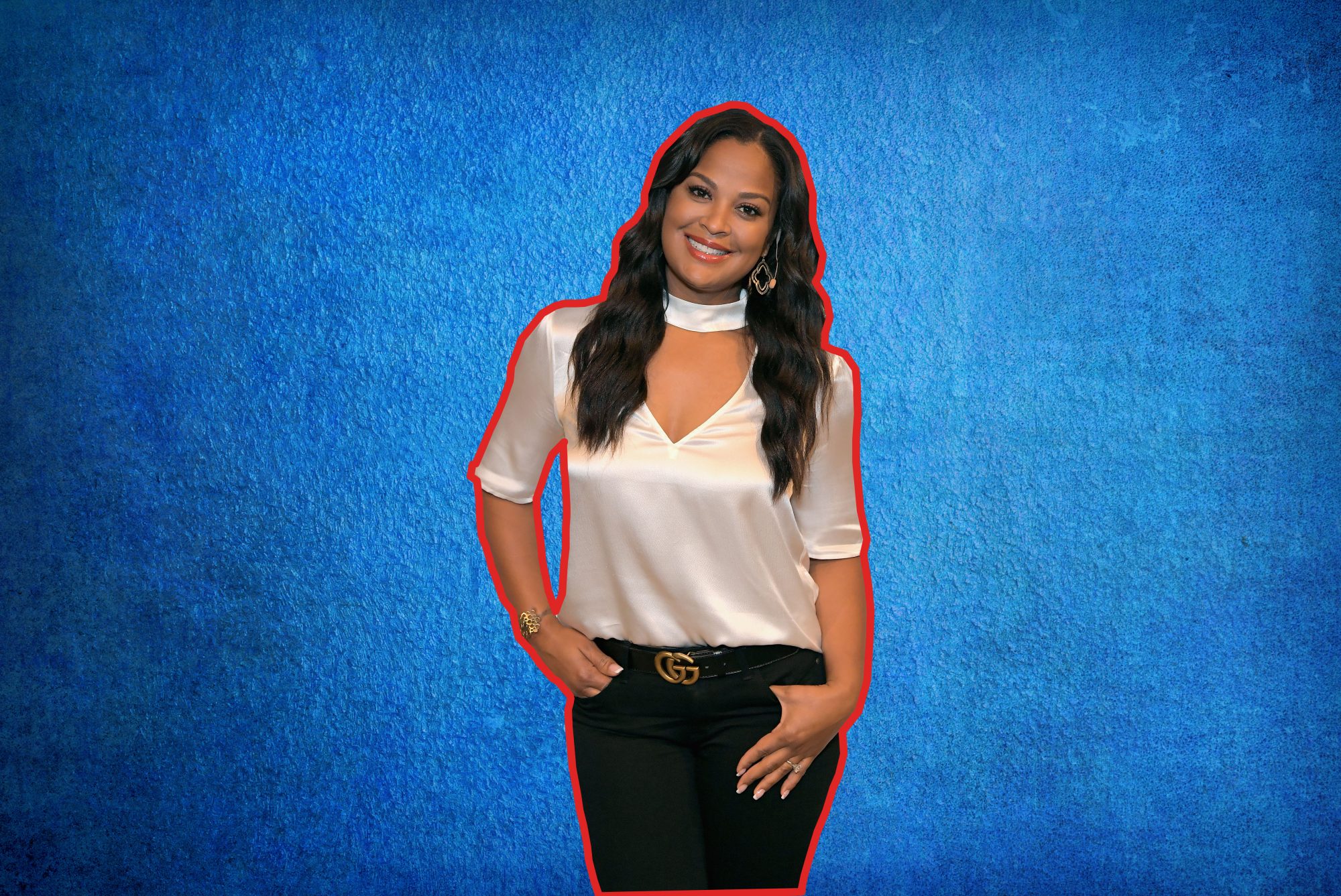 We know Laila Ali is a fighter. The former boxer and current lifestyle entrepreneur always gives it her all, whether she's duking it out in the boxing ring, tearing up the dance floor on Dancing With the Stars, or empowering her fans on social media to live their best lives.
It comes as no surprise, then, that's she's also fighting for a cause that's close to her heart: eye health. The four-time undefeated world boxing champion has teamed up with Think About Your Eyes, a national public awareness campaign, to help spread the word about how vital it is to have a yearly eye exam.
We had the chance to chat with Ali about healthy living, and we couldn't resist asking her all sorts of questions related to wellness, including tips on how to start cooking if you're a total noob, fitness tricks, and what helps her stay grounded when she needs it the most (it's so relatable).
HelloGiggles: Why did you get involved with this campaign?
Laila Ali: I partnered with Think About Your Eyes to schedule regular eye exams because I wear glasses, my daughter wears glasses, and I'm all about inspiring people to be the best they can be physically, and that's what this comes down to. A lot of people don't think about their eyes, which is why it's called 'Think About Your Eyes." Myself and my mother made the same mistake—waiting until your child is squinting or having trouble with reading. My mom didn't take me to get my glasses until I was 11 years old, and I probably needed them for a couple of years before that. The teachers had mentioned to my mom that I needed to sit at the front of the classroom because I had trouble seeing. Before that my mom would rely on the school exams, which aren't comprehensive exams. A lot can be missed.
And the same thing happened with my daughter. Her eyes had been examined by a pediatrician and the school, but she was squinting and having trouble reading and had to be moved to the front of the class.
So I want to prevent that from happening to other people. A lot of times we don't realize the health risks that can happen and are related if not detected early enough, like diabetes and heart disease.
HG: From boxing to your Instagram, it's clear you're a big advocate of leading a healthy lifestyle. Why is that important to you?
LA: We have a lot of people suffering, in epidemic numbers, from heart disease, diabetes, [and] obesity that are directly related to how we eat and our lifestyle. Unfortunately, a lot of people rely on their health care system to fix them when really that's not getting to the root of the problem. Your food can be your medicine or your poison. It's really about taking control of your life. You don't have to get sick as you get older. It's about learning about the choices [and] the steps you need to take to lead a healthier lifestyle, to get away from the junk food and being sedentary. This is what parents can do for their children, too, in order to set them on the right path.
I'm passionate about that because I'm all about being in control of my life holistically, and health is a big part of that. If you don't have your health, you have nothing. I want to prevent you going to the doctor and being told you have heart disease, which is the number one killer of women right now.
HG: You like to post about your cooking on Instagram and share healthy dishes. If someone is new to cooking but would like to get started because they want to improve their diet, what's your advice to them?
LA: A lot of people are intimidated by cooking or they don't want to take the time to cook and see it as a big task. I wouldn't lie to someone and say cooking doesn't take a lot of time and is easier than just going out to eat, but that's where we get into the problems of not knowing what we're eating. So what I would say in order to get started: identify what you like to eat, and start basic. You can do a whole meal in the oven. In my house, we eat organic, free-range meat, not commercially farmed meat. If I want to bake some chicken, bake some veggies, bake some fries, I put it all in the oven on a cookie sheet. You can cover that with parchment sheet or foil, and it's a really easy way to get a healthy, tasty meal, and it's an easy clean up.
It really comes down to how much time you want to put into your meals and how complicated you want it to get, but in my house, we make meals really simple. On Instagram you can see all these amazing dishes that look great, but on the day to the day, that's not how healthy people eat all the time. People want to see things that look amazing, but aren't realistic. That's like many things on Instagram—how people have retouched themselves to look good—and it's the same thing with food. It doesn't need to be complicated. Just get a few items and a few seasonings, and keep it basic.
If you haven't started cooking regularly, I would recommend cooking for yourself once a week to begin with. Don't try to overdo it.
HG: Let's talk about fitness. Most people know you as a boxer. What other things do you like to do to as part of your workout routine?
LA: I retired from boxing in 2007, so I don't do much in terms of boxing except when I hit the heavy bag. That's part of my circuit training. It's fun to hear what I like to do, but it's really important to do what you want to do and what feels good for you. But, in terms of inspiration, I like to mix it up and do interval training. I'll maybe hit my [heavy] bag for 15 minutes, and then I'll do my spinning for 15 minutes, and then hit up the treadmill or elliptical. I like to see results, and the way that I do that is to shock my body doing different things. Keeping my body on its toes with doing things on a high intensity, which are good for when you're short on time. But if you're someone who likes to walk or swim or hike, do that. Just get active and move your body. That's what is really important.
HG: Let's touch on boxing. Boxing has been a huge trend among women for the last few years—I've done it for a couple of years now. What are your thoughts on the trend?
LA: For me, because I've always been a part of the boxing world, I've seen it go in and out [of vogue]. A number of years ago it was popular, but then it was Pilates and barre. And now we're back to boxing. I think boxing will always be one of those tried-and-true full body workouts that will encourage you and inspire you to do your best. When you're hitting the mitts or the heavy bags, you're going to sweat and you're going to see results, and you get to let off a little steam. I do think it's a great thing for women because you get to feel empowered and that you can fight and defend yourself. That's just natural for human beings to feel good and strong, and boxing definitely makes you feel like that.
HG: What are some of your favorite ways to rest and recharge? Recharging is definitely a part of the holistic lifestyle that people forget to do.
LA: Yes, definitely. Meditation does a lot for me. That's something I've been doing for a number of years. Sometimes I fall off the wagon, but even if I do it for 10 minutes, that helps me a lot. Mindfulness is also something that I like to practice. I will go outside, take my shoes off, and walk on the grass to ground myself, or take my shoes off and walk on the beach. It's important to start your day that way instead of checking your phone, which puts a lot of stress on the body. That's what's different about our time. We used to be able to unwind in the morning and our stress didn't hit us until we got to work or to school. Now we have these phones and that's the first thing we see—texts, emails. I try to keep myself from grabbing my phone first thing in the morning.
Also, I like to do my manicure and pedicure every two weeks. My husband knows, my business partners know, anyone that knows my schedule knows that—Laila's Mani/Pedi. They joke about it with me and say, "Make sure you have that!" because that's time to myself and I schedule that to make it happen.
HG: In terms of lifestyle, are there any wise words that your dad, Muhammad Ali, gave you that you still live by today?
LA: There are so many things that you can Google about my dad and his words of wisdom, but one of the things that he shared with us and not the rest of the world is: "Never step on others to get ahead." And that applies to so many people's lives, from people in the workplace to friendships to relationships. To do things with integrity. To never dim someone's light in order for you to shine stronger. That's something that has stuck with me. I look for that in other people. I look for integrity, I look for kindness. That's what is important to me.
HG: And what words of wisdom would you like to pass down to the younger generation in terms of wellness and living a healthy lifestyle?
LA: I would just [tell them] to love themselves, and love others. That doesn't mean you have to agree with others. That doesn't mean you have to love other people's choices. But it's just to be able to see the connection we all share and to understand that we basically all want the same things in life and to try to find a way to work together. For me and my kids, I am trying to teach them to stay true to themselves and to their own, and to be a leader not a follower. And to also realize what's truly important. It's not the kind of shoes you have or the car you drive, but it's the type of person you are. It's all about figuring out your life and what you're here for, because we're all here for a reason, and I think that's what life is—figuring out your purpose. And that's what I try to pass onto my children as well. Their education and careers will fall into place—it's their development and growth as human beings is what's most important to me.
HG: Finally, your Instagram bio reads: empowering a stronger you. What empowers you?
LA: To be honest, I found my voice at a young age. I don't let anyone dim that. I'm 40 years old and I'm at the point where I have my long-term and short-term goals and plans as far as my business is concerned, but am I really in touch with what I'm here for? And I'm really passionate about helping others find their voices and be confident with themselves.
I speak around the country and I find that a lot of people aren't as confident as they should be. They care about what people think, or they let people put them in a box. Or they are scared to go after their true desires and are held back. I was lucky to find my own voice and to do my thing. I was never in my father's shadow. I knew I was Muhammad Ali's daughter, but I also knew I had my own path. So it's important to me to help inspire women that they are capable of having and doing the same. I'm actually working on things right now to help with that and that's actually a tagline I'll be using. But what empowers me is being true to me and inspiring and helping others.