MTV released the trailer for the second coming of "Laguna Beach," and we're so ready to guilty pleasure binge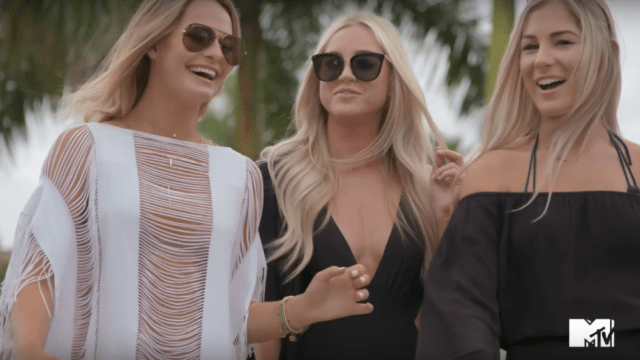 Remember the tangled web of love, teenage hormones, and perfect beachy hair that was Laguna Beach? Well, get ready for round two, everybody, because the MTV producers behind the sun-kissed television hit have a new reality show in the works, Siesta Key. And you can bet, there's sure to be lots and lots of draaaaaama.
This time around the docuseries takes place on a coastal Florida city called Siesta Key, and follows a group of friends who've returned home for the summer after their freshman year of college.
It's hard to tell what exactly goes down yet, because the new trailer is mostly lots of frolicking, canoodling, and gorgeous beach shots. But, we're already compleeeetley on board for this sandy adventure come July 31st on MTV. false
As for what to expect, the cast is promising that we're in for fun, lighthearted drama — minus fist fights and drink-throwing.
"I hope [the audience] takes away from the show that a group of friends can come together, have some drama, but still keep it classy and not be trashy, cast member Pauly Apostolides told Sarasota Herald-Tribune. "We're not a Jersey Shore, we do have problems on the show, but for the most part we're all really good people.
Annnnd it'll hopefully be relatable too, even for those of us who maybe don't have an infinity pool in our backyards (sigh). "It's a group of us discovering what we want next in our lives," Kelsey Owens, another member of the Siesta Key crew told Tampa Bay Times.
Now, all we can really hope for is a lil love triangle madness in the vein of Laguna Beach's Kristin-Lauren-Stephen, and we are all set to binge.