Lady Gaga's Super Bowl performance was literally fire, and the entire internet lost its collective mind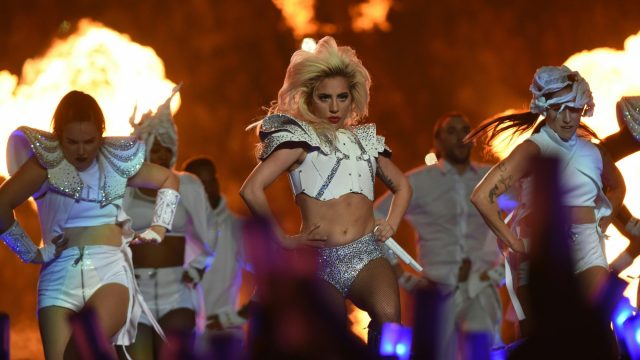 Anticipation (and anxiety and more anticipation) for Lady Gaga's Super Bowl halftime performance has been brewing for months now, and the performance did not disappoint. Hours before kickoff, rumors were flying about a Beyoncé appearance (false) and hundreds of drones (true), but nothing could prepare us for the acrobatic and amazing performance that it was. She flew, she danced, she played piano, and yes, she sang her heart out to all the Gaga classics.
We need to watch it about a thousand more times to take it all in because just that mic drop alone was legendary.
While she didn't tell anyone which songs she would perform, Lady Gaga set the tone for her performance in advance by telling the New York Times,
"I believe in a passion for inclusion. I believe in the spirit of equality, and that the spirit of this country is one of love and compassion and kindness. My performance will uphold those philosophies."
When she belted Born this Way she proved that statement true. Watch the performance yourself:
Practice work pays off
Gaga had documented her performance prep on Instagram for weeks ahead game day, and it's clear she practiced for the show a lot. Just an hour before kickoff, Gaga posted a heartfelt message about the huge honor that the halftime slot presents.
Her caption reads,
 I want to say thank you to my fans for cheering me on all these years. There will not be any guest performers tonight, I'm doing these 13 minutes solo! I dedicate every second to the love, diversity, compassion, and wild spirit of our fan base. To that kid who felt unwanted, or the grown up who remembers how hard it was to find acceptance. This is for you. It is also for those whose hearts and minds have opened to our message. Thank you for believing in us so we could be here today little monsters this is YOUR stage. And I'm gonna leave my heart on it so you never forget it. Let's do this. Xoxo Love, Gaga p.s I LOVE YOU SO MUCH
Gaga truly did perform her heart out, and the fact that she cares so much about her fans, her Little Monsters, makes her even more lovable. *Gaga mic drop*