Lady Gaga sang "Perfect Illusion" in just a jacket and pink hat, nailed the song AND the look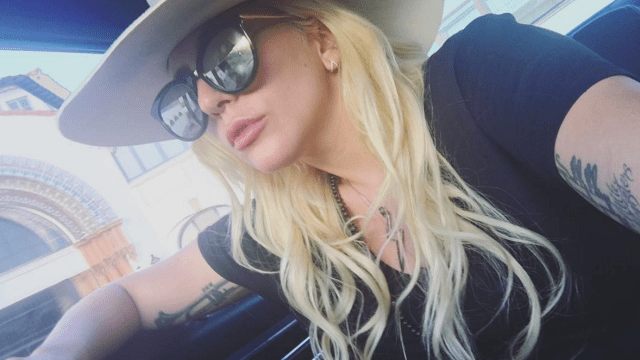 Between preparing for her dive-bar tour (get those tickets—  the kickoff starts October 5th in Nashville) and obviously getting ready for what is sure to be a major Super Bowl performance, Lady Gaga still has time to remind the world that her fashion sense will always be iconic!
On Tuesday, Gaga graced Ryan Seacrest and his staff with a visit to his KISS-FM morning radio show. While on the show she played the piano and performed her latest smash hit "Perfect Illusion," talked about her forthcoming album JOANNE (dropping October 21st), and released a preview of her new song "Just Another Day". Although we were so enraptured by her amazing voice it was difficult to not take in her fashionable outfit.
Ladies take note! Why wear a tuxedo jacket as a dress when you can wear a hooded dress with a plunging neckline. Not only is she still keeping it feminine with the neckline, but she is sporting the perfect sports-luxe look that has been popular over multiple fashion seasons.
Also we can't help but notice her pink hat she's been wearing. Every era of her music features some type of symbol. Whether it was the lightening bolt from her "Fame" era that was an ode to David Bowie, the inverted pink triangle from "Born This Way" that was a symbol for gay rights (the inverted triangle was originally used as a badge required to be worn by homosexual men in Nazi concentration camps), or the koons ball from "ARTPOP" that was a symbol for art in pop, Gaga is intentional with her symbols. So what does the pink hat symbolize? Whatever it stands for, we will be waiting patiently for what Mother Monster's next symbol is!
https://www.youtube.com/watch?v=Xn599R0ZBwg?feature=oembed