Lady Gaga's "John Wayne" music video is one heck of a wild ride
After what must be one of the most exciting and thrilling weeks in her career, Lady Gaga shows no sign of resting up. The singer recently shared her latest video for "John Wayne," and it's one wild ride.
We can't imagine the high that Lady Gaga is currently riding. On Sunday night (February 5th), the star performed at the Super Bowl, and her halftime show became the second most watched one in history.
It was then announced that the singer was to head out on a massive world tour, kicking things off on August 1st in Vancouver. THEN Gaga shared the news that she was set to star in the season premiere of RuPaul's Drag Race. WHAT. A. WEEK.
It seems, however, that Lady Gaga shows no signs of slowing down.
In fact, yesterday (February 8th) Gaga dropped by Zane Lowe's Beats1 show, and shared the music video for her new single "John Wayne."
The clip was directed by Jonas Åkerlund, who has previously worked with Gaga on her "Paparazzi" video and the epic video for "Telephone," which starred Beyoncé.
Like those two trippy, weird, and wonderful videos, "John Wayne" appears to make little sense. However, it's a completely wild ride. Unlike the subtler and more realistic videos for "Perfect Illusion" and "Million Reasons," "John Wayne" opens with Gaga donning her Joanne pink suit and cowboy hat, but quickly becomes something entirely different.
Back is the Gaga of yesteryear, and the singer throws up some seriously outrageous fashion moments. What's more, she even gives us a full-blown dance routine.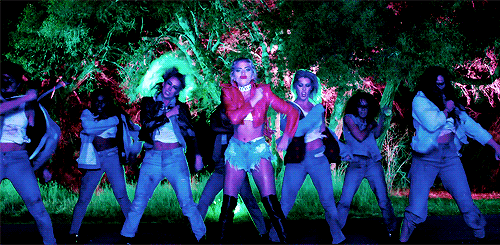 Gaga rides wildly on a horse, cavorts with a man speeding in a car (while pouring beer down herself), kills a dog, dances outside a massive mansion while explosions are going off, and finally shoots someone with her shoe.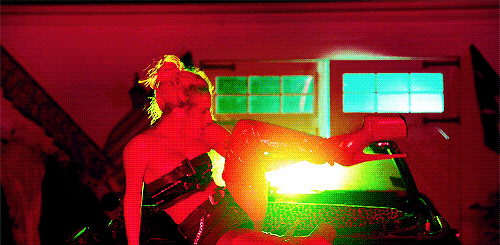 The clip premiered exclusively on Apple Music. You can watch it here.
Meanwhile, it was announced that Lady Gaga would join Metallica for a special performance at this Sunday's Grammy Awards. We not sure where she finds all the energy, tbh!