Lady Gaga's corset braid has already won the 2018 Grammys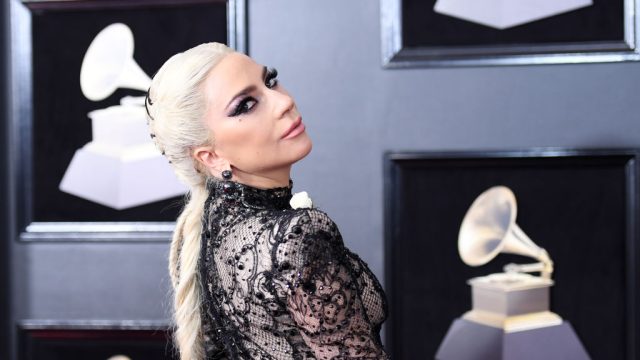 When it comes to incredible red carpet fashion, only one thing is for sure: Lady Gaga does not come to play. So when she showed up on the red carpet at the 2018 Grammys serving Khaleesi-level realness, we bowed down to the queen accordingly.
No one does a Grammys red carpet like Gaga. Whether she's being carried in an actual egg, or she's rocking some fierce underboob, she shuts it down every single time, and this year is no exception. Gaga was nominated for two awards this year, and she arrived on the red carpet wearing a stunning black Armani Privé gown with a dramatic train. While her entire look was capital-F flawless, it's her corset braid that we cannot stop swooning over.
From the front, Gaga's hair looked to be pulled back in a simple braid, letting her show-stopping gown (that train!) steal all the attention. But when she turned around, we saw a glimpse of her corset braid (technically, two side fishnet braids) with black yarn woven throughout, and it's somehow both elegant and edgy all at once.
Gaga's corset braid cascaded down her entire back, and she looked like if Khaleesi from Game of Thrones was a goth Victorian queen in disguise, and we're officially obsessed.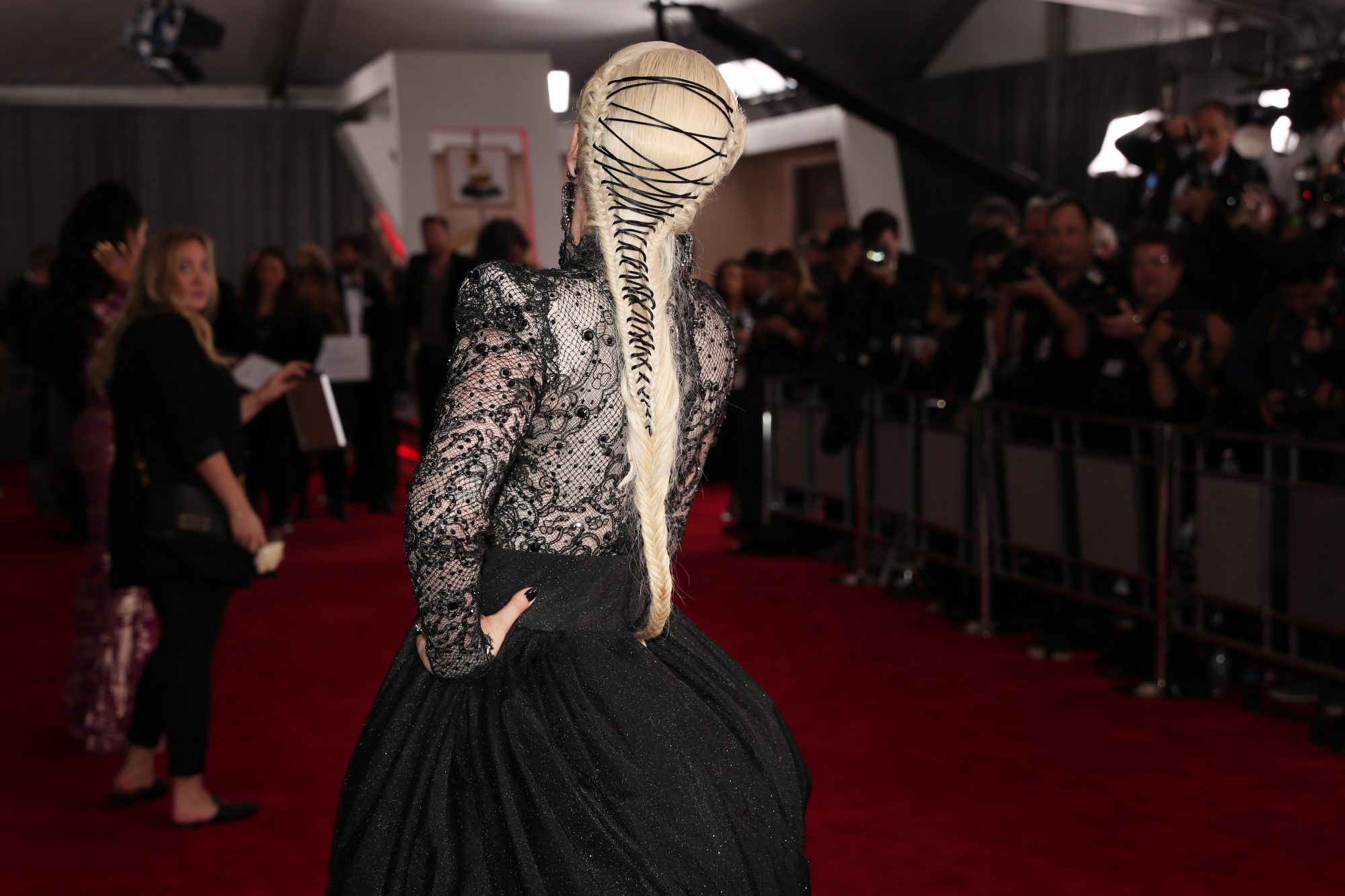 Seriously, this braid is perfection.
Aside from the braid, we're fully into Gaga's goth glam look. The top of her gown featured long sleeves with a sheer black lace overlay, while the bottom featured an insanely long black train that required multiple handlers to help carry across the carpet. Gaga's accessories also got plenty of attention, and we couldn't help but notice that pink diamond ring on her left hand, which made some people think she's engaged to her boyfriend Christian Carino.
She also donned a white rose in support of the Time's Up movement, and a snake ring on her right hand, which could be a hint that she'll be working with Taylor Swift soon…
Check out the evidence for yourself.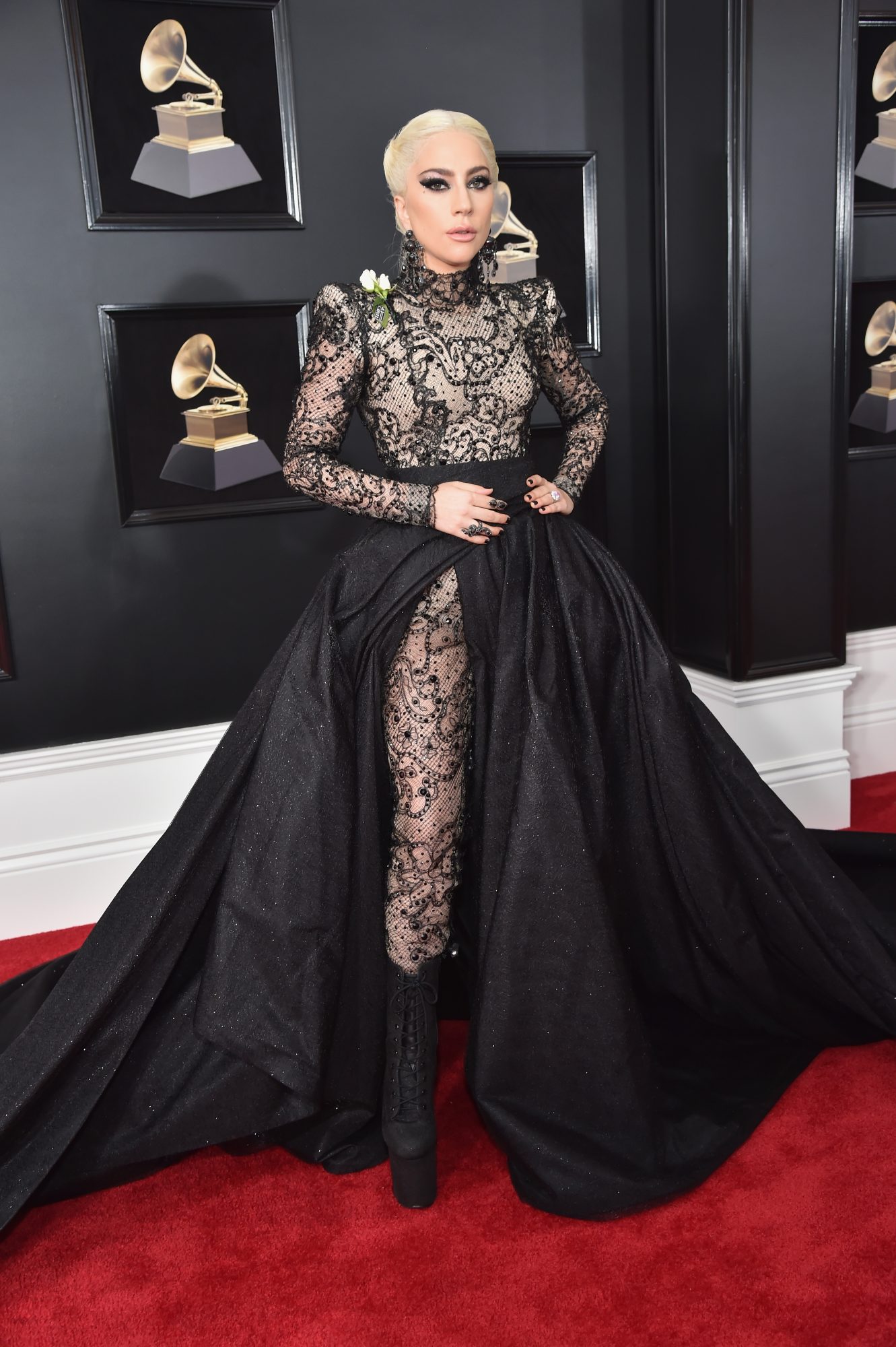 She topped her look off with a dramatic black smoky eye and a pink lip, adding her signature sky-high black boots and black lace tights, and we may or may not spend the whole night trying to recreate the corset braid look ourselves.