Here's Every Single One Of Lady Gaga's Mask-Matching VMAs Outfits
"Wear a mask. It's a sign of respect."
As the first awards show to take place in the foreign land that is 2020, the MTV Video Music Awards did not disappoint. The socially-distanced show included stellar performances, speeches, and fashion looks, obviously. But one fashion statement we weren't expecting to see? Face masks. However, Lady Gaga embraced the times and wore not one, but five different face masks throughout the night, making it arguably the most 2020 moment we've seen from a celeb yet.
The MTV VMAs aired on Sunday, August 30th, and it was the night of Gaga. The singer took home five moon men, and stole the show onstage with a medley of Chromatica songs, which included her collab with Ariana Grande, "Rain on Me". Grande opted for a black face mask instead of the sparkly one we love (but don't worry—her ombre pigtails were on full display). Gaga, on the other hand, had more than enough elaborate face masks to go around.
The Chromatica singer had a total of three outfit changes onstage while performing and five while accepting those moon man statues—and each was complete with a new face mask. Onstage, Lady Gaga wore a LED face mask that lit up while she sang.
While accepting her awards, Gaga opted for custom face masks that were all over the place in terms of themes—but would we expect anything less outrageous?
The singer started the night with a fishbowl head covering on the VMAs red carpet, which she paired with a metallic space suit gown and sky-high black platform shoes. Channeling her inner moon woman, we think?
While accepting the award for Song of the Year for "Rain on Me" Lady Gaga rocked a slime green dress and maroon face mask topped with spikes and horns. We're getting vikings vibes, and we're…kind of into it?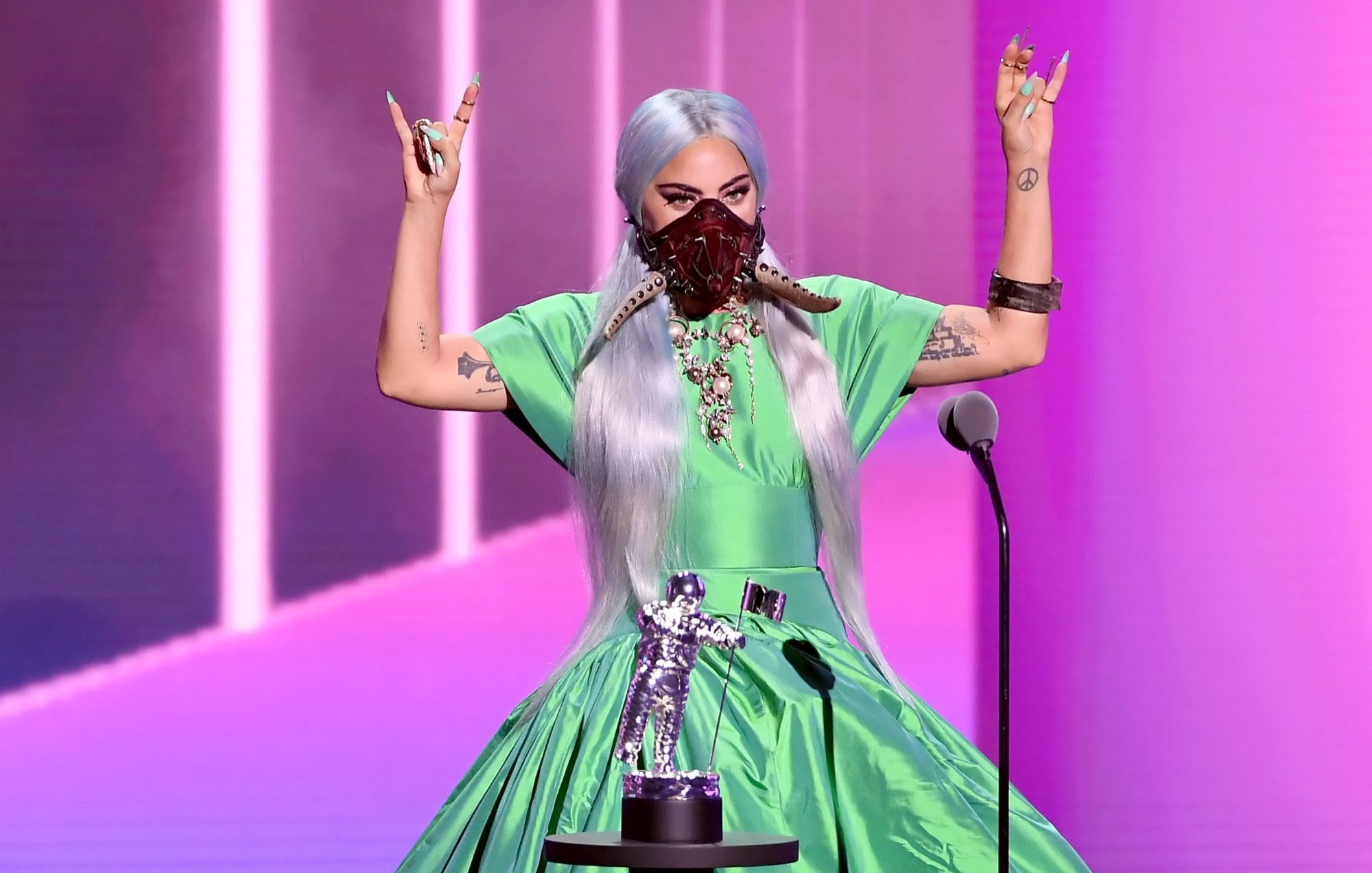 Gaga accepted the award for collaboration of the year for "Rain on Me" while wearing a bubblegum pink mask complete with buckles over her head and a mesh cage that showed her mouth. Her outfit was a feathery rainbow dress that reminded us of Joey King's trippy Golden Globes gown.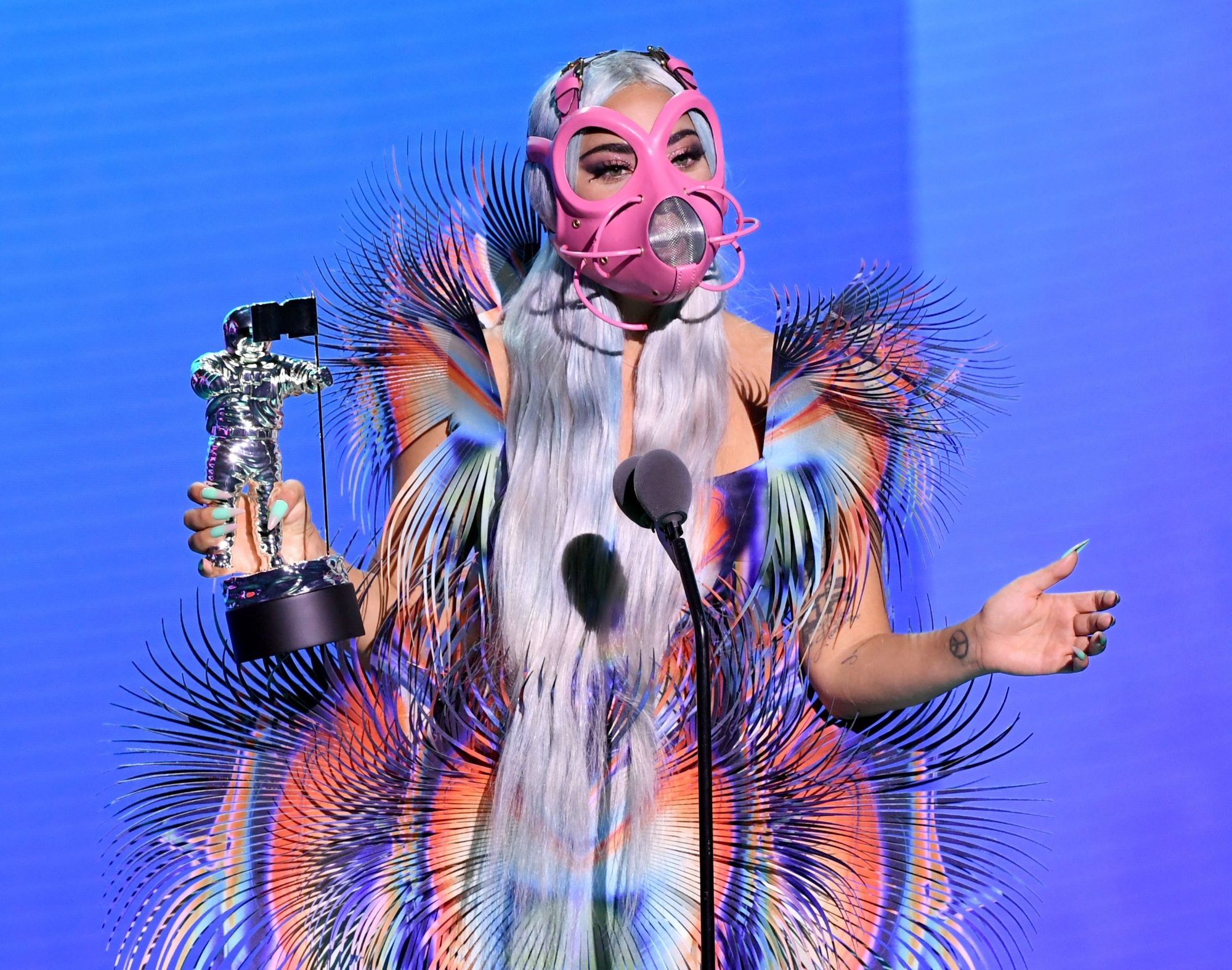 Okay, this next look is making us think of the Gargoyle King from Riverdale, and we're a little scared, TBH. Mythical monster, but make it fashion. We'd totally wear the sparkly face mask alone, though. (Tin foil gown not included.)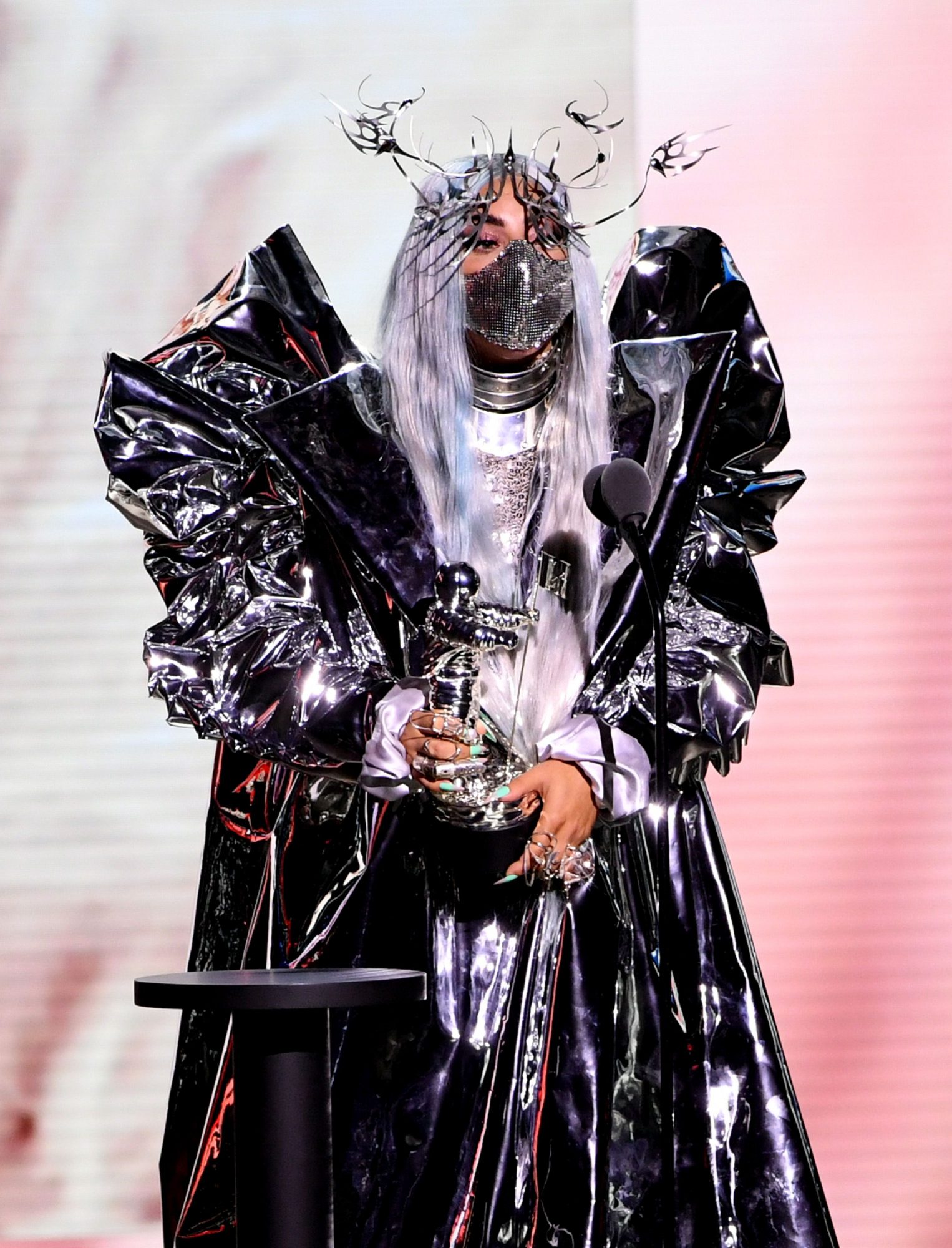 Finally, Gaga rounded out her marathon of masks with a Chromatica-themed look. The black leather mask included spikes and chains and the album's signature graffiti font. Surrounded by her five moon men, Gaga looks like the queen she is.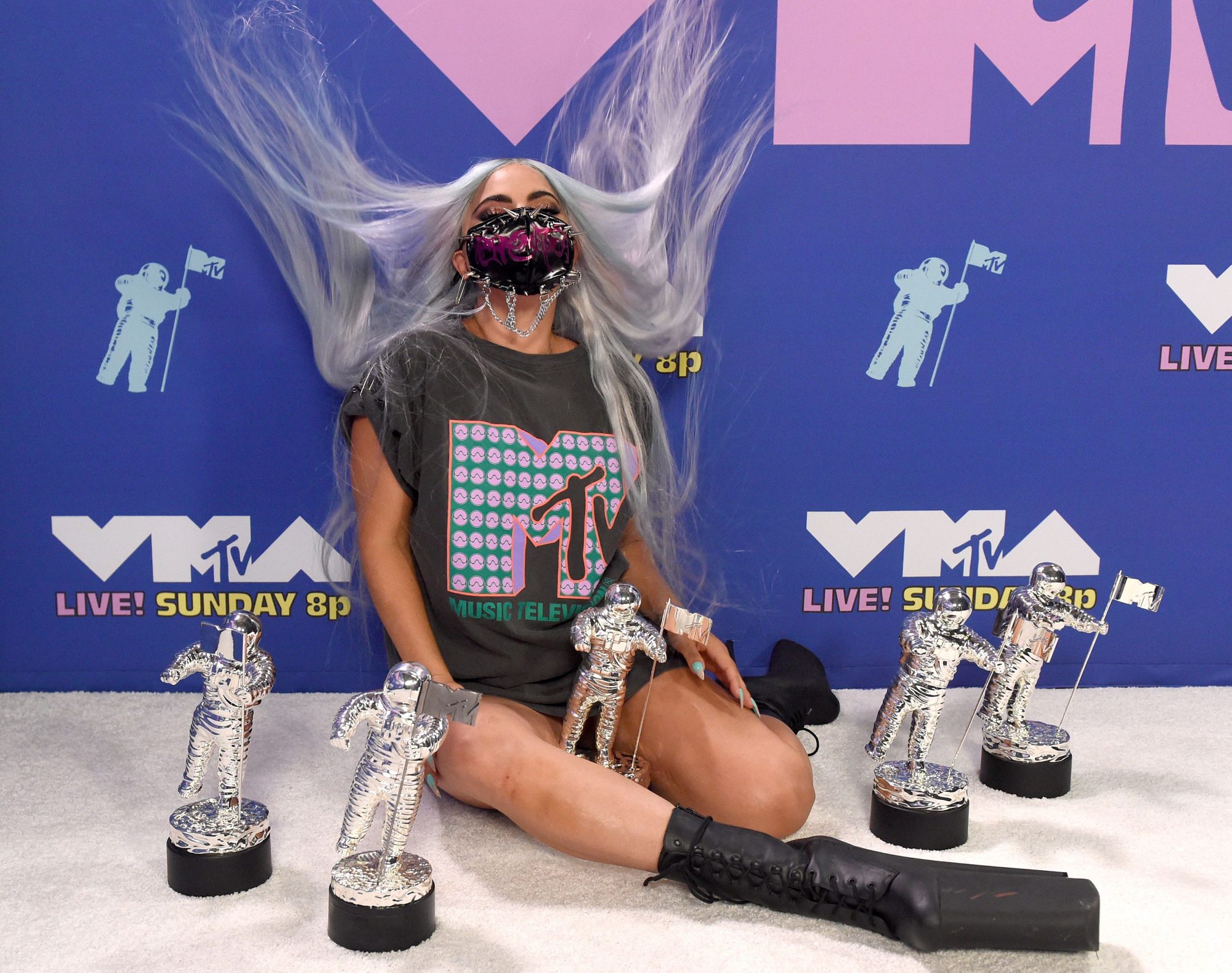 "Wear a mask," Gaga said in one of her acceptance speeches. "It's a sign of respect."
You might not have as outrageous of masks as Lady Gaga does, but if she and Ariana Grande can sing and dance up a storm while wearing face coverings, you can wear one to the grocery store.