Lady Gaga shared a series of shocking pics on Instagram, and what does it all mean?
Although she hasn't released new music since her 2016 album Joanne, Lady Gaga has been as busy as ever, promoting her new movie A Star is Born and gearing up to continue her Las Vegas residency. But in the midst of all of Mother Monster's projects, something weird is happening on her Instagram account, and we're wondering what it could possibly mean.
Gaga left her fans scratching their heads on August 15th when she posted three bizarre images on Instagram. The first of the black and white photos features a distorted Gaga with her open mouth stretched wide for an unsettling effect. The other two images are more realistic but include the same out-there aesthetic.
In all three images, the singer credited photographer and cinematographer Eli Russell Linnetz, who was also behind the promotional artwork for her Las Vegas Residency, Enigma. But other than that, Gaga gave no hints about the meaning of the photos or why she'd posted them.
Of course, that didn't stop fans from stepping in with their own theories. Some theorized that the spooky pictures were a stealthy confirmation that the singer would be appearing on American Horror Story: Apocalypse after her involvement in two previous seasons. Others, however, felt the photos could be a way for Mother Monster to tease new music. "Oh emmm geee I sense new music," one user wrote.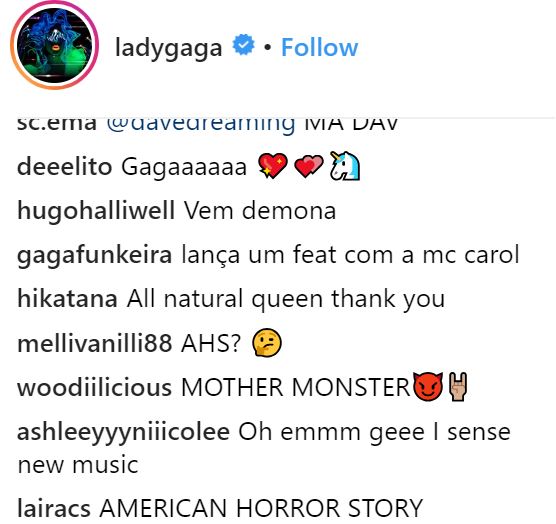 See Lady Gaga's strange photos for yourself below.
Two days later, she shared even more bizarre photos that matched the first set.
While these images seem cryptic, Gaga may have left us a bigger hint than we realize.
Linnetz also has experience directing music videos. He was behind Kanye West's video for "Fade." Could Lady Gaga be about to drop a new music video?
One fan on Twitter had an entirely different theory, writing that each of the images could represent "the things she's been mocked for the most."
https://twitter.com/udfredirect/status/1029766612566474752
Only time will tell whether Lady Gaga's Instagram posts are foreshadowing things to come or simply well-executed visual commentary. But regardless of what she meant by sharing these photos, one thing's for sure: They're definitely thought-provoking.