Gentlemen start your engines — Lady Gaga is set to star in "RuPaul's Drag Race"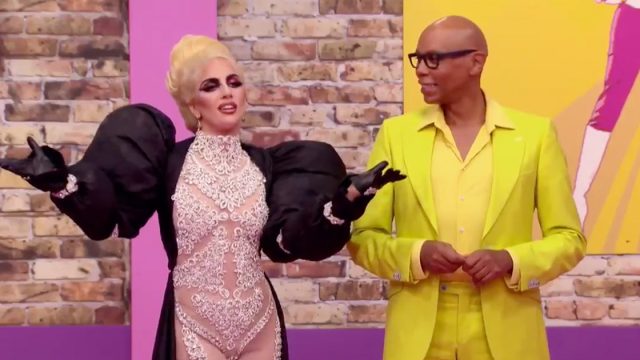 We're absolutely GAGGING as it seems that Lady Gaga is to appear on RuPaul's Drag Race, and it might greatest thing to happen in herstory!
Last week we were introduced to the queens of Season 9 of RuPaul's Drag Race, and things were already looking sickening. The new queens were giving us EVERYTHING, and we actually can't wait until we get to meet them all properly.
What's more, given that she's just coming off the major high from performing at the Super Bowl on Sunday (February 5th), and given that she's just announced a MAJOR world tour, you'd think that Lady Gaga wouldn't find much time to do anything but rehearse.
However, it's been ruvealed that Lady Gaga is set to appear on the upcoming season of Drag Race, and WHY HASN'T THIS HAPPENED SOONER.
In a teaser shared to social media, Gaga announced that she had dropped by the work room and was set to appear on the reality show, which is hosted by veteran and iconic drag queen RuPaul.
"The time has come! I'm joining the girls on the season premiere of @RuPaulsDragRace! #DontBeADrag #JustBeAQueen 👑," she tweeted.
Of course, given how important Lady Gaga has been to the LGBTQ+ community, you can see that the queens are absolutely SHOOK.
Back in 2013, Lady Gaga tweeted that she was desperate to appear on the long running reality show, which sees drag queens from around the country compete to become America's Next Drag Superstar.
"Can I PLEASE be a judge on drag race!" she tweeted at RuPaul in 2013. "I started out in these club, these women taught me how to serve!"
Tbh, we're so glad that Lady Gaga finally got her wish of being on the show. It's a perfect fit, and we can't *wait* to see what the challenge entails, and whether there'll be an epic lip sync for their lives.
We can imagine that this is Lady Gaga's reaction right now.
RuPaul's Drag Race returns to Logo TV this March.