Lady Gaga's response to people body shaming her after the Super Bowl will make you scream "YAAASS QUEEN!"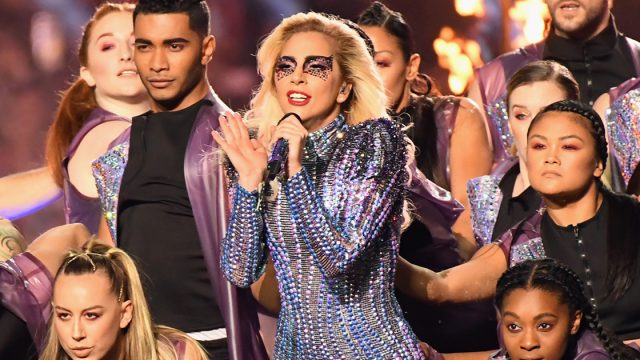 After some pretty nasty trolling online, Lady Gaga has responded to people body shaming her, and, tbh, we should all live by her words.
Lady Gaga slayed our entire lives on Sunday night (February 5th) during her Super Bowl halftime show. The singer performed a smattering of hits, including "Poker Face," "Just Dance," "Telephone," "Bad Romance," and new ballad "Million Reasons," and made some pretty subtle but powerful statements about unity during the performance, too.
While most people LOVED Gaga's show (including heaps of celebrities), there was some nasty, NASTY people complaining about the singer's "tummy rolls" during the performance (FFS). Of course, Gaga's Little Monsters came to the singer's defense.
false
Now Lady Gaga has spoken out against the body shamers and we can't stop applauding her!
In a powerful Instagram post, the singer, who just announced a HUGE world tour in support of her fifth album Joanne, shut down the comments in one fell swoop.
"I heard my body is a topic of conversation so I wanted to say, I'm proud of my body and you should be proud of yours too," Gaga wrote. "No matter who you are or what you do. I could give you a million reasons why you don't need to cater to anyone or anything to succeed. "Be you, and be relentlessly you. That's the stuff of champions. thank you so much everyone for supporting me. I love you guys. Xoxo, gaga"
Lady Gaga has previously spoken about her issues regarding her body image, and in 2012 she spoke up about her own eating disorder recovery. Therefore, it's so inspiring to see her speak up and be proud of her body in such an overt and powerful way. We love, too, that she says that she doesn't have to answer or cater to anyone, and, as she says, she's a true champion!
Keep on being amazing, Gaga, and we'll see you on the Joanne World Tour!