Lady Gaga has staged a protest outside of Trump Tower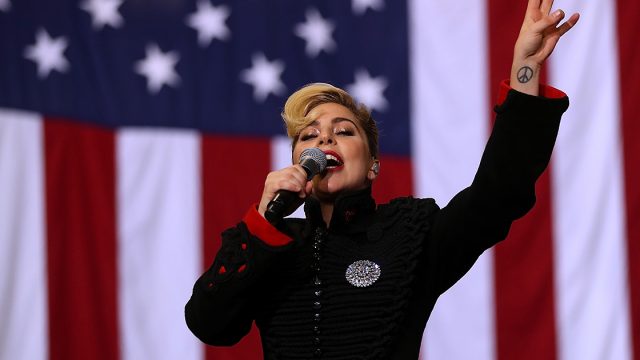 Following the shocking announcement that Donald Trump had won the 2016 Presidential Election, singer and actor Lady Gaga has staged a protest outside of Trump Tower in New York.
In the run up to the election, Gaga was a staunch supporter of Democratic nominee Hillary Clinton and has previously spoken out against "bully" Donald Trump.
Gaga was, according to a MSNBC reporter Kasie Hunt, visibly upset following the announcement that Trump had won the election, and was spotted crying along fellow pop diva and Clinton supporter, Cher.
Now the 30-year-old singer, who released her new album Joanne last month, is protesting the election results outside of Trump Tower in New York on a sanitation truck.
"I want to live in a #CountryOfKindness," she wrote on Twitter. "where #LoveTrumpsHate.
false
At the rally, Gaga told crowds that they needed to embrace Trump supporters.
"If we are true, true Americans, we must go from viewing his followers as our adversaries to viewing them as our allies," she said. "What does she say? What do we say? We are stronger together. And what I see in this remarkable woman is that she is ready to restore peace in this country. America is not America without its people." Gaga also went on to say that Hillary Clinton was "made of steel."  [quote]"She has a career in politics that spans decades of experience, education, leadership, and wisdom. She's ready to be president," she announced.
When it became clear that Trump would win the election, Gaga tweeted the following.
Fans and fellow Clinton supporters have spoken out in support of Gaga's protest.
false
false
false
https://twitter.com/udfredirect/status/796267070321139712
Lady Gaga's protest come as fellow singer and Hillary supporter, Katy Perry, responded on Twitter to the results.
The star, who also shared Gaga's tweet, spoke of how a revolution was coming and echoed her fellow popstar's sentiments that "#LoveTrumpsHate."