This Oscars photo of Lady Gaga and Madonna officially puts those long-standing feud rumors to rest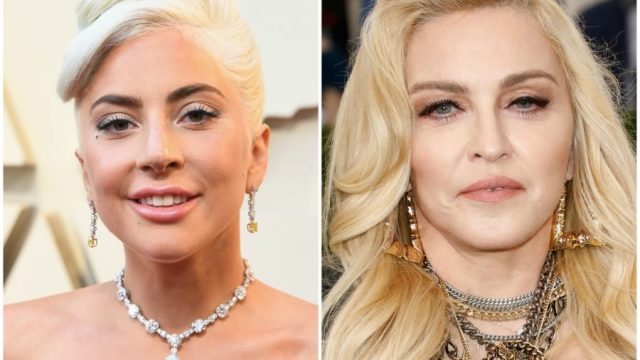 There is no bad blood between Lady Gaga and Madonna, thank you very much. At the 2019 Oscars in Los Angeles on February 24th, Lady Gaga took home her first Oscar in the Best Original Song category for the A Star is Born hit "Shallow." And to celebrate the win, the "Bad Romance" singer partied it up with none other than Madonna. In an exclusive photo posted by TIME, the two pop powerhouses hold each other and smile—seemingly putting all those long-standing feud rumors to rest.
Check out the special picture below.
Celebrity feud? What feud? We don't know her. For the uninitiated, tension between the duo dates back to the release of Gaga's 2011 hit "Born This Way," which garnered comparisons to Madonna's "Express Yourself." However, it seemed as though neither artist was 100% here for comparisons. In an interview with Rolling Stone in 2015, Madonna said,
"The only time I ever criticized Lady Gaga was when I felt like she blatantly ripped off one of my songs. It's got nothing to do with 'she's taking my crown' or 'she's in some space of mine.' She has her thing. I do think she's a very talented singer and songwriter. It was just that one issue.
Fans also thought Gaga threw shade at Madonna in 2016 during an Apple Beats 1 Radio interview when she shared her thoughts on comparisons between herself and the "Like A Virgin" singer. "I wouldn't make that comparison at all," she said. "I don't mean to disrespect Madonna. She's a nice lady. And she's had a fantastic, huge career. She's the biggest pop star of all time. But I play a lot of instruments, I write all my own music. I spend hours and hours a day in the studio, I'm a producer, I'm a writer. What I do is different. I'm not just rehearsing over and over again to put on a show."
However (as is so often the case), it seems the purported feud was little more than repeated sound bites taken out of context and repeated for years. The proof is in the pudding…or should we say, the picture.