Lady Gaga's isolated vocals from the Super Bowl prove that she's a singing superhero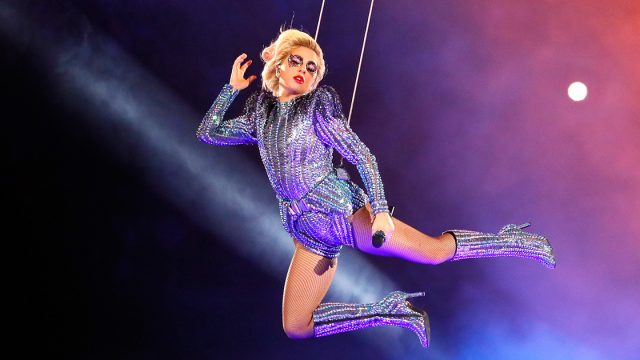 While some people might rely on lip synching of a heavy backing track for the Super Bowl, the isolated vocals from Lady Gaga's Super Bowl performance proved that she's not one of them.
We already knew that Lady Gaga absolutely killed her Super Bowl halftime show earlier this month (February 5th). The star "jumped" from the roof of the stadium, and landed down to perform a string of her hits, including "Poker Face," "Born This Way," "Just Dance," "Telephone," and "Bad Romance." What's more, the singer also announced a HUGE world tour, and shared the video for her new single "John Wayne" all in the same week. That's one busy cookie.
https://www.youtube.com/watch?v=o9iQ8lIfyEs?feature=oembed
Well, now we've been given even more proof that Lady Gaga is one talented lady.
As with Beyoncé's recent Grammy performance, the isolated vocals from Gaga's Super Bowl show have leaked, and they're absolutely incredible.
Firstly, let's remind ourselves of just how much dancing Gaga was doing in the show. https://www.youtube.com/watch?v=KOU2qNCBAo0
Basically, Gaga was doing THE MOST during her performance, from being lowered from the ceiling, dance routines, using props, and even playing the piano and keytar at one point. When you consider all of that, and then listen to how she absolutely SLAYED her vocals too, it makes you wonder whether she actually has some magical super power. https://www.youtube.com/watch?v=-gIQy6zXj2o
Seriously, Gaga hits every note despite how energetic her performance was, and we're actually blown away.
Tbh, this vocal leak has just made us even more excited for the Joanne World Tour, which kicks off in August. Tickets for the North American leg of the tour have already sold out, but the singer is adding new dates. For more information and tickets visit ladygaga.com.