How to recreate Lady Gaga's iconic bow hairstyle with a zombie twist for Halloween
We all know that Lady Gaga has countless iconic makeup and hair looks, but there's one hairstyle, in particular, that become an overnight sensation. It's the fluffy hair bow that she wore in her "Poker Face" music video and rocked throughout 2009. The legendary bow hairstyle was created by celebrity hairstylist Patricia Morales, and HelloGiggles was lucky enough to have Patricia style our very own beauty editor's hair just like Lady Gaga's, but with a Halloween twist.
We're talking a hair and makeup transformation with blood, gore, and a little bit of glam. With Halloween only a day away, you can channel your inner Mother Monster, while also adding in a spooky element.
The best part about this tutorial is that it doesn't require too many products (or expertise) — all you really need are some extensions (to create the bow), a blow dryer (Patricia used T3 hot tools), a hair tie, a brush, and a full bottle of hairspray. Oh, and some white-colored contacts to really amp up the zombie factor.
So without further adieu, here's how to recreate Lady Gaga's iconic bow hairstyle with a zombie twist for Halloween.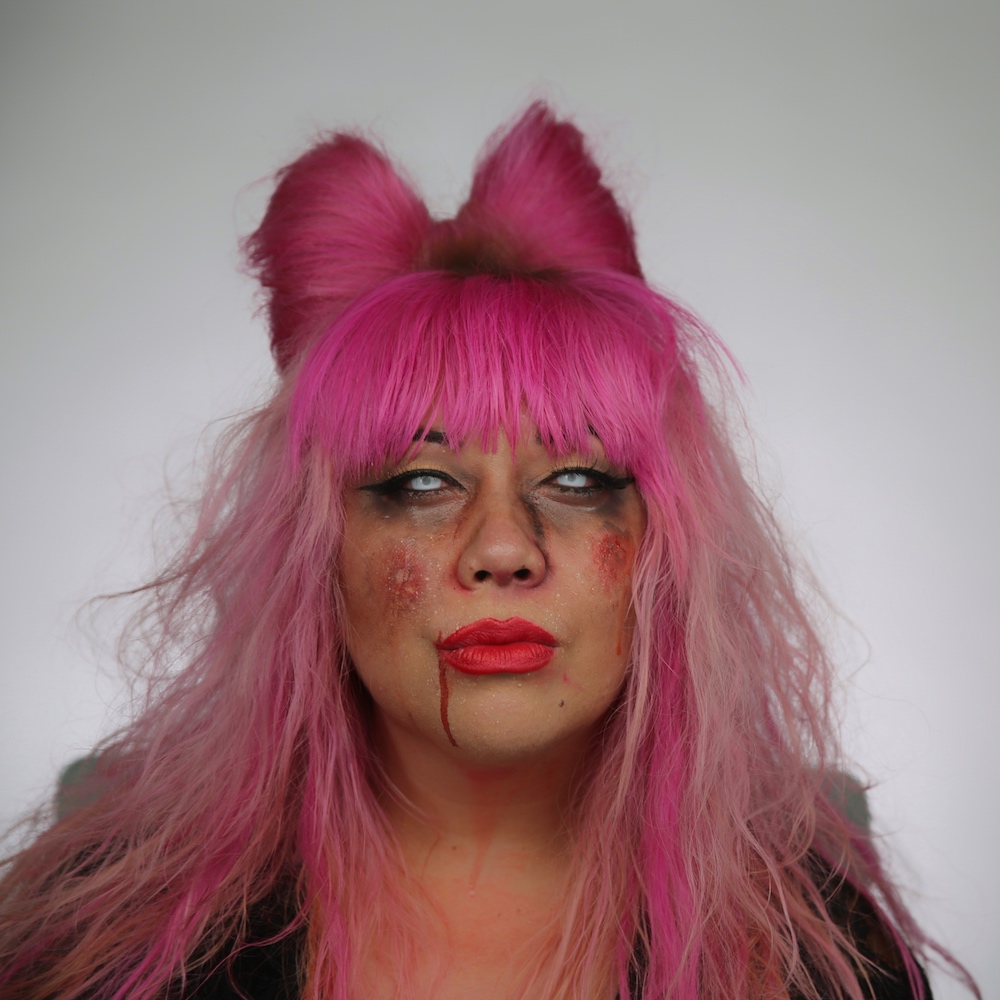 Step 1: Tease the hair extension to give it major volume.
To recreate Lady Gaga's iconic bow, you'll want to sew about 2-3 extensions together (you'll want to sew the bands together, not the actual extension hair). Next, comes the fun part: tease the heck out of the hair with a brush!
To give the extensions more volume, spray it with either hairspray or a salt water spray. Patricia whipped up an easy salt spray by adding about 3 1/2 tbs of salt into half a bottle of water. Not only will this add texture and volume, but it will also mattify the hair, blending it all together. After, blow dry the extension with T3's Featherweight Luxe 2i dryer. While this isn't necessary, it will help the salt spray melt into the hair, giving it a lived-in texture.
Step 2: Wrap the hair extension around as if you're folding a blanket.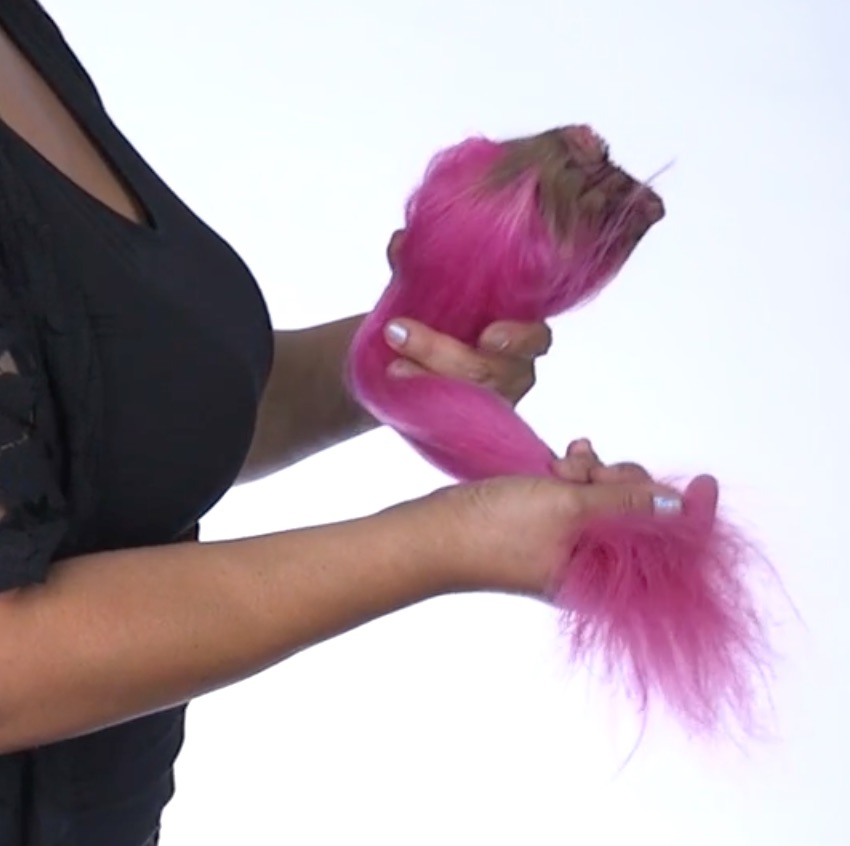 Before wrapping the extensions, you'll want to brush it back down. It will still have volume, but it will be easier to fold. Take the top part of the extension and fold it to the end of the hair. Fold it once more in the same way. Next, fasten the hair bungee together in the center of the hair and loop it around until it's secure.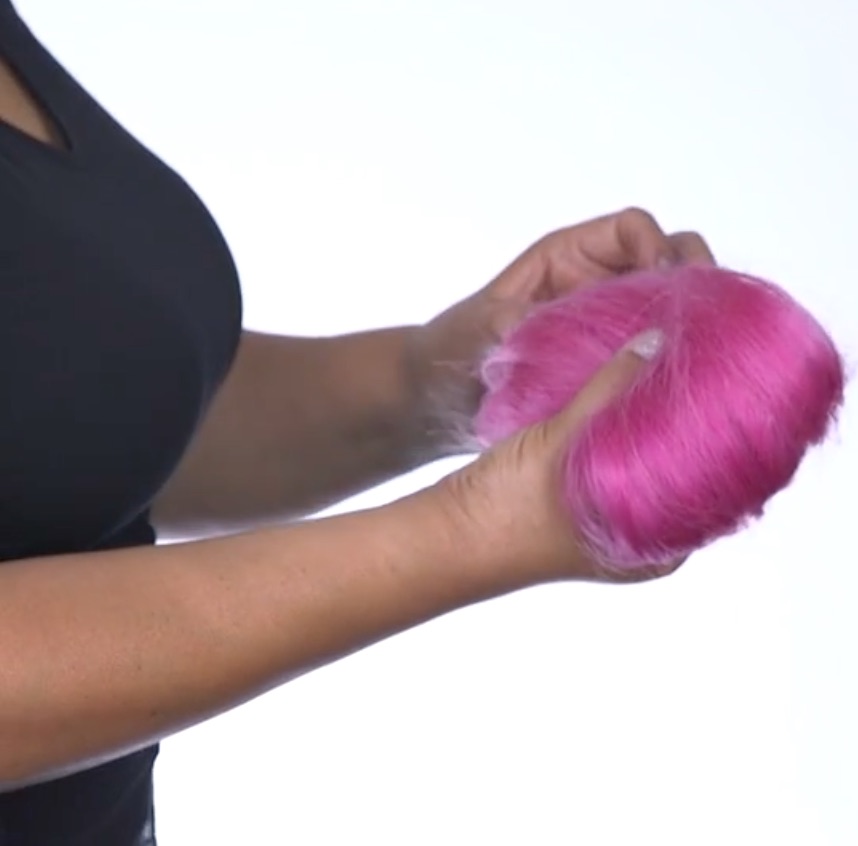 Step 3: Tease your natural hair to give the Lady Gaga bow something to hold onto.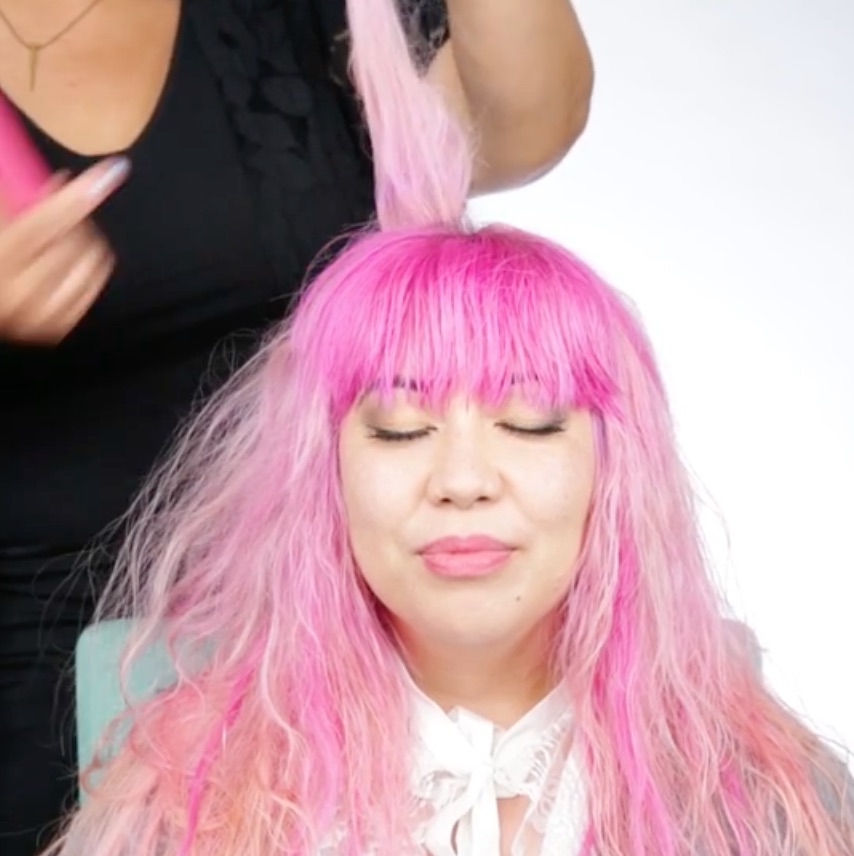 Before pinning the Lady Gaga bow into the hair, Patricia made a special sugar spray. You'll want to apply 12 packets of sugar (yes!) into a half-filled water spray bottle. This will help keep the hair in place, plus, it acts as a glue, so it will be easier for the bow to stick to the natural hair.
Next, spritz it on the roots, bangs, and the ends of the hair and blow dry right after with T3's SoftTouch 2 Diffuser to lock it all in. After, spray the bow with the sugar concoction and pull a bit of hair out to give it some tattered texture. Remember, this is a "zombie version" of Lady Gaga's iconic bow.
Step 4: Section about one inch of your hair, and wrap the bow around it.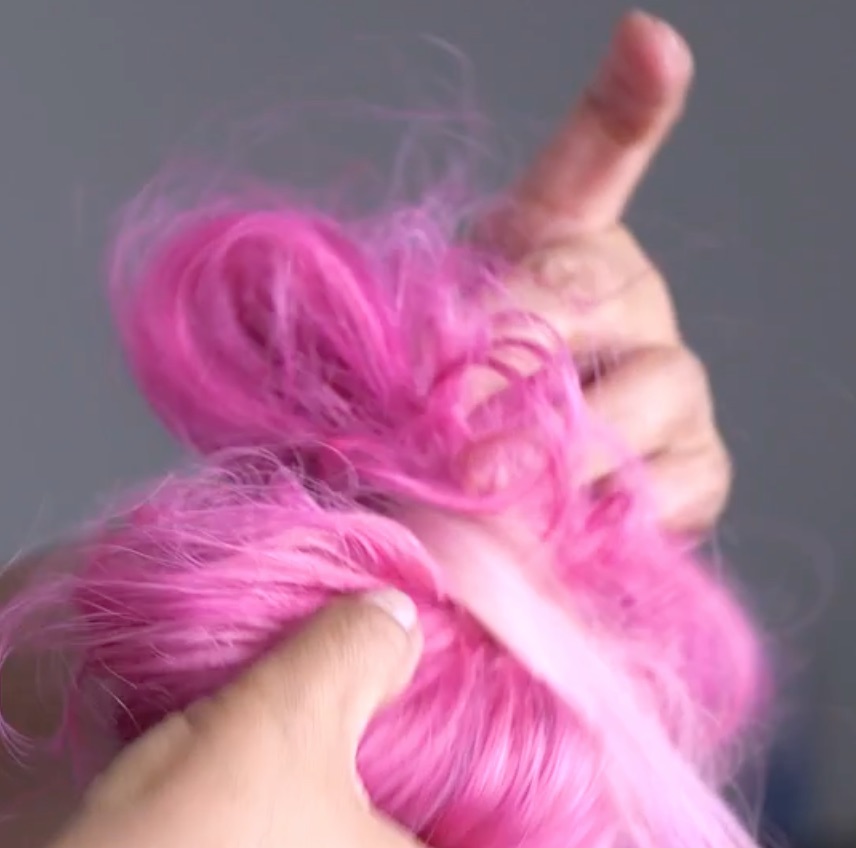 Before pinning the bow in (I know, we're almost there!), section an inch of hair from the back and give it a little tease. Next — the moment we've all been waiting for — wrap the middle piece of the bow and roll it into the hair we sectioned. Put bobby pins in to secure the bow.
Step 5: Finish it off with hairspray.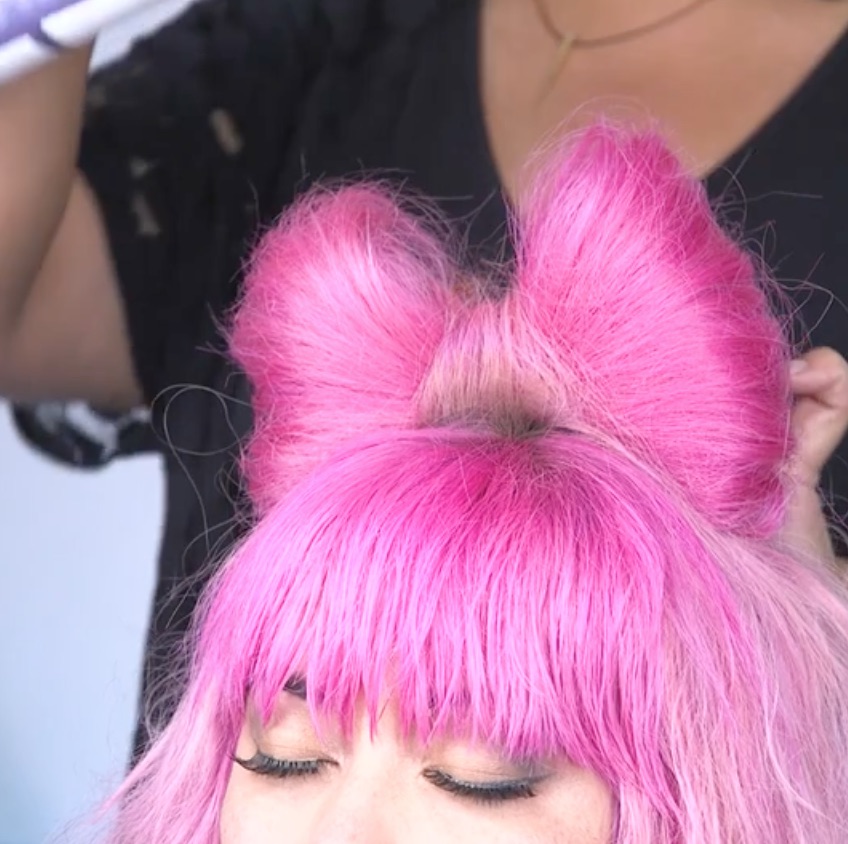 Before you get your Mother Monster on, finish the look with hairspray or gel. We didn't work this hard for our hair to come crumbling down. If you *do* plan on using gel to seal it all in, Patricia applied gel onto her hands and rubbed it into the hair.
Now you can "Just Dance" the night away with this Zombie Lady Gaga hair lewk.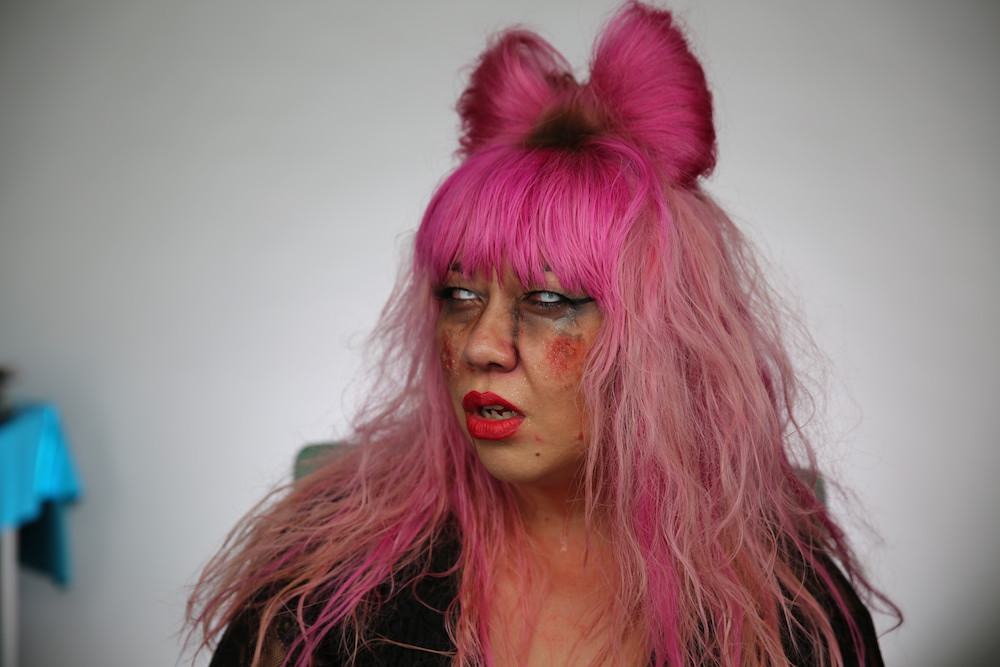 If you plan on recreating this *lewk,*check out The Pretty's full hair tutorial, here. You can also follow Patricia and T3 for more hair and beauty inspiration.