Lady Gaga just got a gorgeous new tattoo in honor of sexual assault survivors
Lady Gaga is standing in solidarity with survivors of sexual assault. Specifically, the men and women who joined her on stage at the Oscars during her incredibly moving performance of "Til It Happens to You." The group got matching tattoos, and the message is so important.
The tattoo is an intricate black outline of a rose designed by Jackie Lin, a Stanford University student and one of the survivors who appeared onstage during Gaga's Oscar performance.
Lin told The Huffington Post that the group decided to get matching tattoos during a rehearsal for the Oscar performance. They checked the Internet for inspiration and came across the infinity sign.
Lin combined the infinity sign, the symbol of a DNA structure and Gaga's favorite flower — a white rose — to create the design. The design of a rose on fire symbolizes unity, so the day before the show, around two dozen of the survivors went to West Hollywood to get the matching tattoos.
Gaga showed the world her new meaningful tattoo via Snapchat. "At rehearsals the survivors and I made a pact," she wrote.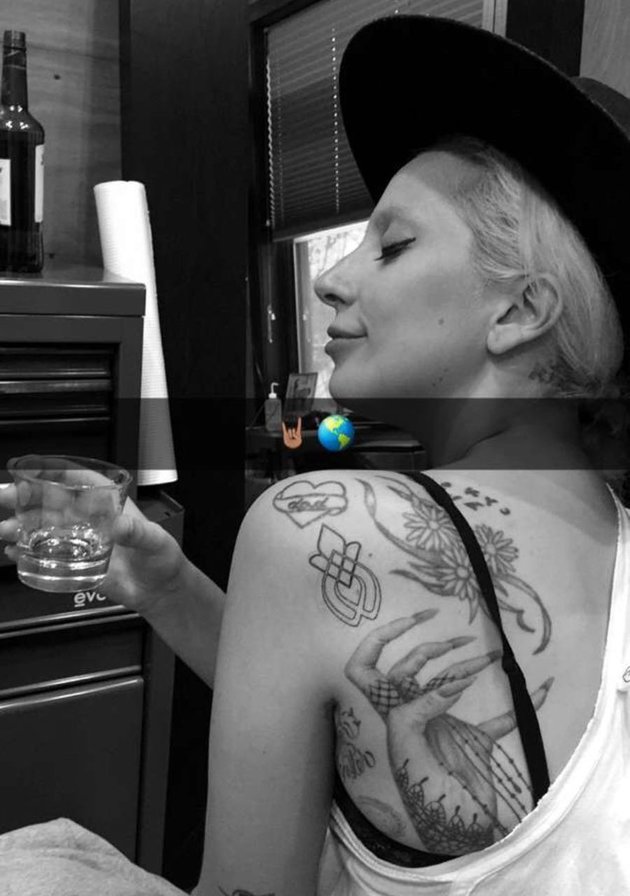 While some of the survivors shared images of their own tattoos:
"The flame is meant to be very powerful — not something sad," Lin said. "It's not something that makes us depressed, it's just something we can look at and remind us that there are other people going through this together, and we are fighting together."
Most of the group chose to get the tattoo where they can see it, that way when they're feeling upset, they can trace it with their fingers to remember what it felt like to be on stage with Gaga's support.
While getting the tattoo, Gaga tweeted a series of important messages meant to raise awareness about sexual assault:
"It's been amazing," Lin said of the experience. "Other survivors who weren't onstage with us at the Oscars — even from the other countries — have reached out, and some have already even gotten the tattoo. That's incredible knowing that a lot of people are now coming out with their story and getting that tattoo."
We couldn't agree more. Hopefully the door continues to stay open for all survivors of sexual violence to tell their stories, especially if it helps their healing process.