Lady Gaga can't help but fangirl over Jennifer Lawrence, is every single one of us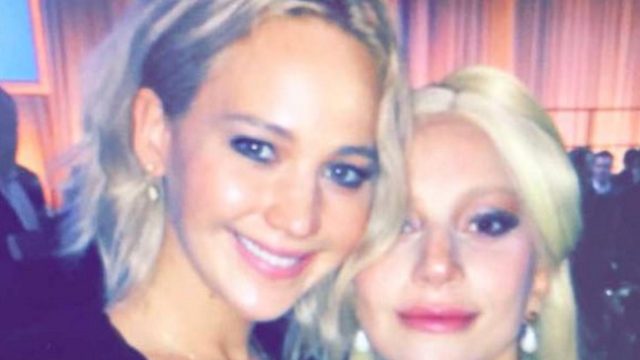 If there was anyone we wanted to join Snapchat, it was Lady Gaga. She's one of the busiest, hardest-working and most interesting celebrities in the spotlight today, and we'd love a sneak peek behind the curtain of her life. Fortunately, our prayers were answered this weekend: She joined just in time to share fun moments from her jam-packed days.
In the few days she's had Snapchat, Lady Gaga has shared pics of everything from picking out her wardrobe to getting her hair and makeup done to actually singing the National Anthem at the Super Bowl. The very next day she was off on a new adventure, this time to a luncheon for Oscar nominees.
We saw video of her walking the red carpet and posing for group photos. And then, she took a second to pose with none other than Jennifer Lawrence. Oh yes, it appears that Lady Gaga is a huge fan of J-Law, just like us. So much so that she made sure to get a pic with the actress. Hey, if we saw Jennifer Lawrence at a luncheon, we'd do the same.
Gaga has been having a downright fantastic year so far. She won a Golden Globe for Best Performance by an Actress in a Miniseries for American Horror Story, and is up for an Oscar for Best Original Song "Til It Happens To You" from The Hunting Ground. And over the weekend, she gave one of the best performances of her life at Super Bowl 50.
Gaga's Snapchat Story is only live for 24 hours, but one Instagram user is documenting every snap she makes on the account @ladygagasnapchats. So if you missed the moment on Snapchat, you can still catch it on Instagram. Lady Gaga's Snapchat stories give us a perfect glimpse into her daily life, and confirms just how crazy her schedule is. We hope she keeps sharing pics, because we love what she's posting!