Lady Gaga spoke powerfully about Dr. Christine Blasey Ford and said she likes to close the day with "wine and crying," and, wow, same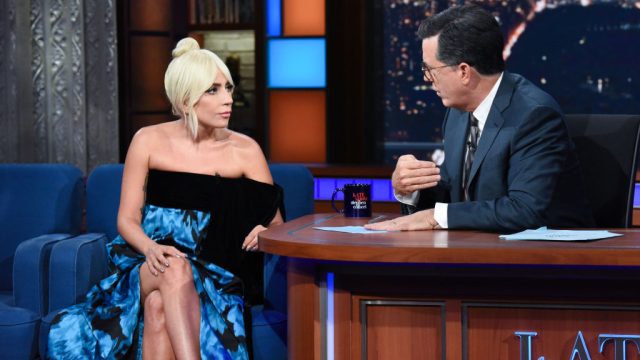 It's been a rough couple of weeks for women in the U.S., to say the least. If you're struggling with the idea of Brett Kavanaugh securing a position on the Supreme Court, even after Dr. Christine Blasey Ford came forward with accusations of sexual assault, you're definitely not alone—even Lady Gaga is right there with you. Especially since sexual assault is something she's been through herself.
On Thursday night, Gaga visited The Late Show with Stephen Colbert and opened up about her feelings on last week's hearings. She revealed that, like oh so many of us, "wine and crying" at the end of the day is her preferred method of dealing with the current news cycle.
When Colbert asked her how she winds down at the end of the day, she said, "I have a glass of wine and cry," and when the conversation turned toward Dr. Blasey, Gaga didn't hold back.
https://www.youtube.com/watch?v=f2ldzqrvEk4?feature=oembed
"What I have seen on the news with this debate of Kavanaugh vs. Dr. Ford, it's one of the most upsetting things I have ever witnessed," Gaga said. "It's heartbreaking, but I will tell you something because I am a sexual assault survivor, and the truth is that, you know, Trump the other day was speaking at a rally and he said, 'She has no memory of how she got to the party, you know, should we trust that she remembers the assault?' and the answer is yes."
Then, Gaga went on to explain why—since Dr. Blasey is a psychologist and "no dummy"—it all comes down to how the body works.
"The brain changes and literally what it does is it takes the trauma and it puts it in a box and it files it away and it shuts it so we can survive the pain," Gaga said. "And it also does a lot of other things. It can cause body pain, it can cause baseline elevations in anxiety. It can cause complete avoidance of wanting to even remember or think about what happened to you."
Gaga also explained to Colbert why she thinks Dr. Blasey was pushed to come forward after finding out that Kavanaugh could be appointed to the Supreme Court.
"What I believe that I have seen is that when this woman saw that Judge Kavanaugh was going to be possibly put in the highest position of power in the judicial system of this country, she was triggered and that box opened," Gaga said. "And when that box opened, she was brave enough to share it with the world and protect this country."
No matter how this vote turns out, Lady Gaga is right—Dr. Blasey is incredibly brave for coming forward, and her act of speaking up means so much to women everywhere.