Lady Gaga was "too ashamed" to accept Ariana Grande's friendship before they dropped their new collab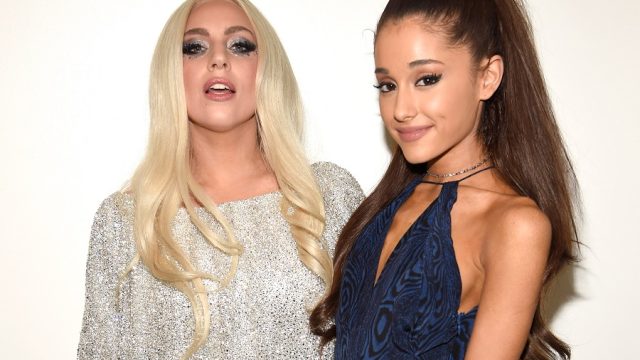 Lady Gaga and Ariana Grande just dropped their brand new collaborative single "Rain On Me," which will appear on Gaga's upcoming album, Chromatica, due out May 29th. It's a powerful pop anthem about trekking through life's trenches and coming out on the other side feeling empowered and safe—a theme both Gaga and Grande have much experience with. However, even though the pair produced an epic song together and have so many levels to connect on, Gaga admits it took her a lot of time to give in to the budding friendship.
The "Rain On Me" collab was built on Gaga and Grande being able to trust each other in the studio, Gaga told Zane Lowe of Apple Beats 1 during a May 22nd interview. "I always challenge artists when I work with them," she said. "I go, 'make it unsafe…and then do it again.' It was just awesome to watch [Grande]…she was so open to trying things that she hasn't done before. She was like, 'I'm gonna just trust you.'"
It was the beginning of a beautiful friendship. But Gaga was afraid of the potential negatives this new connection had. "That woman has been through some really tough, really hard, life-testing stuff," she said. "[Grande] was so persistent. She would try over and over again to be friends with me. And I was too ashamed to hang out with her because I didn't want to project all of this negativity onto something that was healing and so beautiful."
Grande's persistence, however, paid off in the end, and Gaga said their "friendship blossomed" when Grande called her out.
"Eventually, she called me on my shit," Gaga said about Grande. "It was like, 'you're hiding.'"
https://www.youtube.com/watch?v=I0aQRWvGGNw
Now, their friendship is one built on strength, empowerment, and healing. Together, Gaga and Grande are showing their fans that, if they can get through the dark times, so can everyone else.
"One time ….. i met a woman who knew pain the same way i did… who cried as much as i did, drank as much wine as i did, ate as much pasta as i did and who's heart was bigger than her whole body," Grande tweeted on May 22nd. "She immediately felt like a sister to me."
https://twitter.com/udfredirect/status/1263682103490883588
Calling Gaga a "stunning superwoman," Grande wrote, "I hope this makes u all feel as uplifted as it does for us both. i love u @ladygaga."
https://twitter.com/udfredirect/status/1263682104736526338
"Rain On Me" is currently available to stream on Spotify and other streaming platforms. It's powerful, so hold on to your hat.
We hope this is the first of many Gaga-Grande collaborations to come. It's pure, perfect, and pop—the holy trinity.