Where can you watch "Lady Bird"? Here are the cities it's playing in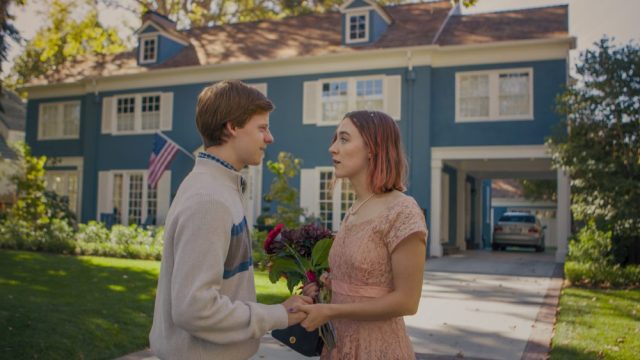 Everybody's talking about Lady Bird, and for good reason: The indie darling written and directed by Greta Gerwig and starring a perfectly angsty Saoirse Ronan is cleaning up with critics, audiences, and awards. And it's probably playing at a theater near you. Though the movie opened in limited release, now most of the country can get in on the ode-to-being-a-teenager fun.
And trust us, you really want to get in on the fun.
Lady Bird debuted in September at the Telluride Film Festival and it was instantly a big hit with critics. After making a name for itself throughout the rest of the film fest circuit, the movie went on to earn the best limited opening of the year in early November, earning $375,612 while playing on just *four* screens in Los Angeles and New York. The Lady Bird goodness continued to spread to theaters across the country throughout the month and, finally, went into wide release during Thanksgiving weekend.
https://www.youtube.com/watch?v=cNi_HC839Wo?feature=oembed
Lady Bird follows high school senior Christine "Lady Bird" McPherson (Ronan) as she steers her way through a totally relatable adolescence, complete with young love, young heartache, fights with her mom (Laurie Metcalf), angsty magenta-tipped locks, and a sick circa 2002 soundtrack. And Ronan and Metcalf's moving, authentic performances are reason enough to check this one out (the two have each already won awards for their respective roles).
Because this is an independent, Oscar-contender kind of movie, it's still not playing at as many theaters as a mainstream blockbuster like Justice League.
If you live in a big city like New York, Chicago, or LA, chances are good it's playing somewhere nearby (see specific ticket options here). If you live in Sacramento, California where Lady Bird is set, you've got at least four options (including The Tower Theater that makes a cameo in the movie).
If you live in one of the less-populated Midwestern or Western states — Nebraska, Idaho, Wyoming, the Dakotas — you may have to make a pretty long trip to see Lady Bird in theaters. (Alaskans and Hawaiians, there's at least one theater playing it in each of your states).
Though, honestly, it may be a pretty long trip worth making.