"Lady Bird's" costumes will make you ache for early 2000s fashion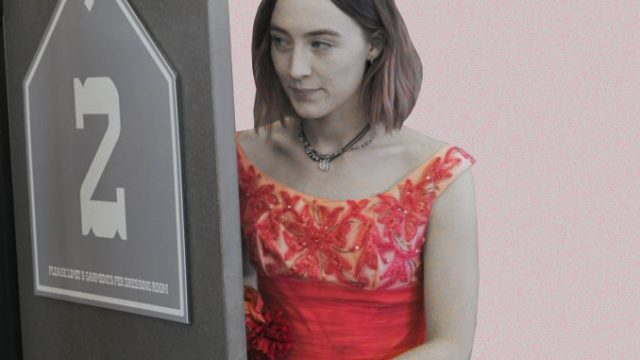 Lady Bird is many things. It's raw and real. It's an honest coming-of-age story, one that's framed by fashion as an ode to the early 2000s. Written and directed by Greta Gerwig, Lady Bird follows Christine "Lady Bird" McPherson (Saoirse Ronan), a young woman who is navigating her senior year of high school in Sacramento, California as she preps for college.
The film takes place from 2002 to 2003, and Lady Bird portrays early-aughts fashion in its most lived-in form. Mainstays of the era are featured throughout the film: puka shell necklaces, thick-soled Sketchers, flared jeans. But more than anything, the film's fashion shows Lady Bird's evolution as she discovers herself.
Gerwig's own experience growing up in Sacramento in the early 2000s helped inform the film, and costume designer April Napier beautifully translates this time and place to the screen. According to Fashionista, Napier turned to movies like Empire Records, 10 Things I Hate About You, and Kids to give Lady Bird her cool-girl-meets-'90s-teen-dream wardrobe. Napier explained that while styling this character, she would think to herself,
"'What would Kirsten Dunst wear?' Or 'What would Fiona Apple or Annie DiFranco wear?'"
Actresses like Chloë Savigny and bands like Bikini Kill, Le Tigre, and Sonic Youth also inspired the movie's aesthetic.
The school uniform is where it all starts.
https://www.instagram.com/p/Bckx9IuBUvQ
Even Lady Bird's Catholic school uniform reflects her journey of self-discovery. Though she's constrained by a dress code, she finds small ways to express herself. She chooses boxier polos, longer skirts, and chunky, creeper-soled Sketchers. She relies heavily on accessories to add her own aesthetic to her school-sanctioned uniform. Besides her bright pink cast, she wears layered yin-yang necklaces and bracelets displaying different colored threads, and she pulls her hair back in pink ribbons.
Lady Bird and her classmates may wear subtle variations on the same uniform, but contrast the lead character with popular Jenna's short skirts, padded bras, and fitted school uniforms, and the differences stand out. As we see Lady Bird mature, we also watch her style evolve.
Lady Bird's prom dress symbolizes her coming into her own.
The shopping scenes, both for Thanksgiving and prom, are telling not only of Lady Bird's stylistic evolution, but also of the evolution of her relationship with her mother. A prom dress is more than a dress in this sense; it represents a moment of freedom when Lady Bird makes her own decision and continues to evolve because of it. With its magenta hue, platelet sequins, empire waist, and oversized floral embellishment, this prom dress perfectly captures the zeitgeist of early-2000s fashion.
But it's Lady Bird's "off-duty" looks that reveal her true self.
Lady Bird's off-duty looks are particularly telling. She wears white tees layered under plaid pinafores to buy cigarettes and military-inspired jackets with Mary Janes at parties. And for a live show, she chooses jeans, grunge tees, and a beret. All the while, Lady Bird's signature layered necklaces are on full display.
Though Lady Bird shops at thrift stores (meaning her outfits are less influenced by trends and more affected by her coming into her own), the telltale signs of the era are still there. The movie's ensembles depict subtle cues that mark this pre-social media time in Lady Bird's journey.
The last outfit of the film showcases the real Lady Bird.
At the end of the film, we see Lady Bird as a more realized version of her true self. She's wearing a little boy's blazer, a striped T-shirt, mid-rise jeans, and a heeled boot when she starts going by the name Christine again. It seems like this character has finally hit her stride, but she hasn't forgotten who she is. She still wears her layered necklaces and bracelets, and her hair remains dip-dyed pink, but we get the sense that things are shifting — for both Lady Bird and the fashion of the era. It's here that the film ends, allowing us to witness Lady Bird as her truest self while she evolves back into Christine with her indie fashion sensibilities still intact.