This all-ladies Marvel photo is phenomenal — and the photographer took it for *his daughter*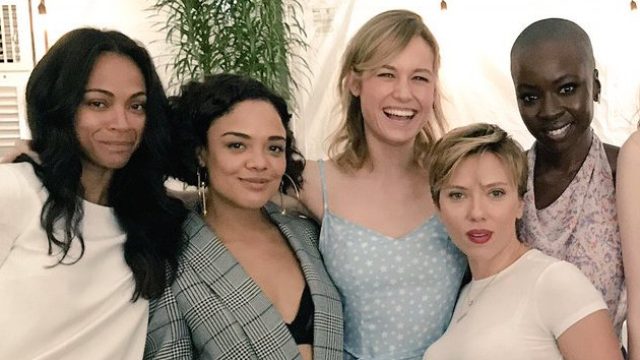 Wonder Woman made you cry, yes? That's probably a yes. That movie featured one strong, female superhero, so now imagine a movie with like, two dozen strong, female superheroes. Are you crying just thinking about it? Same! Now go ahead and dry those tears, but then maybe get some tissues, because the ladies of Marvel are actually assembling, and soon, and we've got the picture to prove it.
Vanity Fair just published a lengthy feature about the ever-expanding Marvel Cinematic Universe, and the article included some glorious pictures. Sure, we've got the regular dudes, like three different superheroes named "Chris," along with Robert Downey Jr. and Marvel newcomer Tom Holland. But what's most exciting is that the ladies of the MCU are prominently featured.
Yes, Black Widow has been around since the beginning, and Scarlet Witch is pretty cool, and Maria Hill has kicked a lot of ass, but there are so many other female superheroes out there, and it's about time they got to be center stage. Thankfully, that's slowly happening, as Marvel's first female-led movie, Captain Marvel, will hit theaters in 2019.
Until then? We've got this picture to hold us over. Can this maybe be Avengers 5? Asking for a friend. (The friend is me.)
Marvel writer (and scribe of Thor: Ragnarok) Craig Kyle posted this behind-the-photo-shoot picture to his social media, featuring a stunning collection of just some of the ladies of Marvel. In it, we've got:
Zoe Saldana, who plays Gamora (Guardians of the Galaxy); Tessa Thompson, who plays Valkyrie (Thor: Ragnarok); Brie Larson who will play Captain Marvel (Captain Marvel); Scarlett Johansson, who's brought Black Widow to life almost a dozen times; Danai Gurira, who will play Okoye (Black Panther); Karen Gillan, who plays Nebula (Guardians of the Galaxy); Evangeline Lilly, who plays Hope Pym (Ant-Man) and Pom Klementieff, who plays Mantis (Guardians of the Galaxy Vol. 2.). 
He captions his photo on Instagram "the coolest picture I have ever taken," but it's what he writes on Twitter that completely tugs at every heartstring:
"I took this shot for my daughter."
https://www.instagram.com/p/status
Considering how you're probably feeling now just looking at this picture on the internet, imagine being that daughter, and your dad comes home and is like, "I took this picture for you," and it's all your favorite superheroes who also happen to be female.
All of the above will (probably) appear in Avengers: Infinity War, and the hope of them getting their own spin-off film is alive and well. Story goes that Thompson, along with a few others, approached Marvel head, Kevin Feige, with a request:
"I marched up with a couple of other women that work in Marvel and we went to Kevin, 'What about a movie with some female super heroes? Like all of them?'
Feige was open to the idea, and honestly, it's the only thing on our Christmas list right now. Make more superhero movies, and put ALL the females in it.