Lacoste's New York Fashion Week looks are literally out of this world —here's how to recreate them all
This season's trend is all about the future, and let's just say it's a little…galactic. Lacoste's runway show at New York Fashion Week draws on our very own solar system for inspiration; it's all slick, loose fabrics and planetary patterns and we are SO here for it. Of course, the galaxy print trend isn't new. You can make your own ethereal space goddess dress. Or DIY this galaxy chandelier. Buy a light-up bangle. Or grab this weird vegan space donut. We're seeing stars, well, everywhere.
Here are a few places you can get in on the trend without murdering your bank account.
Modcloth
Modcloth is bring outer space to earth with its space-themed collection of adorable apparel. Try these blue universe leggings on for size, and then grab this gorgeous A-line solar system dress while it's still on sale for $47.99.
ASOS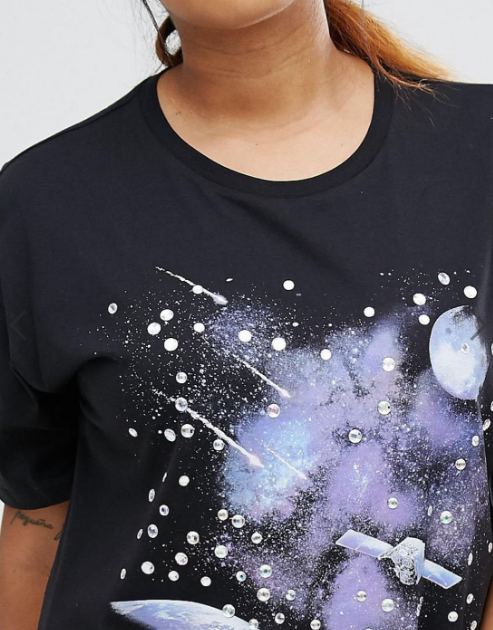 ASOS has its own selection of space-print clothing, like these super comfy printed pajamas for $22. There's also a really cute retro space tee for just $19. And suit up for space camp with a "space cadet" sweatshirt for $25.50.
Hot Topic
You may think of Hot Topic as that place goth girls went in middle school to try to look edgy, but their galaxy stuff is pretty impressive. This cold shoulder dress ($29) will have you looking outta this world. BRB, buying this galaxy swim top ($31.92) for spring break. Also, these boots!!!
Torrid
At Torrid you can buy this amazing pair of solar system printed skinny jeans to brighten up any outfit for $64. They also have cozy workout leggings in the blue-purple galaxy color for $54.90. AND they have the best plus-size galactic bikini we've ever seen.
So if you're feeling interplanetary, get on it.