Lacey Chabert Knows Hallmark Movies Are Repetitive—But That's Kind of The Point
"They're like comfort food for the spirit," the star of Christmas Waltz tells us.
Lacey Chabert just wrapped production on her 24th Hallmark film and will soon begin filming her 25th. That's one Hallmark movie for almost every year she's been in the industry. Though you might know her best from Mean Girls (she played Gretchen Wieners), Chabert has become a staple on the TVs of avid Hallmark channel fans, especially during the Christmas season. Her latest addition to the network is a holiday-themed flick titled Christmas Waltz, out November 28th. It follows a storyline that's become standard for Hallmark: girl meets a guy; girl learns a lesson about herself; girl and guy fall in love. Yet, despite its predictability, millions of viewers will undoubtedly tune in, and Chabert understands why.
"Even though a lot of the movies have similar themes, I take great pride in doing my best to tell it in the most honest and unusual way possible, while hopefully creating a character that people can see themselves in," she says, speaking to HelloGiggles on the phone in mid-November. Hallmark's movies, she adds, are "comfort food for the spirit. I think people know they can sit down with their families and watch something that's uplifting."
And while Hallmark fans clearly love the movies' happy endings, Chabert says she believes it's their relatable themes—reconsidering priorities, finding or building families, making the best out of not-so-great situations—that keep viewers coming back for more. "There's a lot of beautiful messages and all of those themes are really meaningful," the star explains. "And I think people can find joy in those little moments while sitting in their living room." 
Chabert says she feels "honored" that so many people tune in to watch her Hallmark movies, even if they can often guess how they'll end. "People can watch whatever they want on TV, and the fact that they choose to tune in to a movie that I'm in…I consider it a great responsibility to deliver something that leaves them feeling good," she explains.
It's part of the secret sauce of Hallmark holiday movies to charm viewers with warm, cozy backdrops, stories with plenty of heart, and characters you can genuinely root for. Christmas Waltz is no different. Chabert's Avery is planning the perfect Christmas wedding, until her fiancé gets cold feet and they break up. Left with a series of ballroom lessons intended for her wedding dance, Avery decides to invest the time back into herself and take them alone. Of course, along the way, she ends up falling in love with her instructor Roman (Will Kemp), someone she might actually be meant to be with. 
Over the years, Chabert says, she's frequently applied the lessons from her Hallmark movies to her own life, and she did the same for Christmas Waltz. Although Avery's decision to learn to dance initially scares her, she powers through anyway, and what began as a journey of self-discovery for the character ended up being a similar journey for the actor, too. "I think that's been a huge lesson in my own life…to listen to your own instincts and not let your own fear hold you back," Chabert says.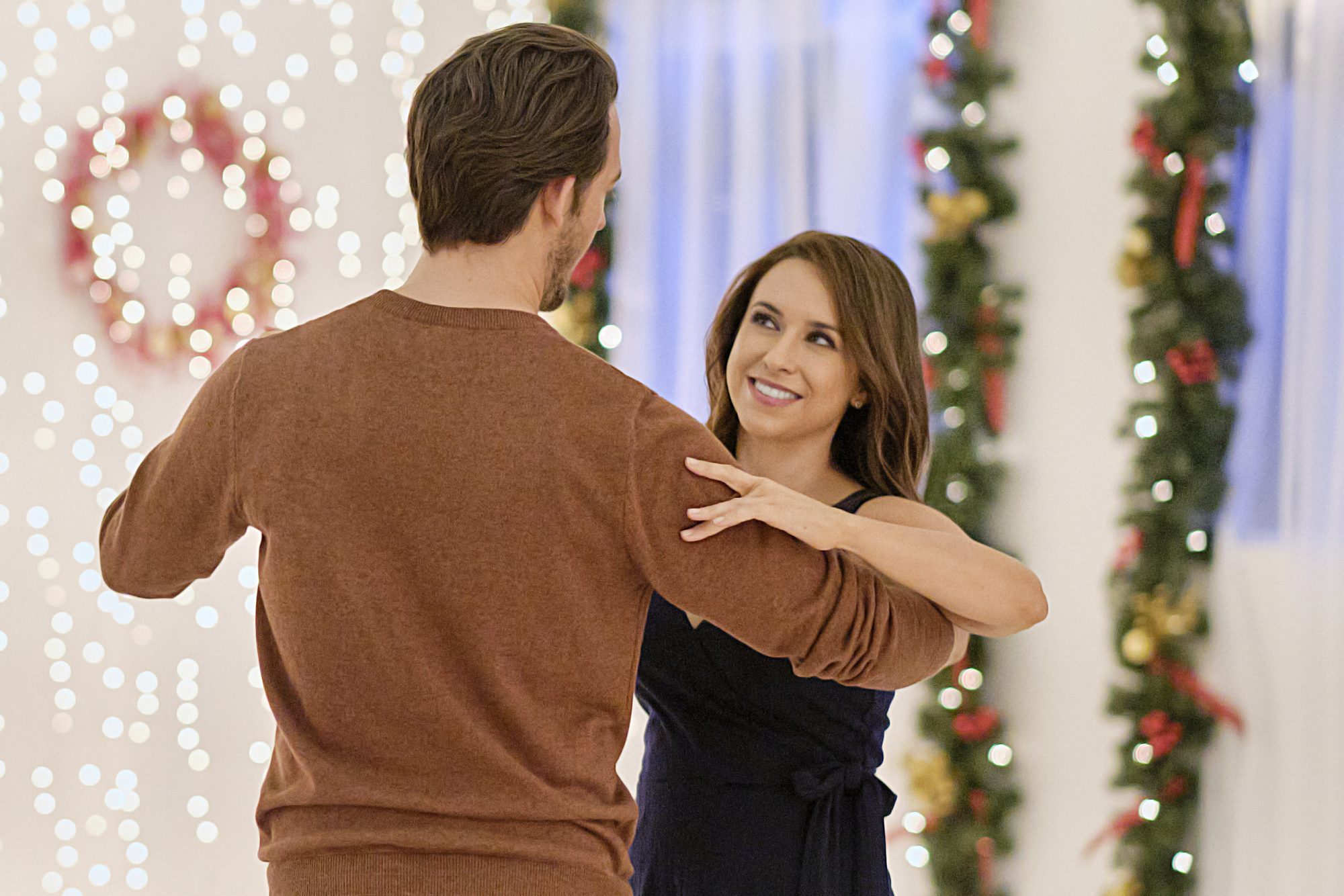 "[Dance] is something I've never been quite comfortable doing and much in the same way that my character finds this passion for it and it becomes how she expresses herself, I kind of had this journey in real life," she continues, calling the experience of learning ballroom choreography "so freeing."
While the dance lessons were only required for the role, Chabert says she enjoyed them so much that she plans to continue. The actor is no stranger to stepping out of her comfort zone for a role; nearly 17 years ago, she tested her comedy chops for the first time in Mean Girls, and she says now that filming the iconic movie was some of the most fun she's ever had. 
"I loved playing Gretchen because she was vulnerable in her insecurity," Chabert says. "Plus, it was also one of my first movies I had done that was a straight comedy. It was so fun and inspiring to be a part of because your job is literally to be funny." Every day on set, she recalls, "it was like, 'how do we make people laugh but not laugh when we're in the in the middle of a scene?'"
Now, Chabert is welcoming her friend and fellow Mean Girls alum into the Hallmark movie world. Recently, Jonathan Bennett (AKA Aaron Samuels) helped make Hallmark history by starring in the channel's first holiday film centered around a gay couple. Chabert says she supports this push for greater diversity, noting, "I know it's really important to Hallmark for people to be able to see themselves in the stories."
The star hopes that people will see themselves in her own characters, too, which she plans to continue bringing to life in more beloved holiday films. "As an actress, I love to play all kinds of different roles, but I think what I've been allowed to create through Hallmark is something I'm particularly proud of," says Chabert.