Lacey Baker is the new face of Nike SB, and she's just getting used to the fame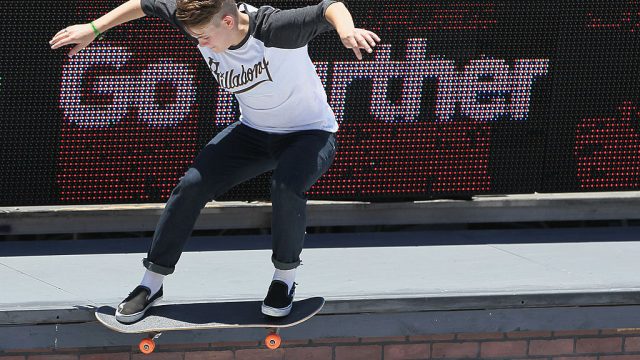 Skateboarding, even in 2017, has never really been the most inclusive place. Of course, skaters are historically often seen as outsiders themselves, but when it comes to letting women in, it's always been a bit of a struggle. Which is why the fact that Nike SB added Lacey Baker to their team is kind of a big deal. Though she seems pretty humble about it.
Baker is just 25 years old, but has been skating most of her life. Although she used to work a day job in graphic design to support her skating career, she recently left her day job to focus on skating. So it's a good thing she started to explore some shoe brands to team up with (she used to skate for Element, too).
It's refreshing to see a queer woman join the crew, especially since skating culture has led to anti-gay hate crimes and discrimination in the past. (Jay Adams, anyone?) But Baker told Vogue that she hasn't faces any of that. Actually, the opposite. She said:
"It's empowering to join the Nike team. It's in the midst of its #Equality campaign. There are women in top positions in management and marketing and design. My input is valued and put into practice. It's good."
https://www.youtube.com/watch?v=PpcPSCurO_Q?feature=oembed
Baker's also not frustrated with women's role in the skating world. It's getting better, she says.
"Women have been skating since the beginning of skateboarding, and there's always been less recognition, though that applies everywhere. It's a long road. If there's a comparison, it's like how skating was for guys in the '80s-slash-'90s," Baker said, noting that it was hard to get skateboarding recognized as a sport, in general.
"I'm not mad at it. Statistically speaking, people are starting to respect and appreciate our side of things. We're going to be in the Olympics, so now there's value to women as skateboarders. The progress is coming from that, and the fact that there are a lot more female skaters."
https://www.youtube.com/watch?v=Cg9plQuxpGw
If there are more female skaters, it's in part due to how hardcore Baker is. Good thing she quit her day job.