This is the most L.A. skin care line — in a good way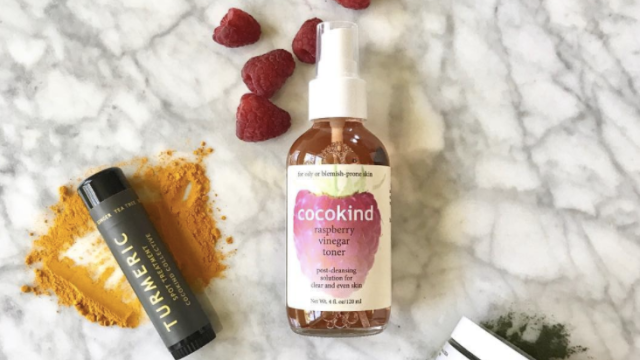 The City of Angels has a reputation for being home to a large population of yoga mat-toting, green juice-sipping, health nuts. We love our designer water and organic produce — don't judge us.
Even though they're based in northern California, Cocokind has to be the most LA skincare line ever. With ingredients like matcha green tea, sea moss, and of course, coconut oil, Cocokind's cleansers, oils, and balms are just the right amount of west coast bourgeoise. (It can also name drop fans such as Lauren Conrad and Kristin Cavallari.)
Everything in the Cocokind collective is organic, chemical-free, paraben-free, and ethically sourced. If the world of all natural skincare still seems a bit daunting, Cocokind's products all have five ingredients or less so it's pretty straightforward.
https://www.instagram.com/p/BTUSYvdDR9u
Here's the scoop on the best of the best by Cocokind.
The label says you only need 2-3 drops, once or twice daily. Wrong. It's impossible not to want to slather this on your face repeatedly, it feels SO. GOOD. (Note: I had about two days worth left and clumsily dropped the bottle on my kitchen floor. I now have one very hydrated tile. The rest of the tiles are feeling inadequate.)
If you're used to intense masks, this will be a bit of an adjustment. It's super gentle so you can use it several times a week. It's a powder (amazeballs for travel) so you have to mix it with a teaspoon of water to create the exfoliating gel. You'll feel like a super cool apothecary…with good skin.
Coconut oil, avocado oil, tea tree oil, and lavender oil make up this gentle cleanser. It feels ~oh so good~ after using a makeup wipe when skin is on the dry side (of course you can use it to remove makeup as well.)
Can't leave brows out of the party — Cocokind's brow balm has coconut oil, beeswax, castor oil, and jojoba oil, while using cacao powder for a light tint.
https://www.instagram.com/p/BSzGaFcDrCa
If you're not using rose water as part of your skincare routine, you should start. It helps keep facial oils in place pre-makeup and it's a gentle toner thats pH balanced.
Shop the entire collection at Cocokind collection here.
Green juice, yoga mat, and various LA clichés not included.