"La La Land" could be coming to the stage, and we NEED this to happen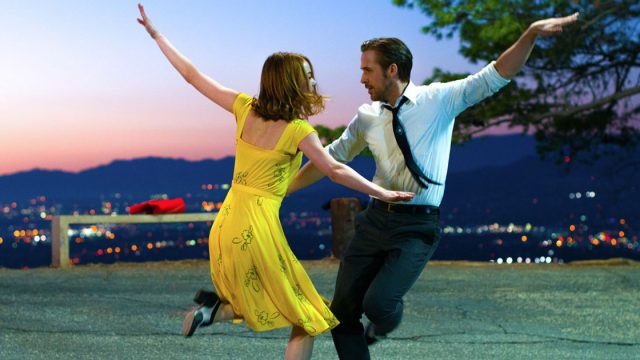 After what can only be described as a spectacular Golden Globes for the movie, it's been teased that La La Land might be coming to the stage and WE NEED THIS TO HAPPEN ASAP.
On Sunday night (January 8th), musical drama La La Land won big time at the Golden Globes, picking up the most awards (seven in total) for a film in the award's history. The film's stars, Emma Stone and Ryan Gosling, picked up the gongs for Best Performance by an Actress and Actor in a Motion Picture – Musical or Comedy respectively, with Gosling giving a heartfelt speech where he dedicated his win to his partner, Eva Mendes. https://www.youtube.com/watch?v=V9KaXEjs5ss
Well, given La La Land's popularity, it appears that there could be plans to bring the beloved film to the stage for a live theatrical version.
According to a report in The Hollywood Reporter, Lionsgate, the studio behind the movie, are seriously considering it.
Speaking to the studio's investors during a presentation in Denver on Tuesday (January 10th), the studio's  co-president, Erik Feig, said:
"If we want to do a stage show, we can do a stage show."
O-M-G! Having seen La La Land, we can totally imagine it being translated to the stage. The songs are incredible, and we'd love to see how some of our favorite scenes, including the large opening number, would work live.
"We haven't hit our full expansion," Feig told investors.
Set in Los Angeles, La La Land follows the story of Sebastian Wilder (Gosling) and Mia Dolan (Stone) as they navigate the tempestuous waters of acting and music in Hollywood. The movie follows their relationship and the struggles they have being noticed in their respective fields. It's also an homage to the golden age of cinema and films like Singin' In the Rain. 
Given that Lionsgate have already turned one of their most popular franchises, Step Up, into a live show in Dubai, it's entirely possible that the studio has its sights set on Broadway for La La Land, and we're 100% on board with that. Now we'd just need Emma Stone and Ryan Gosling to reprise their roles and everything would be PERFECT.