Everything you need to know about Kylie Jenner's brand-new skin care line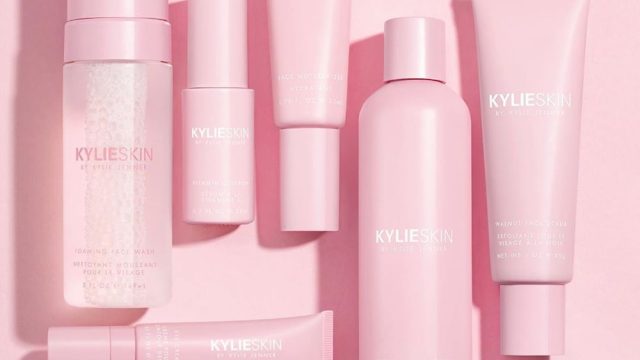 Have you heard the big news? This past weekend, Kylie Jenner announced the launch of a brand new beauty line—called Kylie Skin. Just last month, the youngest Jenner ventured into a brand new makeup category for Kylie Cosmetics, eyebrows, and now it seems that the mogul has her eyes set on plenty more firsts.
https://www.instagram.com/p/BxS6-XyHSE8
Six more, to be exact. Yesterday, Kylie announced that Kylie Skin would be launching with six SKUs: a foaming face wash, walnut face scrub, vanilla milk toner, face moisturizer, vitamin C serum and eye cream. So yes, we suppose that is enough newness to warrant a whole new beauty line, if one already has one billion dollar cosmetics line under her belt.
https://www.instagram.com/p/BxS62PGA9sE
Announcing that Kylie Skin is set to launch on May 22nd, Kylie wrote on her Instagram, "KYLIE F*CKING SKIN! Wow. skin care and makeup go hand in hand and Kylie Skin was something I dreamt up soon after Kylie Cosmetics. I've been working on this for what feels like a lifetime so I can't believe I'm finally announcing! Building my makeup line from the ground up has taught me a lot and I'm so blessed with that knowledge to apply to my brand new company! Birthing a whole new team, manufacturing, fulfillment, etc. separate from my cosmetics line was challenging but here we are!"
https://www.instagram.com/p/BxTlc5Ah6jI
Along with pretty, millennial pink packaging (are we still doing that?), the products are reasonably affordable, ranging from $20 to $28 each, or $125 for the whole set.
https://www.instagram.com/p/BxVweuKBqGp
Kylie continued, writing, "everything is cruelty free, vegan, gluten free, paraben and sulfate free and suitable for all skintypes. Make sure you follow @kylieskin to stay updated. I'll be revealing these amazing products very soon! the official launch date is 5/22! Yay!! so much love went into this. it all starts with skin."
https://www.instagram.com/p/BxXqUhogADW
With a launch date that's just nine days away, we're sure we'll be seeing and hearing a lot more about Kylie Skin very, very soon.