Kylie revealed the story behind Stormi's name, and it's surprisingly simple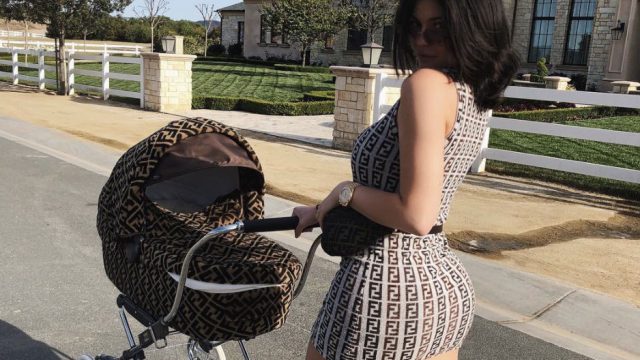 It's already been several months since Kylie Jenner revealed the name of her baby girl, and many people are still wondering how and why she chose "Stormi." It's certainly not a name that you hear every day, although there's something oddly adorable about it. Well, it's finally time for some answers, because Kylie revealed the story behind Stormi's name.
Kylie was interviewed by her sister, Kim Kardashian West, for the online Evening Standard Magazine, and the two discussed things like motherhood, Keeping Up With The Kardashians, Kylie's cosmetics line, and what it's like growing up famous. But perhaps most intriguingly, Kim asked Kylie about the inspiration behind Stormi's name. The 20-year-old cosmetics mogul said,
"I really don't know how we thought of Storm. Her dad insisted it was him, but I feel like it was me. And that kind of just stuck with us. And then I didn't really like just Storm — I didn't feel like that was her name. So then it became Stormi. And it just stuck. I feel like there were a lot of other names that I might have even liked better, to be honest, but I feel like Stormi picked her own name, like it was just her name."
So, there you have it: The name just felt right to both Kylie and partner Travis Scott.
https://www.instagram.com/p/BiQq3JmlXFt
Kylie also discussed the challenges of being a new mom, and said she's learning a lot — while also loving it. "I think about her all the time, anywhere I am," she said. "I would rather be with her or wish she can come everywhere. I can't wait till she can come everywhere with me, because right when she's old enough I'll bring her everywhere."
Kylie also noted that she feels like having Stormi has made her a better person: "Everyone says you change completely when you become a mom, but I really feel the same, just better. So I don't know what really has completely changed my world, besides her, of course. But I feel like it's only gotten better. You're less selfish — and I actually enjoy changing diapers. It's really satisfying. To make her clean again. And I don't know, the whole thing is really…it's like such an amazing experience."
https://www.instagram.com/p/BhfYgXNAHTH
We're sending all our best to Kylie, Stormi, and the fam, and we're so glad to finally have an answer on the Stormi name mystery.