Kylie Jenner's favorite blush is cheaper than a Domino's pizza
A  very short list of things we love: affordable makeup and pizza. And on that note, here's a little fun fact for you: Kylie Jenner's favorite blush, Maybelline Fit Me, actually costs less than a Domino's pizza! Coming from Kylie Jenner, you might be surprised to hear that she treasures such a low-key beauty product, especially since she has her own makeup line! But it's a testament to the quality and everlasting charm of drugstore products. Even with all of the makeup available at her fingertips, Kylie reaches for her tried-and-true Maybelline.
Next time we're at the drugstore, you better believe we're going to linger a bit longer in front of the blush section and strongly consider picking some up for ourselves!
https://www.instagram.com/p/BQTX3PAh67x
Could she be wearing it now?
And just in case you were, don't you dare sleep on drugstore makeup! The affordable brands we grew up loving and swiping from our mom's makeup bag have really stepped up their game in terms of quality and shade range without sacrificing their low price-point. That's pretty amazing if you ask us!
In case you're unfamiliar with the Maybelline Fit Me line, let's take a look at this lovely product! For only $5.51, you can have any of these nine different shades to make your cheeks pop!
Light Mauve
Deep Coral
Deep Rose
Deep Wine
Light Pink
Light Rose
Medium Coral
Medium Nude
Medium Pink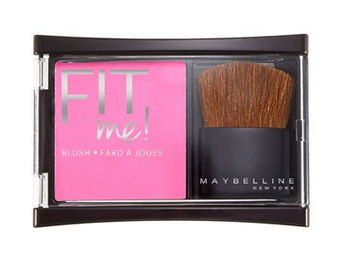 Aren't they all precious?
The Maybelline aesthetic is so ingrained in our memories that they're totally nostalgic while also being contemporary and up-to-date! Thanks to the brand's constant editing and refusal to settle, we can look like our fave celebs.
What do you think — are you gonna make like Kylie and pick one up for yourself? It certainly couldn't be more affordable, so why not?